Related keywords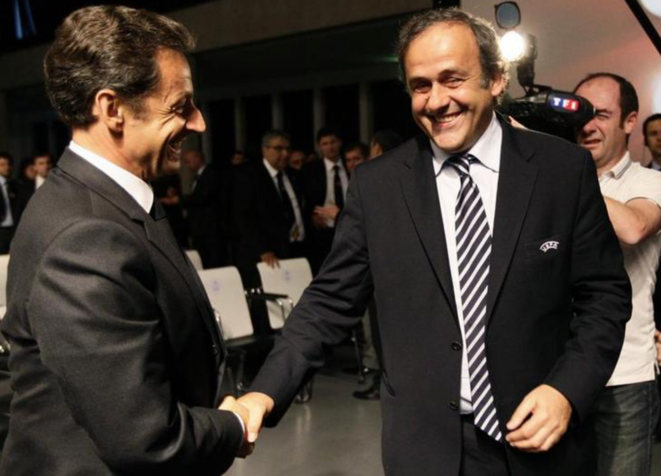 Nicolas Sarkozy (l) and Michel Platini in Geneva, May 28th 2010. © Reuters
Key documents seen by Mediapart shed new light on the award of the 2022 football World Cup to Qatar. The documents, written to then French president Nicolas Sarkozy by his sports advisor, relate to a lunch that took place at the Élysée Palace in 2010, just days before the crucial vote to decide the tournament's host country. They reveal that the then boss of European football ruling body UEFA, Michel Platini, had been "reluctant" to back the Gulf state, but had been convinced to switch his vote to it by the end of the meeting with the French president and key figures from Qatar. Yann Philippin and Antton Rouget report.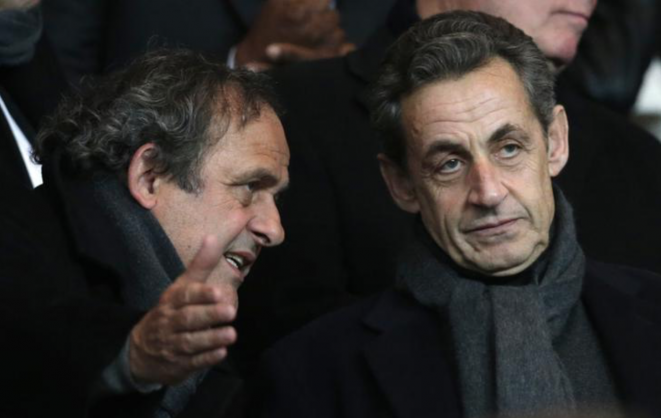 Michel Platini and Nicolas Sarkozy at the Parc des Princes football stadium in Paris for a PSG match on February 17th 2015. © Reuters
In June 2019 Michel Platini, the former head of European football's governing body UEFA, was interviewed by police as a witness over the circumstances of the award of the 2022 football World Cup to Qatar. Two former colleagues of Nicolas Sarkozy were also questioned about a lunch hosted for Qatar's crown prince by the French president in 2010, attended by Platini, just days before the controversial vote to give the tournament to the oil and gas-rich state. Now the French financial crimes prosecution unit has launched a judicial investigation into the affair over alleged "corruption", Mediapart has learnt. Former French football star Platini has strongly denied any wrongdoing. Yann Philippin and Antton Rouget report.
Former UEFA boss Michel Platini was held in custody by anti-corruption police in Paris on Tuesday questioning, along with a former advisor to ex-president Nicolas Sarkozy and Sarkozy's close aide and former minister Claude Guéant, as part of investigations into the controversial  attribution to Qatar of the 2022 football World Cup in a vote by FIFA officials in 2010.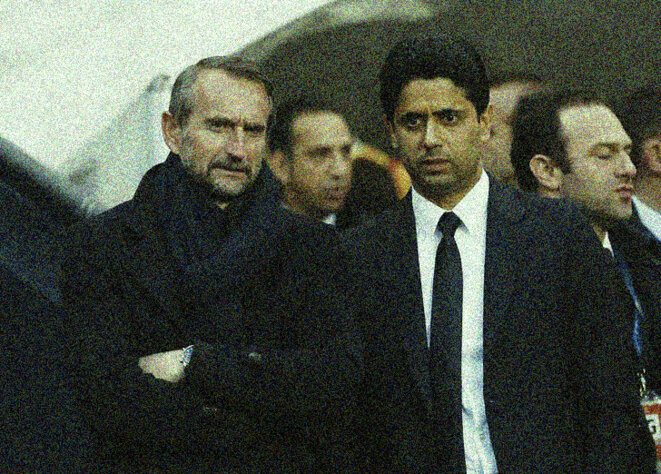 PSG general manager Jean-Claude Blanc (left) with the club's president Nasser Al-Khelaifi. © Reuters
Over several years, Qatar injected 1.8 billion euros into French football club Paris Saint-Germain (PSG) in a massive breach of the Financial Fair Play regulations of European association football's governing body UEFA. Mediapart reveals here the background to the affair and how the then president of UEFA, Michel Platini, and his secretary general, Gianni Infantino, who is now president of FIFA, helped cover up the fraud, allowing the club to escape exclusion from the prestigious and lucrative Champions League.
Ex-France football team star and until now European football tsar lost his appeal and is banned from football activity over suspect payment from FIFA chief.
The suspended UEFA chief, serving a six-year ban from football-related activity after probe into FIFA cash payment, says offshore company was declared.
French police searched the FFF's Paris HQ on behalf of a Swiss investigation into ex-FIFA head's payment of 2m Swiss francs to UEFA chief. 
Former French football star and UEFA boss, already suspended from football for 8 years, has formally thrown in FIFA presidential towel.
Pair were found guilty of breaches in a 2mln Swiss franc 'disloyal payment' made to Uefa boss and ex-France captain by Fifa chief Blatter in 2011.
The Uefa chief and 1980s French football star, under investigation over a payment from Fifa's boss, stays banned from all football-related activity.
Fifa ethics unit calls for the ban on former French player and Uefa chief over suspicions about payment he received from Fifa boss Sepp Blatter.
Blatter claims that French government under President Nicolas Sarkozy helped turn the vote in favour of Qatar.
Ethics committee of world football organisation Fifa suspended its president and vice president as a result of its ongonig corruption investigation.
Michel Platini © Reuters
Sepp Blatter, the head of football's ruling body FIFA, and former French star Michel Platini are now in the sights of the Swiss judicial authorities. Blatter is being investigated for "criminal mismanagement", while questions have been raised over an allegedly "underhand" payment the Frenchman received from the FIFA boss. Football writer Antoine Grynbaum describes how the once-close relationship between the two men turned sour and what it means for Platini's own bid for football's top job.