At Paris ceremony President Hollande praised Rocard, premier for 3 years from 1988, as a 'brilliant intellectual' and 'citizen in awe of the world'. 
Rocard, who served served as prime minister for three years from mid-1998 under François Mitterrand, was noted for his pro-European views.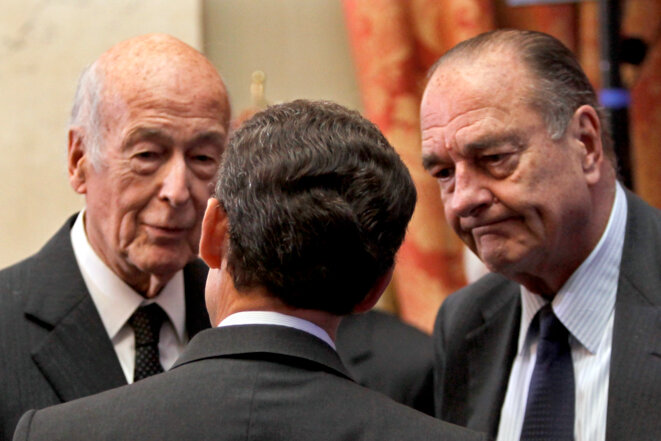 France's three surviving presidents (left to right): Valéry Giscard d'Estaing, Nicolas Sarkozy and Jacques Chirac. © Reuters
Mediapart has gained access to a detailed account of the annual payments made to former French presidents and prime ministers in a lifelong system of perks and privileges that beggars belief. With items ranging from newspaper and dry-cleaning costs to the payment of staff, offices and vehicles, the country's three surviving former heads of state cost the taxpayer a yearly 6.2 million euros. Former prime ministers, meanwhile, receive tens of thousands of euros annually for staff and vehicles, including one who left office 25 years ago. Mathilde Mathieu reports.
Former French premier Michel Rocard argues the UK is stopping the European Union from finding the democratic force and legitimacy it needs.
Prominent figures including a former prime minister have backed calls for the American whistleblower to be given refuge by French government.