French finance minister Michel Sapin said he was 'not ruling out' a lower public deficit than the 3.3% of gross domestic product target he has confirmed will be reached at the least.
Economy minister Michel Sapin agreed that 0.2% figure would make it 'more difficult' to reach government target of 1.5% growth in 2016.
France, which has often broken the EU's fiscal rules, is targeting a deficit of 2.7 percent of GDP for 2017, under the EU's limit of 3.0 percent.
Michel Sapin said UK post-Brexit plan to introduce 15% business tax was 'not a good way to start a negotiation' on future access to EU markets.
Michel Sapin said Italy's banking sector should be allowed support of state aid to recover from dumping of shares amid concerns of bad loans.
A bill of law on "transparency, anti-corruption and modernization of economic life" introduces for the first time in France a legal definition and protection of whistleblowers and a provision that companies will have to declare their tax position in countries where they or their subsidiaries operate. But for some MPs and transparency activists, the fine detail of this ambitious law makes it a lost opportunity. Dan Israel reports.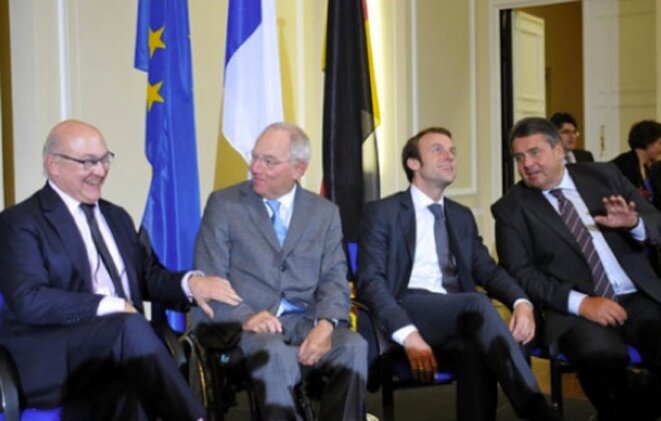 Crucial meeting? French and German finance and economy ministers meeting in Berlin, October 2014. © france-allemagne.fr
The French government's labour law reform bill, now being debated in the Senate, has prompted fierce opposition from several trades unions, massive demonstrations across the country, and a deep political and social crisis. Opinion polls show a majority of the population are opposed to the bill, which reduces current protection for employees with measures that include easing conditions for firing staff and placing a ceiling on compensation sums awarded by industrial tribunals. But the government is adamant it will not negotiate the bill's contents. Martine Orange investigates the reasons for its unusual intransigence, and discovers evidence that the most controversial texts of the bill were demanded by European Union economic liberals.
Michel Sapin says plan to overhaul labour law is crucial to proving France can reform and will go ahead despite protests and refinery blockades.
After earlier denials, Michel Sapin admitted 'inappropriate' conduct at Davos summit, just days after parliament's deputy speaker quit over harassment disclosures.
Minister said French ex-auditor on trial in Luxembourg over leak of documents revealing corporate tax deals was 'defending general interest'.
Michel Sapin said UK's settlement with internet giant 'seems more the product of a negotiation', and pledged France would apply 'the law'.
Government wants new measures to give anti-money laundering unit Tracfin access to finances of those listed on a database of wanted people.
 Michel Sapin said tests are also needed on French-made cars though he says he has no 'particular reason' to suspect wrongdoing.
Finance minister Michel Sapin said that promise by President Hollande to cut taxes in 2016 will be met through extra savings.