Keyword: Michèle Alliot-Marie
Related keywords

Facing trial? Ex-ministers Michèle Alliot-Marie, Dominique de Villepin and Michel Barnier. © Reuters
In November 2004 nine French soldiers and an American humanitarian worker were killed at Bouaké in the Ivory Coast in a bombing raid carried out by that country's air force. Yet more than eleven years later the foreign mercenaries who are thought to have conducted the raid have never been brought to account. Now a French investigating judge has recommended that three senior French ministers who served under President Jacques Chirac at the time - Dominique de Villepin, Michèle Alliot-Marie and Michel Barnier – stand trial for hindering the initial investigation. Antton Rouget reports.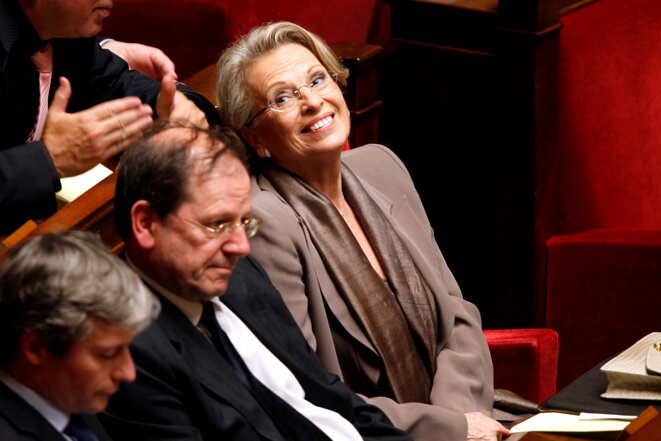 Michèle Alliot-Marie at the National Assembly on March 30th, 2011. © Reuters
In 2011 Nicolas Sarkozy's then foreign minister Michèle Alliot-Marie was forced to quit after details emerged in the midst of the Arab Spring uprising of her ties with Tunisian leader Ben Ali. Now Mediapart can reveal details of a new affair involving the right-wing politician relating to when she was interior minister under the same administration. According to documents seen by Mediapart, during her time in office Alliot-Marie backed a series of measures favourable to the casino industry in France – at the same time as her family was buying shares in casino-owning companies. Antton Rouget reports.
French foreign affairs minister Michèle Alliot-Marie has come under intense pressure to resign following further revelations about her New Year's holidays with her partner and family in strife-torn Tunisia. Contradicting her version hitherto of events, it now emerges that during the trip she held talks with now-deposed president and despot Zine al-Abidine Ben Ali, while her parents signed a business deal with an entrepreneur close to the regime. Here, Mediapart compares the minister's public statements with the truth established so far, revealing how she has misled both the French public and parliament.
F. Fillon et H. Moubarak en 2007. © Reuters
First there was the scandal of French foreign minister Michèle Alliot-Marie's holidays in strife-torn Tunisia, now comes that of Prime Minister François Fillon's sojourn in Egypt courtesy of President Hosni Mubarak. The revelations have stunned opinion in France and made headlines around the world, prompting President Nicolas Sarkozy to tell ministers they must holiday in France from now on. Marine Turchi reports on the parliamentary turbulence caused by the latest jet-set holiday disclosures.