The youth arms of France's Rassemblement national (National Rally) party, formerly called the Front National, and its far-right Italian ally, the League, staged a joint demonstration near the French-Italian border on Sunday to demand tough measures against what they said was the 'overwhelming' of Europe by migrants.
Migrant girls, mostly from sub-Saharan Africa, attempting to cross into France from Italy are being exploited by would-be smugglers offering to drive them across the on the countries' common Riviera border in exchange for sex acts, says a report by the Italian branch of the charity Save the Children.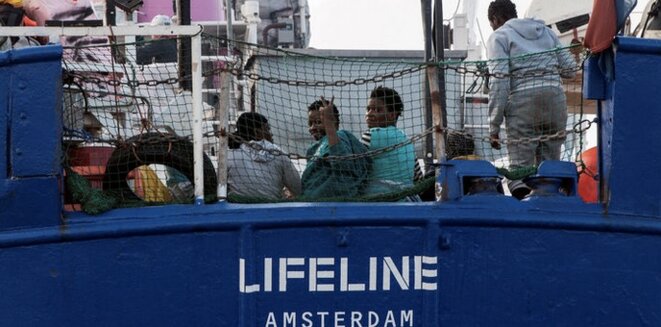 Rescued migrants on board the MV Lifeline shortly before disembarking in Malta. © Reuters
Late in June, after days of diplomatic wrangling, 234 migrants rescued off the Libyan coast while attempting to reach Europe in flimsy dinghies were finally allowed to disembark in Malta after several countries agreed to receive quotas from the group. Earlier this month, 51 of them arrived in France. Mediapart travelled to Toulouse, where some were given provisional accommodation, to listen to the harrowing stories of their experiences in Libya, where black Africans are subject to endemic racism and many become the prey and prisoner of vicious local militias. "If an Arab catches you, he sells you," said one of the survivors. "When you are black, you are a commodity, you're bought and sold on." Mathilde Mathieu reports. 
Moments after ruling by Constitutional Council backing olive farmer Cédric Herrou,  the hashtag #fraternité started trending on Twitter.
French president Emmanuel Macron said France would take a 'few dozen of the migrants as he criticised the German NGO running the ship.
On eve of EU migration policy summit, French president says he favours financial penalties on EU states that refuse to accept migrants.
A report published by NGO Oxfam says its interviews with migrant children trying to cross from Italy to France on the Riviera border found complaints of being 'physically and verbally abused, and detained overnight in cells without food, water or blankets and with no access to an official guardian', and also claims that some children had the soles of their shoes cut off before being sent back to Italy.
French President Emmanuel Macron and Italian Prime Minister Giuseppe Conte, meeting in Paris on Friday after a week-long dispute over Italy's decision to refuse the disembarkation of migrants rescued at sea by NGO ship Aquarius, agreed that the EU should set up migration processing centres in African countries of departure.
After earlier doubt, Italian Prime Minister Giuseppe Conte has maintained his lunch meeting in Paris on Friday with French President Emmanuel Macron, as the two leaders appeared to calm a high-profile diplomatic row over sharp criticism from Paris over Rome's decision to refuse sanctuary to migrants saved at sea by an NGO. 
Italian economy minister Giovanni Tria cancelled planned talks in Paris on Wednesday with his French counterpart while in Rome France's ambassador was summoned to a meeting with the foreign ministry amid the row sparked by President Emmanuel Macron's sharp criticism of Italy's decision to refuse entry to migrants aboard an NGO sea rescue ship.
Italy has accused France of 'hypocrisy' after French President Emmanuel Macron blasted Rome for 'cynicism and irresponsibility' in disallowing a humanitrian organisation's ship from disembarking at an Italian port the more than 600 migrants it has rescued at sea.
Martine Landy is charged with aiding two underage Africans to illegally enter France, in latest case involving activists assisting migrants.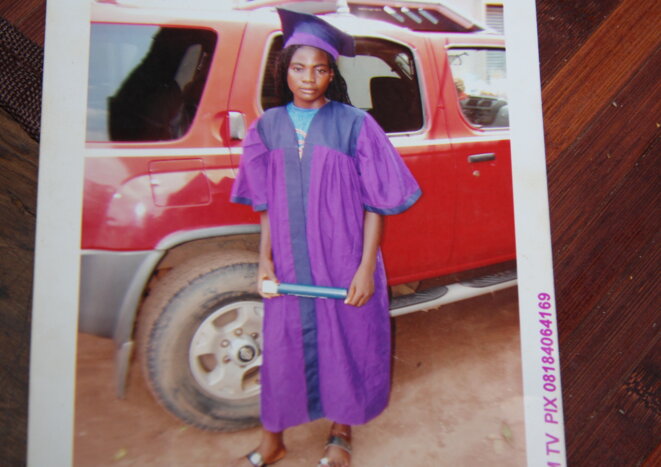 A photo of Blessing Matthew taken several years ago in Nigeria. © MM
Earlier this month the body of a 20-year-old Nigerian woman was found floating in the river Durance, in the foothills of the French Alps. Blessing Matthew had crossed illegally into France from Italy along a treacherous route of mountain passes increasingly used by desperate migrants. From witness accounts, it appears likely that Blessing drowned in the icy waters of the Durance while attempting to escape from one of the frequent border patrols which local migrant support groups say employ dangerously heavy-handed methods. One week later, the body of a man believed to be a migrant was found on a nearby mountainside. Mathilde Mathieu reports from the Alpine region where it is feared the springtime thaw may reveal yet more fatalities.
Mayor of Paris Anne Hidalgo has demanded that President Emmanuel Macron take action to provide alternative shelter for thousands of migrants who are sleeping rough in squalid conditions in the north of the capital, a situation which France's citizens' rights ombudsman, Jacques Toubon, has denounced as a denial of fundamental human rights.