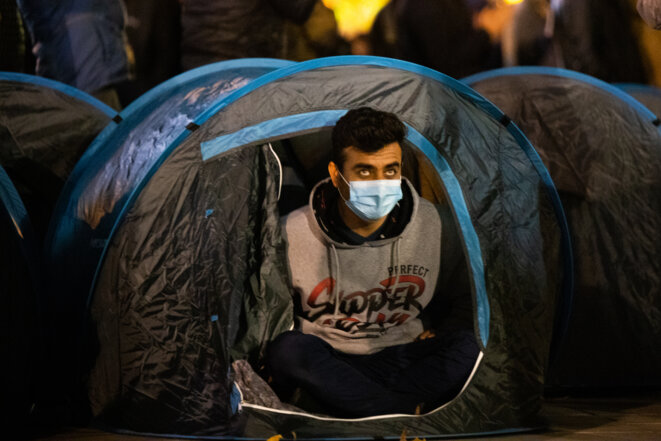 Place de la République in central Paris on Monday evening, moments before the police charge. © Jerome Gilles / NurPhoto via AFP
On Monday evening in central Paris, migrants and journalists were physically abused by police engaged in a brutal, manu militari evacuation of a makeshift camp set up on the Place de la République. The police violence was exposed in images circulating on social media and which would be banned if draft legislation currently before parliament is approved. In this joint op-ed article, Mediapart co-editor in chief Carine Fouteau and social affairs editor Mathilde Mathieu argue that the overnight events are a representation of the liberticidal drift of President Emmanuel Macron's administration, and may prove to be a political turning point.
At least four people, believed to be Iranian nationals and including two children aged 5 and 8, were drowned after their boat bound for Britain and carrying at least 19 people capsized in difficult weather conditions in the Channel after they embarked in a clandestine crossing from France.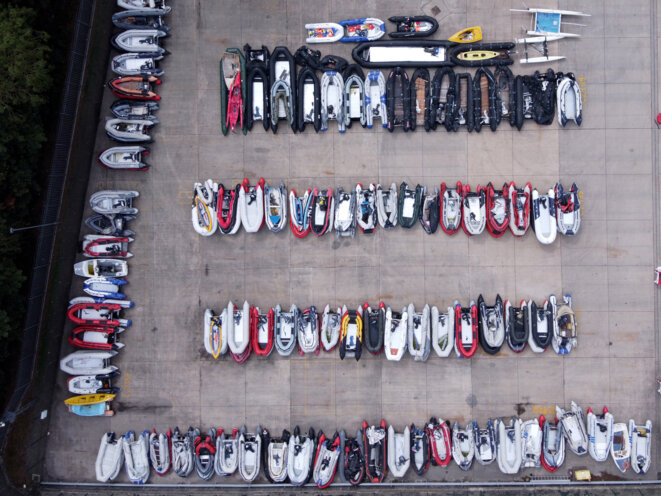 Small dinghies used by migrants to cross the Channel, lined up in the port of Dover. © AFP
The numbers of migrants attempting hazardous clandestine crossings of the Channel to reach Britain, mostly in overcrowded small dinghies, has soared this year, already reaching well more than double the total of 2019. Now the British government has called on the Royal Navy to assist the country's Border Force in a move officials say is intended to make the crossings "unviable". In this interview with Mediapart, François Gemenne, a prominent Belgian political scientist specialised in migratory issues, says that the situation in the Channel is comparable to that in the Mediterranean and warns that "the idea of closing migratory routes is absurd and dangerous" and "will lead to yet more tragedies".
French politicians believe the boy, whose body was found in Calais, went missing while attempting to cross the English Channel in a small boat.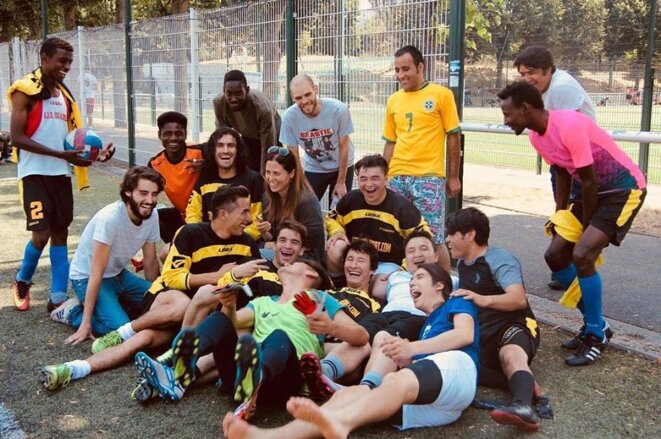 The migrant football association L'Équipe sans Frontières, at the end of a training session at Bobigny, north-east of Paris. © CC
In the Paris region, western France and the French Alps, local initiatives are springing up to help young migrants, many of them unaccompanied minors, to get involved in football to help them integrate and find their feet in their new country. These projects are similar to a much-larger initiative that began in Germany in 2015 when that country took in nearly one million refugees. But as Mickaël Correia reports, the sport's ruling body in France - the French Football Federation - is doing nothing to help the process.
The French government has finally announced it will not supply the Libyan coastguard with six speedboats destined to be used against clandestine crossings to Europe after several NGOs mounted a legal challenge to the sale, arguing that France was contributing to human rights violations in Libya where captured migrants face notorious internment camps, torture and being used as slave labour.
Pierre Mumber, a volunteer from the French Alps who came to the aid of migrants who crossed the nearby border with Italy, was last year convicted of 'helping a foreigner enter the country'. However, an appeal hearing against the verdict has been shown video footage from an Italian journalist which undermines the police version of events that led to the conviction. Meanwhile other cases confirm that the legal clampdown on French volunteers on the border who go out in search of migrants in distress is continuing. Michel Henry reports.
Eight people taken to hospital after showing symptoms of hypothermia; truck was heading to UK where 39 people were found dead in a container lorry last week.
Two bodies identified as those of a 17-year-old Iraqi Kurd and that of a 22-year-old Iraqi man were found washed up on a beach in northern France on Monday close to an inflatable boat believed to have been used in an attempt to cross the Channel to Britain.
Speaking at a joint press conference in Rome on Wednesday, Italian Prime Minister Giuseppe Conte and French President Emmanuel Macron called for all 28 member states of the EU to share reception of the numbers of migrants landing in Europe after being rescued from perilous crossings of the Mediterranean Sea, when Macron said those who refused to do so should be 'seriously penalized'.
Authorities were alerted to the migrants' plight off Dunkirk by a ferry just after midnight and sent out search and rescue teams.
Around 150 migrants from Latin America – Colombia, Cuba, Peru, Bolivia and the Dominican Republic – are living in a makeshift street camp in a Paris suburb having recently been evicted from a disused warehouse in which they were squatting. Some came to France for a better life for their family, others for political reasons. But as Irene Casado reports, all the migrants, who include children and pregnant women, face an uncertain future faced with the indifference of the local mayor and the lack of suitable housing.
Stalingrad Connection, named after a Paris metro station where homeless migrants once set up a makeshift camp for shelter, broadcasts in five languages to keep asylum seekers in contact with each other, to report on their experiences and to provide practical information.
Faycal, from Sudan, is now applying for asylum in Tunisia. © Lilia Blaise
The authorities in Tunisia have been overwhelmed following the shipwreck off neighbouring Libya on July 1st 2019 which left 90 migrants drowned. Graveyards are full, migrant reception centres cannot cope and there is no overall integration plan to welcome migrants into society. The Tunisian government is also critical of the inaction of European countries over the issue. Lilia Blaise reports from Medenine in south-west Tunisia.