Faycal, from Sudan, is now applying for asylum in Tunisia. © Lilia Blaise
The authorities in Tunisia have been overwhelmed following the shipwreck off neighbouring Libya on July 1st 2019 which left 90 migrants drowned. Graveyards are full, migrant reception centres cannot cope and there is no overall integration plan to welcome migrants into society. The Tunisian government is also critical of the inaction of European countries over the issue. Lilia Blaise reports from Medenine in south-west Tunisia.
A group of hundreds of mostly West Afican migrants stormed the Panthéon mausoleum in the Paris Latin Quarter on Friday to demand that the government review their status as illegal residents unable to obtain recognised rights to work and live in France.
The 39-year-old Iranian national, accused of arranging several crossings from northern France to England, fainted upon hearing his sentence.
The UN's special rapporteur for housing, Leilani Farha, has spoken out at the 'inhuman or degrading treatment' of migrants and refugees living without proper shelter in France, notably in and around Calais where, she said, 'people are being compelled to live in really dire circumstances, having already endured harrowing journeys there'.
Authorities in the French city of Bayonne are struggling to cope with the number of migrants coming from across the nearby Spanish border. Mediapart met Joseph and Moriba, 'blood  brothers' who are seeking France's protection after nearly dying at sea crossing to Europe from Morocco. After a legal battle, Joseph has now been recognised as a minor by the French courts while Moriba's request will be heard on appeal shortly. Mathilde Mathieu reports.
The 30-mile stretch of coast being used by migrants is too large to patrol and resources are limited, says mayor of Teteghem in northern France.
The French authorities have set out plans to improve cooperation with UK and increase their coastal surveillance.
British and French sea rescue services intervened in the early hours on Christmas Day to bring to safety at least 40 migrants, including children, attempting to cross the English Channel to England in precarious conditions in five separate boats.  
Italy's far-right interior minister Matteo Salvini said he has demanded an explanation from Paris over an alleged incursion into his country by a French police van which Italian media said was captured on CCTV releasing two men thought to be African migrants in woods near Turin.
Migrants blocked at the railway station at Vintimille on the French-Italian border, June 15th, 2015. © LF
The migrant issue has become a decisive test for all those on the Left who campaign for the emancipation of the people and equal rights for all. Mediapart publishing editor Edwy Plenel argues that far from protecting existing rights, any concession to the politics of rejection, to the favouring of one nationality over others or to policies based on borders and identity, will simply help the cause of the extreme right.
Italian Deputy Prime Minister Matteo Salvini has called on France to stop turning back migrants who succeed in crossing into the country from Italy at the Rivierra town of Ventimiglia, adding that French President Emmanuel Macron 'is the first who should show solidarity and sensibility by reopening the border'.
The youth arms of France's Rassemblement national (National Rally) party, formerly called the Front National, and its far-right Italian ally, the League, staged a joint demonstration near the French-Italian border on Sunday to demand tough measures against what they said was the 'overwhelming' of Europe by migrants.
Migrant girls, mostly from sub-Saharan Africa, attempting to cross into France from Italy are being exploited by would-be smugglers offering to drive them across the on the countries' common Riviera border in exchange for sex acts, says a report by the Italian branch of the charity Save the Children.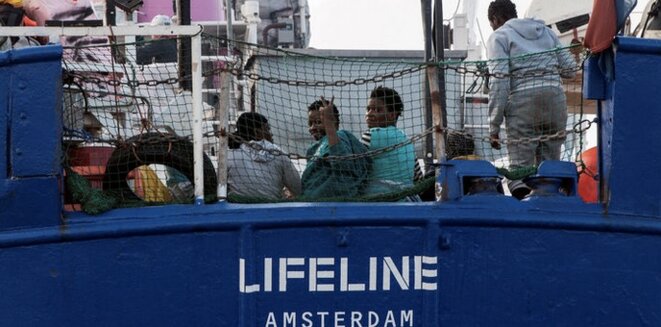 Rescued migrants on board the MV Lifeline shortly before disembarking in Malta. © Reuters
Late in June, after days of diplomatic wrangling, 234 migrants rescued off the Libyan coast while attempting to reach Europe in flimsy dinghies were finally allowed to disembark in Malta after several countries agreed to receive quotas from the group. Earlier this month, 51 of them arrived in France. Mediapart travelled to Toulouse, where some were given provisional accommodation, to listen to the harrowing stories of their experiences in Libya, where black Africans are subject to endemic racism and many become the prey and prisoner of vicious local militias. "If an Arab catches you, he sells you," said one of the survivors. "When you are black, you are a commodity, you're bought and sold on." Mathilde Mathieu reports. 
Moments after ruling by Constitutional Council backing olive farmer Cédric Herrou,  the hashtag #fraternité started trending on Twitter.