At least ten people were reported injured among the camp's more than 1,000 residents when the blaze, which broke out following fighting between Afghans and Kurds, levelled its closely packed wooden huts.
President François Hollande, speaking at a UNICEF conference in Paris on children caught in conflict, slammed the British government's refusal to take in more migrant minors with family already settled in Britain and who are now stranded in France. 
In an operation beginning with French-language courses, the 80 former inhabitants of the now-demolished squalid Channel port migrant camp were required to have already been students in their home countries and to demonstrate interest in the university courses on offer.
Court in Nice gave a a 3,000-euro suspended sentence on Cédric Herrou for meeting migrants on Italian soil to bring them to France.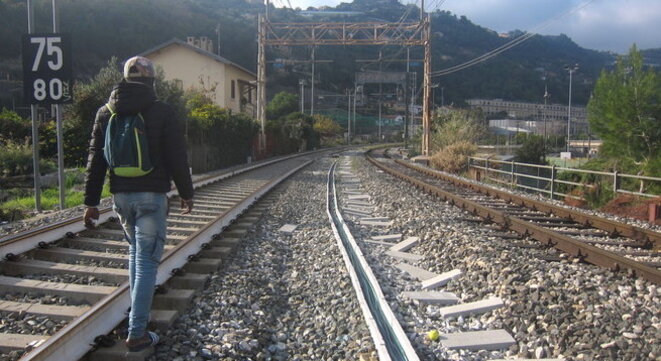 A migrant heading to France from Italy along railway tracks out of Ventimiglia. © LF
The Riviera coastal area in south-east France surrounding the border with Italy has become a major crossing point for migrants from Africa and the Middle East trying to reach northern Europe.  Despite a crackdown on the clandestine crossings by French and Italian police, many migrants continue to attempt the journey, either by by train or the perilous route of railway tracks, despite a series of fatal and serious accidents. French rail employees are increasingly under pressure from both their company and the police to help with the hunt for the migrants. Louise Fessard met with railwaymen who refuse to collaborate with operations that one described as resembling scenes from the WWII German occupation.
As winter bites in the French capital, three humanitarian associations allege the police have been harassing migrants on the streets of Paris and in some cases tear-gassing them as they queue at the refugee centre. And following the destruction of the so-called Jungle migrant camp in Calais, a local association says remaining migrants there are also suffering harassment. Carine Fouteau interviewed Corinne Torre of Médecins Sans Frontières to find out more.

Cédric Herrou, who was previously arrested for aiding eight Eritreans, faces up to five years in jail and a €30,000 fine if convicted.
Barring the two people from entry, the government in Bamako said it could not accept anyone who was 'simply assumed to be Malian'.
Officials say cash is 'compensation' for refugees and migrants who have come to Europe - but they must leave the country before December 31st.
Unaccompanied minors dispersed from the 'Jungle' refugee camp last month to France's official reception centres have alleged that have been forced into unpaid work on farms to pick apples sold to French supermarkets, and some said they had not been given clean clothes since they arrived at the centres.
Charities report hunger strikes and absconding among the 1,600 children and young people evacuated from the Calais 'jungle' camp to centres across France where many are kept unaware of the progress of their applications to join relatives in Britain.
Some have headed for Grande-Synthe refugee camp at Dunkirk but many migrants are sleeping in ditches near coast and still trying to reach UK.
Officials say rise in number of people living on street in capital could be linked to the demolition of so-called 'Jungle' migrant camp in Calais.
French ministers have hit back at apparent British criticism of way migrant children are being treated while Calais camp is dismantled.
But charities said many unaccompanied minors at the camp had not been processed and reporters said groups of adults remained in area.