A French Senate report has found that last year 300 helicopters out of France's total military fleet of 467 were 'immobilized', a problem the report said 'prevented the conduct of certain missions, particularly in France', while warning that the pressure on service personnel is leading to their exhaustion.
In interview with FRANCE 24 the French president said he would be proposing military action to combat migrant slave trading.
Paris and Berlin announce plans to share air base and transport planes, probably at Orléans in central France, as part of a closer defence policy.
French FM slammed Libyan politicians blocking formation of a government of national untity needed for planned Western intervention against IS.  
Threatened at home, only 73 of the 258 former Afghan auxiliaries in French army who requested visas to live in France have been granted them.
President Hollande says spending will rise by nearly €4bn over four years from 2016 to tackle threats 'at home and overseas'.
Three centres for the new Voluntary Military Service will open this year for 1,000 youngsters who have dropped out of the educational system.
The French authorities set up 'Military Campaign Brothels' in a bid to control sexually transmitted diseases that affected up to 30% of troops.
US defence officials say they will ask for cost of helping France fight insurgents in Sahel region of Africa to be 'reimbursed'.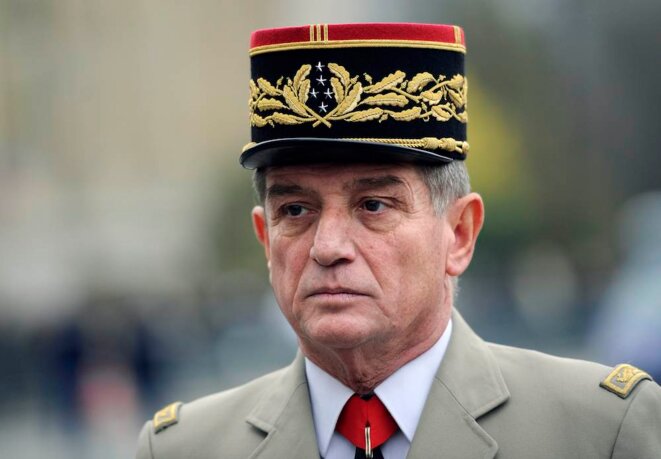 Benoît Puga en novembre 2011 © Reuters
When François Hollande was elected head of state in May 2012, General Benoît Puga expected to be removed from the powerful position as chief military advisor to the French president that he had held under Nicolas Sarkozy. Instead Puga was kept on, and has even seen his influence grow following French military interventions in Mali and the Central African Republic. "He's taking control of the president's brain," is the view of some at the ministry of defence. Increasingly, Puga's role at the Elysée Palace is causing annoyance among MPs from the ruling Socialist Party, not least because of the general's known right-wing sympathies. In the meantime, argues Thomas Cantaloube, Puga's continuing presence at the heart of government tells us a great deal about the Sarkozy years, the way Hollande exercises power and about the fawning and secret nature of this five-star general himself.
Defence minister Jean-Yves Le Drian presents 36-page report and says there will be 'zero tolerance' for assaults and harassment of women recruits.
On a visit to the Central African Republic, the French president pledged strong military support to avoid a break-up of the strife-torn country.
The country is using military intervention in Africa for humanitarian means – but also to boost its leader's dismal poll rankings.
Defence minister Jean-Yves Le Drian says 7,881 jobs will be cut next year but promises that by 2019 France will have 'the leading army in Europe'.