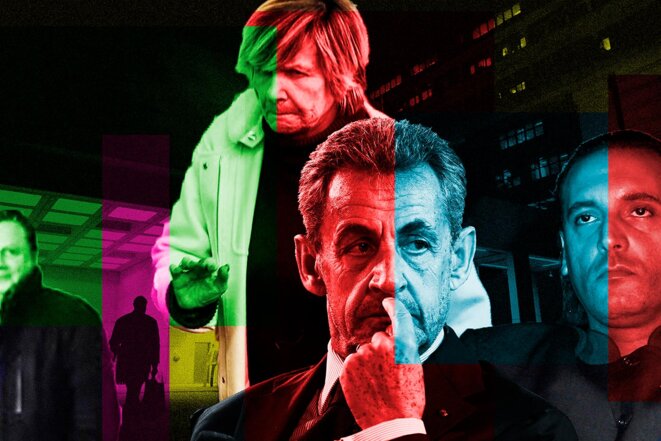 Noël Dubus, 'Mimi' Marchand, Nicolas Sarkozy and Hannibal Gaddafi. © Photomontage Sébastien Calvet / Mediapart avec AFP
France's financial prosecution unit the Parquet National Financier (PNF) has broadened the scope of its investigation into claims that Ziad Takieddine, a key witness over allegations that Libya helped fund Nicolas Sarkozy's 2007 presidential campaign, was induced to change his evidence. Well-connected Paris paparazzi boss Michèle 'Mimi' Marchand is one of those under investigation over the allegations. Prosecutors now also want to look at suspicions of an extraordinary plan to bribe judges in order to free one of the late Libyan dictator Muammar Gaddafi's sons from prison in Lebanon. The idea was that, in exchange, a grateful Hannibal Gaddafi would then speak out and clear the former president's name over the 2007 election funding allegations. As Fabrice Arfi, Karl Laske and Antton Rouget report, the affair could potentially now become an international scandal.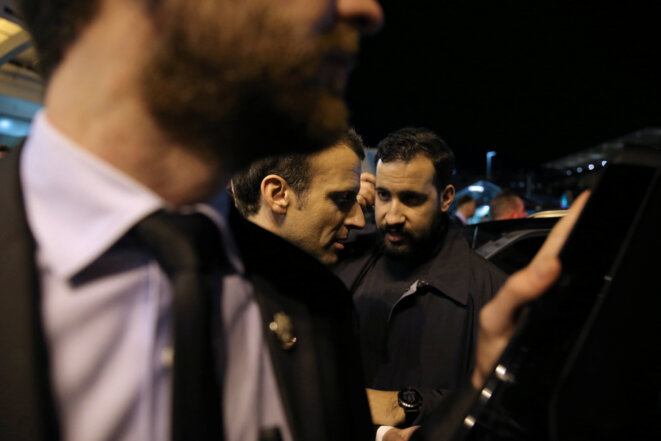 Emmanuel Macron and Alexandre Benalla. © Reuters
A year and a half after the gun safe owned by Alexandre Benalla went missing, prosecutors in Paris have finally opened a judge-led investigation into the "removal of documents or objects … with the aim of hindering the truth from coming out". With the support of the investigating judge, the probe could also now look into the disappearance of the contents of a second safe. This was the one that President Emmanuel Macron's former security aide used when he worked at the Élysée, before he was eventually sacked after being caught on video beating up a MayDay protestor in 2018. Fabrice Arfi, Antton Rouget and Marine Turchi report on the latest twist in the Benalla affair.