Laurence Rossignol sparked a row after she appeared on French TV and criticised fashion brands that market hijabs as 'irresponsible'.
Linking of notorious district of Brussels to France is welcomed by political right but others dispute link between poverty and radicalisation.
Duties of Geneviève Fioraso as minister for higher education and research will be taken on by education minister Najat Vallaud-Belkacem.
Emmanuel Macron, whose reforms aim to 'unblock' the French economy, has started legal action against 'certain public officials' after the threats.
Former major figure in government has enrolled at top institution because he wants to set up own firm and 'running a business is a real job'.
Development secretary Annick Girardin is in Guinean capital Conakry to visit Ebola units and discuss France's role in halting epidemic.
Thomas Thévenoud, sacked for not declaring earnings for three years, is under pressure from all directions to stand down as MP.
Former French finance minister Pierre Moscovici will take up the important economic and monetary affairs portfolio despite some German misgivings.
Watchdog ordered millionaire Jean-Marie Le Guen to re-evaluate property portfolio he had listed at €700,000 below true value.
Delphine Batho had said on TV that it was a 'bad budget' and that French people are 'disappointed' with the year-old government.
Fleur Pellerin has begun a highly anticipated visit  to the land of her birth, where her success story is a source of public pride, admiration and curiosity.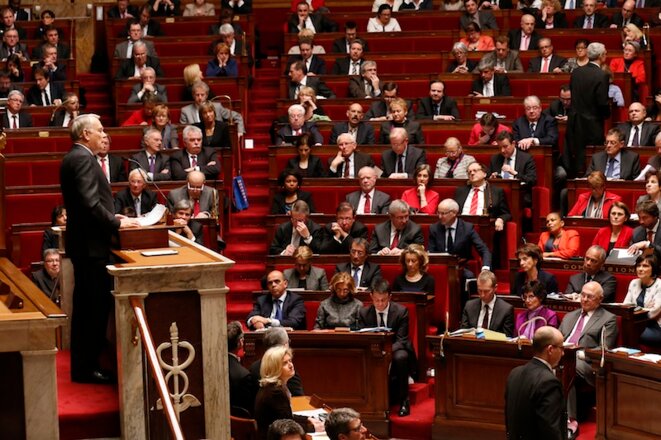 © Reuters
The resignation of budget minister Jérôme Cahuzac after a full judicial investigation was launched over his Swiss bank account sent shock waves through the ruling Socialist Party. Many MPs refuse to believe that their colleague has lied over the affair. Others want to turn the page as quickly as possible and put the matter behind them. But as Mathieu Magnaudeix, Stéphane Alliès and Lénaïg Bredoux report, one thing that is certain is that the resignation has not improved the mood in the ruling party, where one MP likened the current situation to a football match in which his side is being hammered...
As a contender to be the Socialist Party's presidential candidate a year ago Arnaud Montebourg railed against high-finance and publicly backed deglobalisation and protectionism. But last week the man who is now France's industrial recovery minister showered a report calling for sharp cuts in labour costs with fulsome praise. His friends insist there is no contradiction. However some wonder whether Montebourg has undergone a political conversion since becoming a government minister. Mediapart's Lénaïg Bredoux reports.