Abdelkader 'Kader' Merah, 35, cleared of helping brother kill seven people in 2012 but jury decided he had been part of a terrorist conspiracy.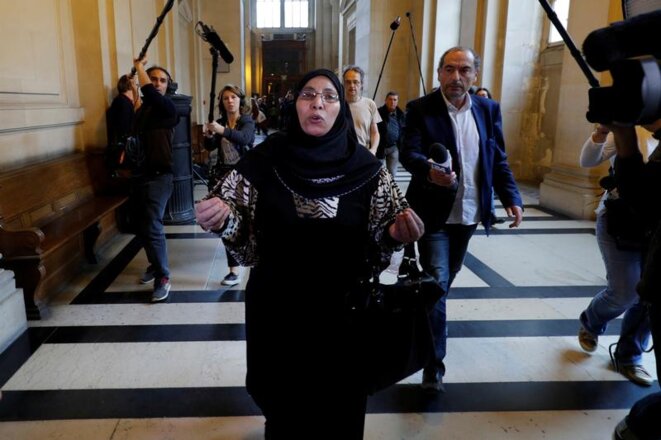 Zoulikha Aziri, the mother of Mohamed and Kader Merah, on the first day of the trial into the 2012 murders at Toulouse and Montauban. © REUTERS/Philippe Wojazer
On Thursday November 2nd, 2017, Abdelkader 'Kader' Merah was cleared of being an accomplice to his brother Mohamed's 2012 murder of three soldiers and four Jewish civilians, including three children, in south-west France, but found guilty of being part of a terrorist conspiracy. Mediapart examines what the trial in Paris revealed about the family from which both men came. As Matthieu Suc reports, it was a family characterised by casual, routine violence and hatred, against a backdrop of anti-Semitism and radical Islam.
Court to rule whether whether older brother of jihadist who shot dead seven people, including three children, in 2012 was complicit in killings.
Abdelkader Merah, accused of helping his jihadi brother Mohamed Merah in his March 2012 shooting murders of seven people in and around the southern French city of Toulouse has begun giving his testimony to a Paris court, telling magistrates 'there is a big difference' between him and his late brother.
The trial continued this week of Abdelkader Merah and Fettah Malki, both accused of complicity in the crimes of Mohamed Merah, the Islamist terrorist brother of Abdelkader Merah who murdered seven people in and around the city of Toulouse, southern France, in March 2012. Both men have denied the charges. The court hearings, which opened on October 2nd, have been marked by ill-tempered verbal exchanges, while a lawyer for Abdelkader Merah has claimed to have received death threats. But the rowdy debates suddenly fell silent this week when witnesses took to the stand to recount Merah's massacre of a rabbi and three children, aged 3, 5 and 8, at a Jewish school in Toulouse. Matthieu Suc was in court to hear their harrowing testimony.
The trial of Abdelkader Merah, 35, accused of aiding his younger brother Mohamed Merah during the latter's nine-day spree of killings of seven people, including soldiers and Jewish children, in and around the southern French city of Toulouse in March 2012, opened in Paris on Monday.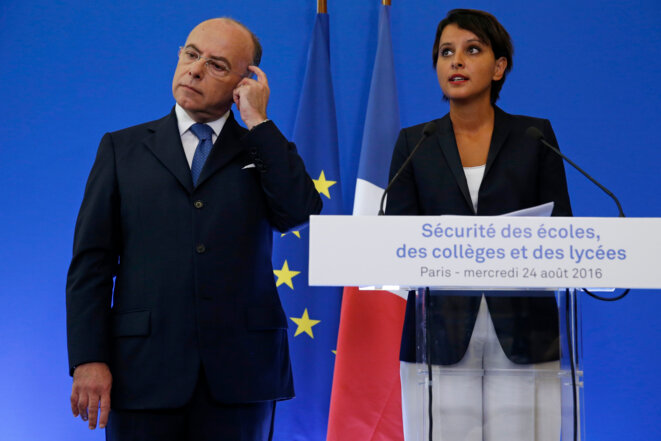 School security: interior minister Bernard Cazeneuve and education minister Najat Vallaud-Belkacem. © Reuters
Pupils in France go back to school this week amid ever-greater security and against the backdrop of a constant threat of terrorism. The education minister and the interior minister have held a joint press conference to outline the unprecedented measures that are being taken to ensure the safety of children at school. As Faïza Zerouala reports, the authorities have to strike a careful balance between ensuring educational establishments are prepared for a terrorist attack and avoiding causing anxiety among younger pupils.
Father of a victim of the Toulouse gunman, who shot dead seven people in 2012, says the videos show him confessing work for spy services.
The three men, extradited from Turkey, include the brother-in-law of Toulouse gunman Mohamed Merah who murdered seven people in 2012.
Three French alleged jihadists expelled by Turkey arrived unchecked in France after they were sent on a flight to Marseille instead of Paris.
Interpellation par la DGSI et le raid de sept jeunes strasbouregois de retrou de Syrie le 13 mai 2014 à la Meinau © Reuters
The recent arrest of a French citizen accused of a murderous attack at a Jewish museum in Belgium has highlighted the growing problem of jihadists returning from Syria to wage war in their own countries. More than 2,000 European citizens, including 630 French residents, have gone to fight against the Assad regime since 2011, according to recent figures. And some, at least, of those who return come back intending to use their combat training to carry out terrorists attacks at home. As Louise Fessard reports, the numbers involved are so great that European security forces, including those in France, are struggling to cope.
French interior minister says Souad Merah, whose brother shot dead seven people in south-west France in 2012, is believed to be in Syria.
The soldier was arrested at army barracks in Castres and is reported to be an aquaintance of Mohamed Merah who shot dead seven people last year.
Police found weapons and explosives at the home of one of the suspects in the town of Marignane, near Marseille.