German pharmaceuticals and chemicals company Bayer has distanced itself from practices alleged in French media reports that US firm Monsanto, which it bought last year for 63 billion dollars, built up a file of some 200 names including journalists and lawmakers in the hope of influencing their positions on pesticides, and notably its weed-killing product Roundup, a systemic, broad-spectrum glyphosate-based herbicide which US courts have found is responsible for causing cancers.   
French cereal farmer Paul François, 55, has won a decade-long legal battle against US biotech firm Monsanto, now owned by German group Bayer, after a court in Lyon ruled that he was poisoned and left with chronic neurological disorders after accidentally inhaling a Monsanto weedkiller, Lasso, because the company had not sufficiently warned of the danger of the product, which contained monochlorobenzene.
A court in Lyon has ruled that safety risks were not properly taken into account when a version of Bayer's weedkiller Roundup, Pro 360, which contains the suspected carcinogen glyphosate, was allowed to go on sale in 2017, prompting its removal from sale across France.
French environment minister Nicolas Hulot has applauded a Californian court judgment which found agrochemical giant Monsanto did not warn of the serious health risks of using its herbicide Roundup, ordering it to pay nearly $290 million to a school groundskeeper who developed terminal cancer after using the product, adding that he hoped the ruling 'corrects the indifference of politicians' over the dangers of the weedkiller's key compound glyphosate.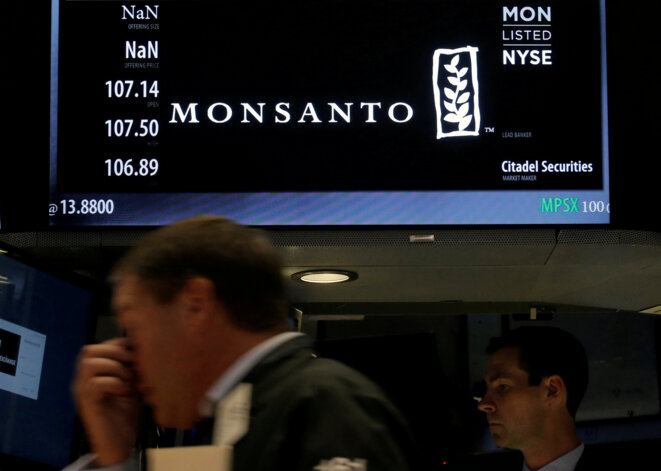 Monsanto shares tracked on the New York Stock Exchange © Reuters.
Glyphosate, the compound used in the herbicide Roundup manufactured by US agrochemical corporation Monsanto, which earlier this month was acquired by German pharmaceuticals and chemicals giant Bayer, is suspected by several scientific studies of being carcinogenic, and notably of causing non-Hodgkin lymphoma. But now a French couple have launched a lawsuit against the firm over serious malformations of their son's digestive and respiratory systems which they argue was caused by his mother's exposure to glyphosate in the early weeks of pregnancy. Crucially, they say that Monsanto knew of the compound's potential dangers, but failed to warn of them in product labelling. Dorothée Moisan reports.
Monsanto product will be barred from self-service shopping outlets amid evidence that one of its constituents, glyphosate, is carcinogenic.
Farmers will no longer be able to plant seeds from the genetically-modified maize, which France claims could pose risks to the environment.
The Council of State rejected the legal basis for a government ban on growing Monsanto's GM corn which has been in force since March 2012.
The French government says it will seek a EU ban on imports of Monsanto GM corn if a study linking it to cancer in rats is deemed credible.
A controversial French study has found rats fed a diet of Monsanto's genetically modified corn suffered tumours and multiple organ damage.
France's temporary ban on planting of a variety of GM maize by Monsanto is rejected by Europe's food safety agency which sees no health risk.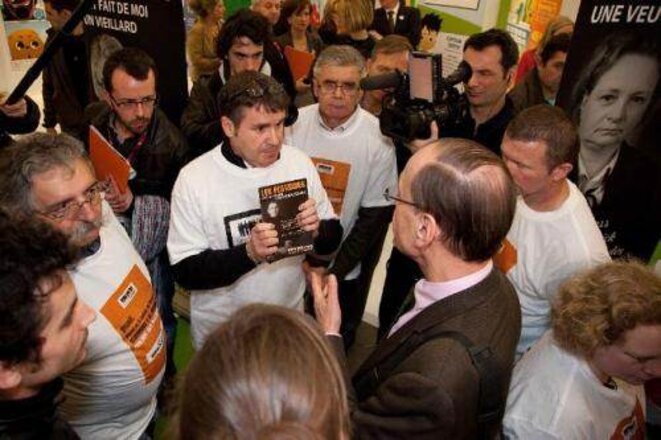 © Reuters
Last month, French cereal farmer Paul François, 47, won a lengthy legal battle against US biotech giant Monsanto in a landmark ruling by a court in Lyon that could open a floodgate of complaints by farmers for chemical poisoning. François was found to have become severely handicapped as a direct result of his contamination by Lasso, a powerful herbicide produced by Monsanto. France is Europe's biggest user, by volume, of pesticides, and worldwide only India and the United States use more. For François and other campaigners seeking to alert farmers to the dangers of chemical-based phytosanitary products, their battle targets not only the clout of the industrial lobby and a reluctance of the medical profession to recognise the illnesses caused by pesticides, but also a silent taboo among the farming community itself. Claire Le Nestour reports.
A French court has found the US biotech giant Monsanto legally responsible for the poisoning of a farmer who inhaled a powerful weedkiller.
France's highest administrative body gives go-ahead to planting of genetically modified corn, but two key ministries said they would block the move.