Related keywords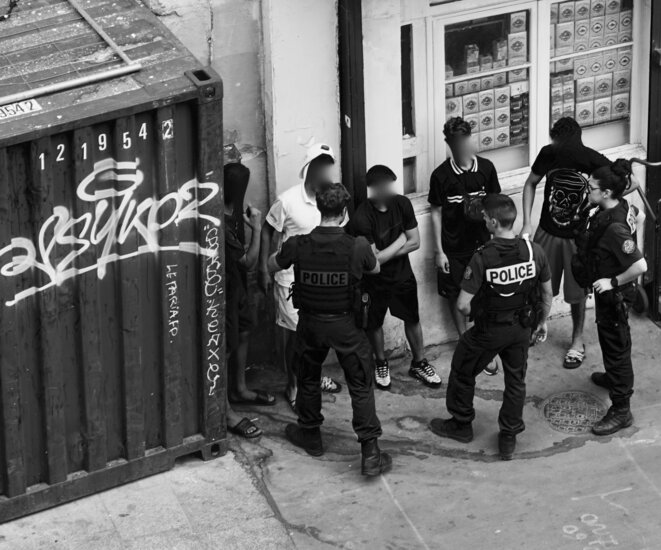 Police intervene in an altercation between Moroccan youths and a local trader in the Goutte d'Or district of Paris, July 2018. © Rachida El Azzouzi
Dozens of Moroccan youths roam the Goutte d'Or district of Paris, where they are both the authors and victims of violence and have been making life a misery for local inhabitants. Unable to cope, over the summer the French authorities called on Moroccan police officers to help arrange possible repatriation of some of the youngsters. Rachida El Azzouzi and Mathilde Mathieu report on a policy that has alarmed some local support groups.
King Mohammed VI of Morocco underwent a medical operation on Monday in France for an irregular heartbeat.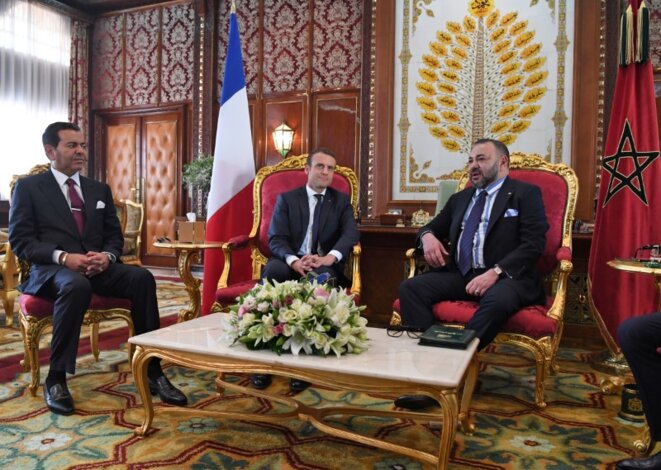 Emmanuel Macron with the King of Morocco Mohammed VI, right, during the French presdent's visit to Rabat on June 14th, 2017. © Reuters
Emmanuel Macron's first visit beyond Europe as French head of state was to Morocco, where anti-corruption protests have caused unprecedented unrest over the past seven months. The visit brought succour to the embattled kingdom but was also a little unsettling for Rabat, which has yet to fully understand the new Macron administration. But it was essentially a trip to signal continuity in Franco-Moroccan relations. Lénaïg Bredoux reports.
French President François Hollande who, with UN Secretary-General Ban Ki-moon, was attending a meeting of almost 200 nations in Morocco on ways to slow global warming, said US 'must respect the commitments it has undertaken' with last year's UN pact to combat climate change, which president-elect Donald Trump has called into question.
Yassine Abaaoud, whose brother was killed by French police after the November 13th attacks, was jailed two years for non-denunciation and promotion of terrorism.
Charles de Gaulle airport worker held after CCTV images show him picking up notes lost by Morocco's ambassador to US as he left VIP lounge.
Loubna Abidar, who played a prostitute in Moroccan drama Much Loved, banned in the north-African country, was attacked in Casablanca.
The training scheme, announced on President Hollande's weekend visit to Rabat, officially aims to promote 'values of openness and tolerance'. 
Rights groups are concerned over earlier French announcement that Moroccan spy chief accused of torture will be given the Légion d'honneur.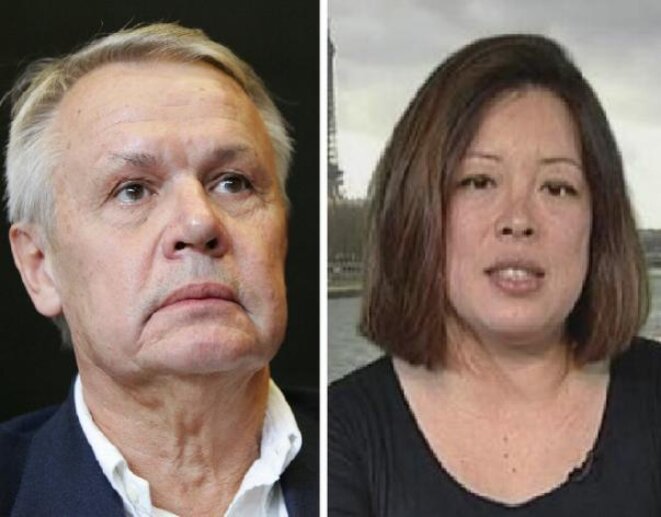 © DR.
In a case as bizarre as it is unusual, two French journalists were last month arrested in a luxurious Paris hotel on suspicion of the attempted blackmail of Morocco's King Mohammed VI. Éric Laurent and Catherine Graciet are accused by the Moroccan authorities of demanding 3 million euros in exchange for not publishing their book of damaging revelations about the Rabat regime. Mediapart has obtained access to documents from the French judicial investigation which demonstrate that the case is far more complex than it first appeared. Sting or set-up? Michel Deléan reports.
Éric Laurent and Catherine Graciet say blackmail allegation is latest in series of attempts by Moroccan establishment to silence them.
Two writers face probe after allegedly asking for money in exchange for not publishing 'damaging' book about King Mohammed VI.

François Hollande reçoit Mohammed VI à l'Elysée, le 9 février 2015. © Reuters
Last week French Members of Parliament took the first step towards approving a brief accord on judicial cooperation between France and Morocco. On the face of it, this seems a routine agreement; but behind this protocol lies more than a year of bitter discord between the two countries over attempts by a French judge to question the head of the Moroccan internal intelligence agency over allegations of complicity in torture. After lengthy and sometimes fruitless attempts to broker an end to the dispute, led by French president François Hollande in person, Paris hopes that the deal on judicial cooperation will put the seal on recently-improved bilateral relations. But the wording of the new text has been bitterly opposed by human rights groups who say it is deeply damaging to the independence of France's judges and courts, and who claim that the French authorities have capitulated to the demands of their Moroccan counterparts. Lénaïg Bredoux reports.
Abdellatif Hammouchi is to be given France's highest award for merit, despite facing lawsuits for torture brought by Moroccan-French activists.