The legal action follows revelations that its intelligence services used the Pegasus mobile phone spyware against dozens of French journalists.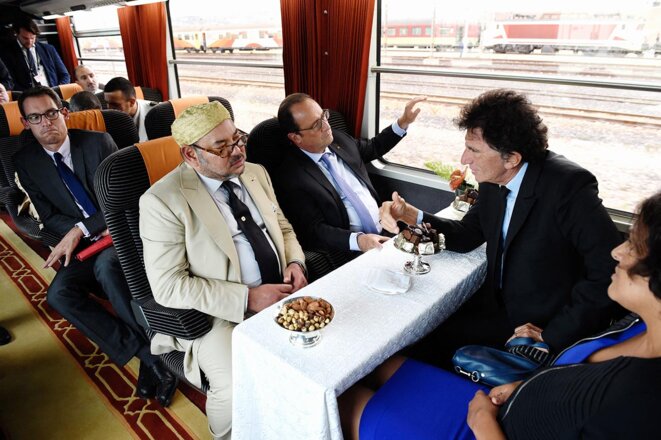 Moroccan king Mohammed VI with French president François Hollande, Jack Lang, president of the Institut du Monde Arabe in Paris and labour minister Myriam El Khomri on a train to Tangiers, September 20th 2015. © Photo Alain Jocard / AFP
The Pegasus spyware revelations show how Morocco has targeted at least 10,000 mobile phones in recent years. These include the phones of several dozen French citizens, including journalists, the president of the Republic Emmanuel Macron and government ministers and senior opposition figures. Yet for the last thirty years the political, media and cultural elites here in France have closed their eyes to the repressive behaviour of the North African monarchy. Lénaïg Bredoux and Iyes Ramdani report.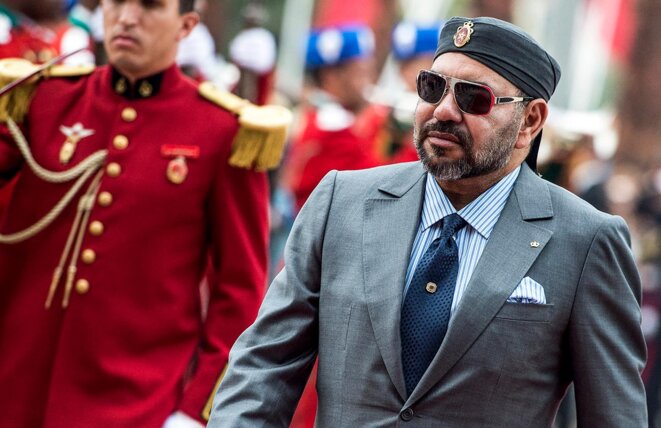 The king of Morocco, Mohammed VI, during the opening of the Agdal railway station at Rabat, on November 17th 2018. © Photo Fadel Senna / AFP
The revelations about the use made by certain countries of the Pegasus spyware against journalists around the world have focused attention on Morocco's close surveillance of the media. As Mediapart – itself a victim of Moroccan spying - here reveals, the North African kingdom's clampdown targets not just independent journalists and publications but human rights activists too. The regime has also cynically made use of the #MeToo movement and the subsequent heightened global awareness about sexual and sexist violence to discredit those who criticise and oppose it by manipulating or fabricating evidence of a sexual nature.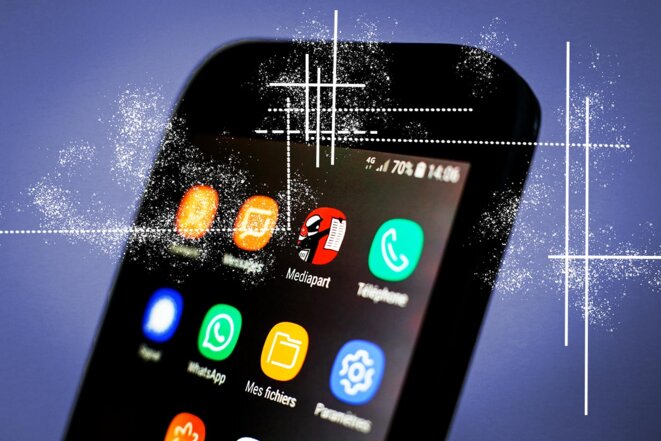 © Photo illustration Sébastien Calvet / Mediapart
Mediapart has started legal action after revelations that two of our journalists had their phone hacked with the Pegasus spyware by the Moroccan secret services. The software, made by Israeli firm NSO Group, was sold to government clients around the world and was supposedly to be used only to "fight serious crime and terrorism". But a date leak and investigations by various media around the world show that some countries drew up lists of telephone numbers that could be targeted with the spyware – and these lists include many journalists. Among them are Mediapart's co-founder and publishing editor Edwy Plenel and reporter Lénaïg Bredoux.  Analysis has shown their phones were infected with the spyware by Moroccan agents in 2019 and 2020. Mediapart has filed a formal complaint with the state prosecutor in Paris, which has now opened a criminal investigation. Meanwhile it has also emerged that French president Emmanuel Macron's phone was targeted with the spyware by Morocco in 2019.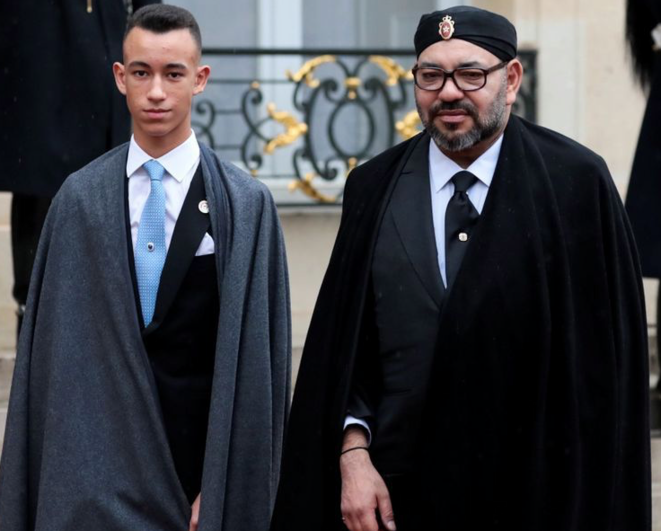 Moroccan King Mohammed VI (r) with his son Moulay Hassan during Armistice Day commemorations in Paris in November 2018. © Reuters
Moroccan King Mohammed VI this week celebrates the 20th anniversary of his reign. The 55-year-old monarch chose to avoid any ostentatious ceremonies, reflecting the sombre social climate in the country where, by his own admission, past policies for the country's development have proved "incapable of satisfying the pressing demands and growing needs of citizens". Rachida El Azzouzi and Ali Amar from Mediapart's Moroccan media partner Le Desk analyse the vast challenges facing the North African kingdom, prone to mounting social revolt, where Mohammed VI once represented a future of hope after the dark years of the reign of his father, Hassan II.
Édouard Philippe and Khalid Bouksib. © DR
A friend of French prime minister Édouard Philippe was arrested and placed in custody on Sunday June 23rd for having reportedly hit an off-duty police officer. According to legal sources he was, unusually, freed just a few hours later after having claimed – falsely - that he was the premier's diplomatic advisor. He is now due to face trial in November on charges that include passing himself off as a ministerial advisor. Fabrice Arfi, Antton Rouget and Matthieu Suc report
Authorities in the French city of Bayonne are struggling to cope with the number of migrants coming from across the nearby Spanish border. Mediapart met Joseph and Moriba, 'blood  brothers' who are seeking France's protection after nearly dying at sea crossing to Europe from Morocco. After a legal battle, Joseph has now been recognised as a minor by the French courts while Moriba's request will be heard on appeal shortly. Mathilde Mathieu reports.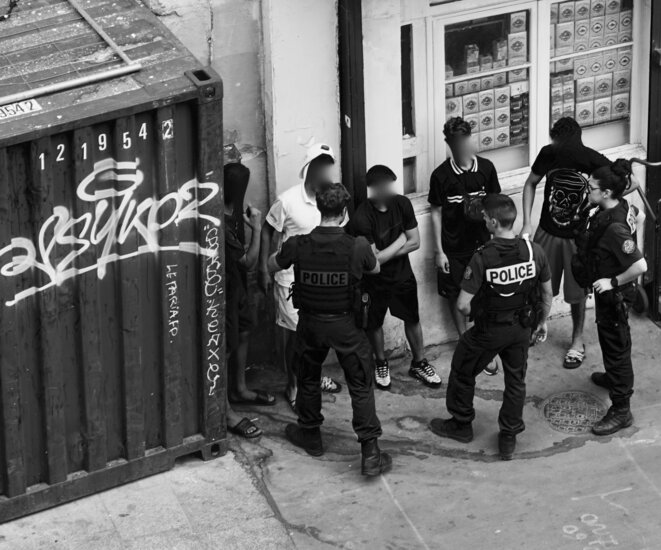 Police intervene in an altercation between Moroccan youths and a local trader in the Goutte d'Or district of Paris, July 2018. © Rachida El Azzouzi
Dozens of Moroccan youths roam the Goutte d'Or district of Paris, where they are both the authors and victims of violence and have been making life a misery for local inhabitants. Unable to cope, over the summer the French authorities called on Moroccan police officers to help arrange possible repatriation of some of the youngsters. Rachida El Azzouzi and Mathilde Mathieu report on a policy that has alarmed some local support groups.
King Mohammed VI of Morocco underwent a medical operation on Monday in France for an irregular heartbeat.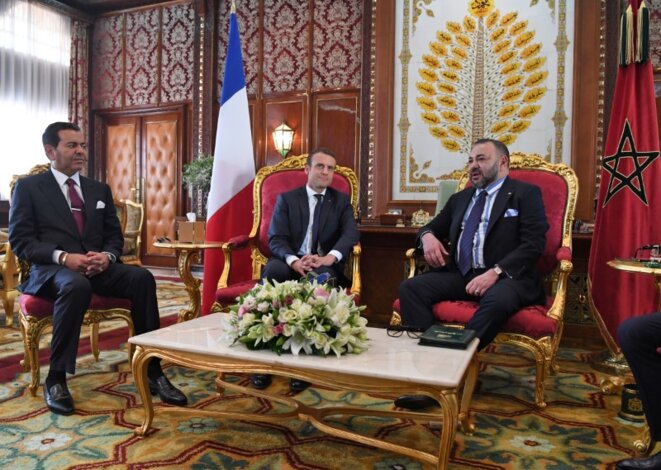 Emmanuel Macron with the King of Morocco Mohammed VI, right, during the French presdent's visit to Rabat on June 14th, 2017. © Reuters
Emmanuel Macron's first visit beyond Europe as French head of state was to Morocco, where anti-corruption protests have caused unprecedented unrest over the past seven months. The visit brought succour to the embattled kingdom but was also a little unsettling for Rabat, which has yet to fully understand the new Macron administration. But it was essentially a trip to signal continuity in Franco-Moroccan relations. Lénaïg Bredoux reports.
French President François Hollande who, with UN Secretary-General Ban Ki-moon, was attending a meeting of almost 200 nations in Morocco on ways to slow global warming, said US 'must respect the commitments it has undertaken' with last year's UN pact to combat climate change, which president-elect Donald Trump has called into question.
Yassine Abaaoud, whose brother was killed by French police after the November 13th attacks, was jailed two years for non-denunciation and promotion of terrorism.
Charles de Gaulle airport worker held after CCTV images show him picking up notes lost by Morocco's ambassador to US as he left VIP lounge.
Loubna Abidar, who played a prostitute in Moroccan drama Much Loved, banned in the north-African country, was attacked in Casablanca.