The training scheme, announced on President Hollande's weekend visit to Rabat, officially aims to promote 'values of openness and tolerance'. 
Rights groups are concerned over earlier French announcement that Moroccan spy chief accused of torture will be given the Légion d'honneur.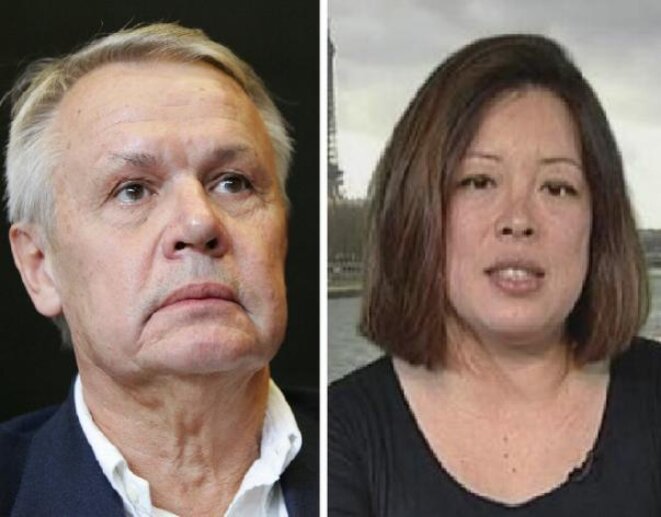 © DR.
In a case as bizarre as it is unusual, two French journalists were last month arrested in a luxurious Paris hotel on suspicion of the attempted blackmail of Morocco's King Mohammed VI. Éric Laurent and Catherine Graciet are accused by the Moroccan authorities of demanding 3 million euros in exchange for not publishing their book of damaging revelations about the Rabat regime. Mediapart has obtained access to documents from the French judicial investigation which demonstrate that the case is far more complex than it first appeared. Sting or set-up? Michel Deléan reports.
Éric Laurent and Catherine Graciet say blackmail allegation is latest in series of attempts by Moroccan establishment to silence them.
Two writers face probe after allegedly asking for money in exchange for not publishing 'damaging' book about King Mohammed VI.

François Hollande reçoit Mohammed VI à l'Elysée, le 9 février 2015. © Reuters
Last week French Members of Parliament took the first step towards approving a brief accord on judicial cooperation between France and Morocco. On the face of it, this seems a routine agreement; but behind this protocol lies more than a year of bitter discord between the two countries over attempts by a French judge to question the head of the Moroccan internal intelligence agency over allegations of complicity in torture. After lengthy and sometimes fruitless attempts to broker an end to the dispute, led by French president François Hollande in person, Paris hopes that the deal on judicial cooperation will put the seal on recently-improved bilateral relations. But the wording of the new text has been bitterly opposed by human rights groups who say it is deeply damaging to the independence of France's judges and courts, and who claim that the French authorities have capitulated to the demands of their Moroccan counterparts. Lénaïg Bredoux reports.
Abdellatif Hammouchi is to be given France's highest award for merit, despite facing lawsuits for torture brought by Moroccan-French activists.
Since her appointment Najat Vallaud-Belkacem has been subject of racist and sexist comments and malicious rumours on social media.
Suspect arrested by security services on arrival in France as part of preliminary investigation into possible 'conspiracy to plan terrorist acts'.
Suspect is described as veteran member of the international terror network now in charge of raising funds and manpower for fighting in Syria.
Moroccan foreign minister Salaheddine Mezouar was told to remove his coat, belt and footware in a security check at Charles-de-Gaulle airport.
The escalating tension follows a French police attempt to question Morocco's domestic intelligence chief over alleged rights' abuses.
The row centres on a French police bid to quizz Moroccan spy chief, and a French diplomat's alleged comments on rights abuses by Morocco.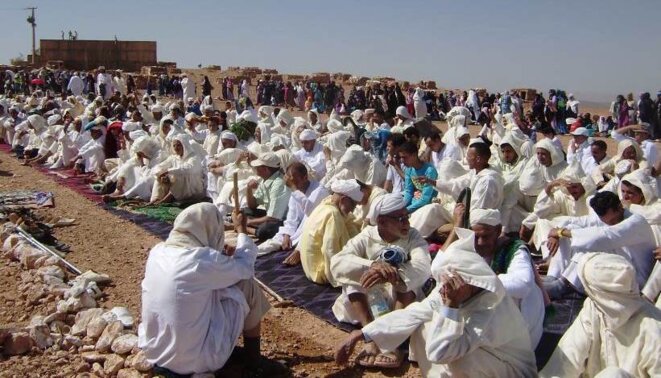 A Imider, en août 2013 © DR
The inhabitants of a small commune in a remote part of south-east Morocco claim that the local silver mine owned by the country's royal family is taking their water and polluting their land. Unable to get local officials to intervene on their behalf, the villagers took matters into their own hands and cut off one of the mine's water supplies before starting an occupation of the site that has lasted for more than two years. The local residents show no signs of giving up their struggle despite feeling 'abandoned' by the state and despite some of them being arrested and convicted in connection with the occupation, including two men last week. One local man explains to Ilhem Rachidi why he joined the protest.
Moroccan veterans have finally been honored 70 years after they played a critical role in the liberation of the French island of Corsica.