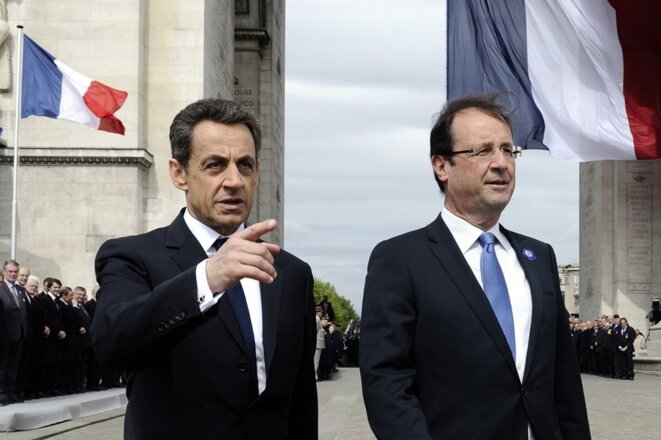 Nicolas Sarkozy with then-president François Hollande at a ceremony marking V-E Day on May 8th 2013. © Reuters
The placing under investigation of Nicolas Sarkozy on Wednesday for corruption, embezzling public funds and illegal electoral funding by the regime of late Libyan dictator Muammar Gaddafi has come about as the judicial investigation is in its fifth year, and seven years after Mediapart first revealed the former conservative president's dealings with Tripoli. During the entire period, which includes five years of socialist government, the political powers have regularly turned their backs on the disturbing questions raised by the mounting evidence of Sarkozy's dubious relations with the dictator, and also the circumstances of France's subsequent military intervention in Libya, to the point of dismissing repeated calls for a parliamentary inquiry. Antton Rouget reports.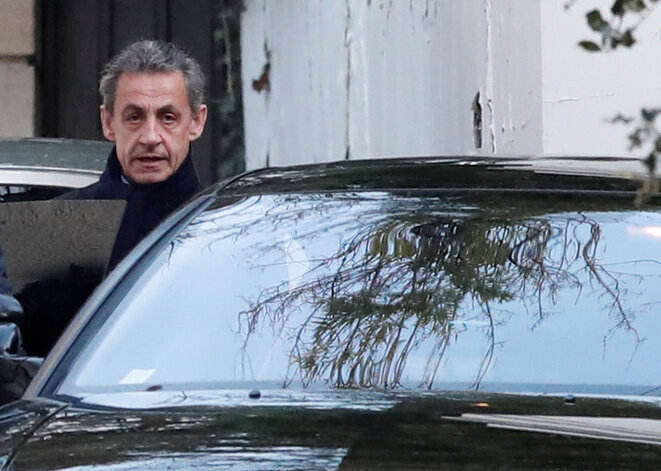 Nicolas Sarkozy leaving his Paris home Wednesday morning for a second day of questioning. © Reuters
Nicolas Sarkozy was placed under formal investigation by magistrates on Wednesday for "illicit funding of an electoral campaign", "receiving and embezzling public funds" and "passive corruption" at the end of almost 48 hours of questioning by French police investigating evidence that the former French president's 2007 presidential election campaign was partly funded by the regime of the late Libyan dictator Muammar Gaddafi. It is unprecedented in France for a former president to face prosecution for having been sponsored by a foreign power. Fabrice Arfi and Karl Laske report on the latest events and the background to the case, which followed Mediapart's first revelations in 2011.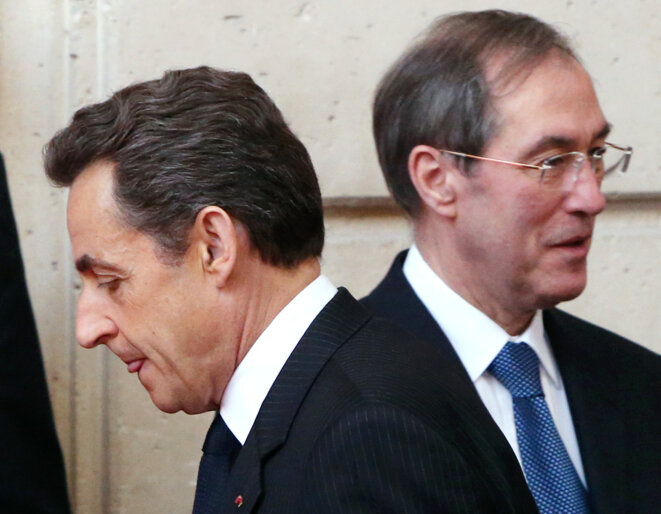 Nicolas Sarkozy and his right-hand man Claude Guéant, March 27th, 2012. © Reuters
Police officers from France's anti-corruption squad, the OCLCIFF, have produced a preliminary and damning report into the claims that the Libyan regime under Muammar Gaddafi funded the 2007 presidential election campaign of Nicolas Sarkozy. It raises questions about the role of Éric Woerth who at the time was treasurer of Sarkozy's campaign, later became a minister and is now president of the finance committee at the National Assembly. Meanwhile judges have ordered the seizure of properties belonging to Sarkozy's former chief-of-staff and right-hand man, Claude Guéant. Fabrice Arfi and Karl Laske report.

Money bagman: Ziad Takieddine says he took Libyan cash to Nicolas Sarkozy. © Pedro Da Fonseca/Premières Lignes
In an interview filmed by Mediapart the arms dealer and intermediary Ziad Takieddine has described how he brought three suitcases of cash from Libya to give to Nicolas Sarkozy and his top aide just before the former's successful presidential campaign in 2007. In a testimony that backs up claims that Sarkozy's campaign was part-funded by Colonel Muammar Gaddafi's regime, the Franco-Lebanese businessman says: "I discovered things that should no longer stay hidden." The revelations come as Nicolas Sarkozy makes an enforced exit from French politics after his humiliating defeat in last week's primary to choose the Right's 2017 presidential candidate. Fabrice Arfi, Karl Laske and Nicolas Vescovacci report.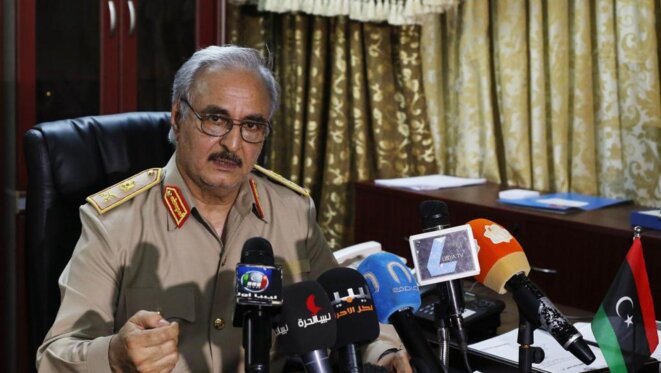 General Khalifa Haftar is a rival to Libya's official government but is supported militarily by France. © Reuters
Under President Nicolas Sarkozy France launched a military intervention that plunged Libya into chaos. Now under President François Hollande Paris is conducting two parallel and very different policies; one official, one secret. In Tripoli France supports the government that is recognised by the international community. But at the same time it is also discreetly providing military aid to the official Libyan government's main adversary, General Khalifa Haftar, whose power base is in the east of the country. René Backmann and Lénaïg Bredoux investigate.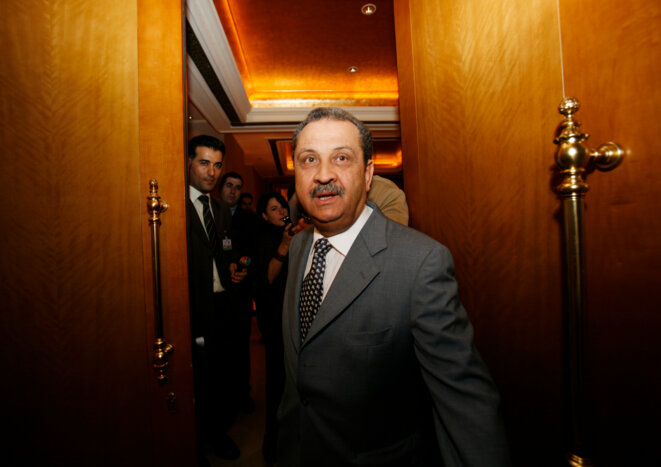 Shukri Ghanem in December 2007 when he was Libya's oil minister. © Reuters
Officially Shukri Ghanem died after suffering a heart attack and falling into the River Danube where he drowned. But few people have ever believed this official version of the former Libyan oil minister's death in Vienna in April 2012. Hillary Clinton's leaked emails show that her entourage and American diplomats considered at the time that Ghanem's death was "highly suspicious". Mediapart has also contacted an acquaintance of the former oil minister in Vienna who has raised several potential theories behind the Libyan's death, including one involving "bribes" to politicians in France, Italy – and Britain. Agathe Duparc reports from Geneva.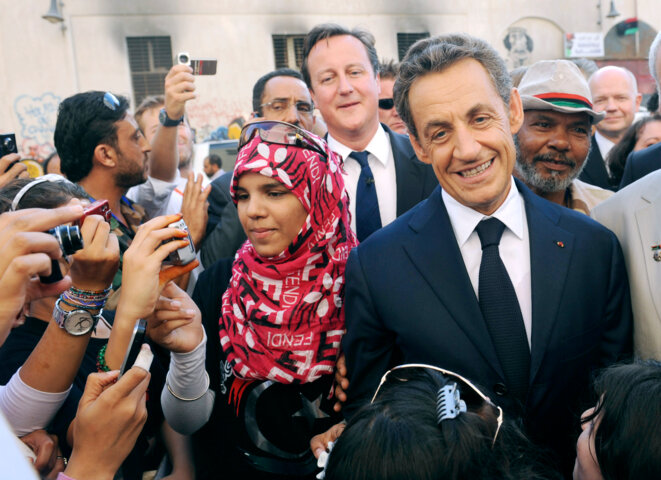 Nicolas Sarkozy and David Cameron visiting Benghazi. © Reuters
A report published this week by the UK parliament's foreign affairs committee made public its highly critical conclusions after a one-year inquiry into Britain's involvement in the 2011 military intervention in Libya which led to the overthrow of the regime of Muammar Gaddafi. The committee described the operation, which was led by France, as ill-prepared, ill-informed and without a cohesive strategy. No parliamentary inquiry into the military campaign has ever been held in France, and what exactly fuelled then-president Nicolas Sarkozy's eagerness to remove Gaddafi remains uncertain, although a number of clues point to a motive ignored by the UK committee of MPs. Fabrice Arfi reports.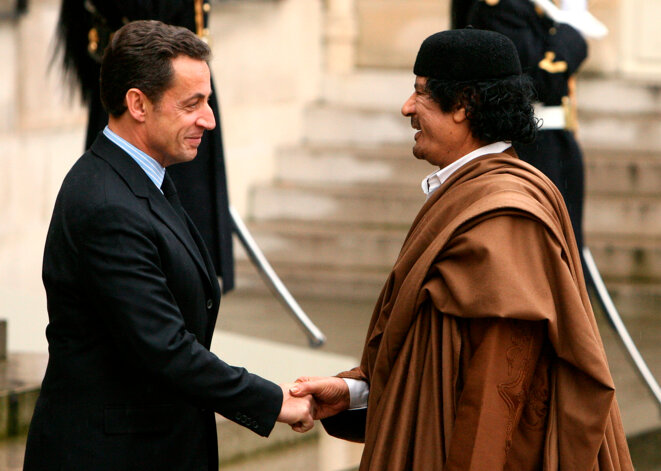 En 2007, la lune de miel. © Reuters
Two French judges have found there are no grounds for challenging the authenticity of an official Libyan document revealed by Mediapart in 2012 and which declares that the Gaddafi regime had agreed to fund Nicolas Sarkozy's 2007 presidential election campaign to the sum of 50 million euros. The magistrates, in charge of an investigation prompted by a lawsuit launched by Sarkozy against Mediapart for "forgery" and "use of forgery", have thrown out the case after years of thorough expert appraisals of the document and witness statements. Mediapart's editor-in-chief Edwy Plenel details the judgment and the background to the case.

Nicolas Sarkozy, Bachir Saleh et Alexandre Djouhri © Reuters et DR
Declassified reports from France's foreign intelligence service show how President Nicolas Sarkozy helped a senior figure in the Gaddafi regime escape from war-torn Libya in 2011, Mediapart can reveal. They show that Muammar Gaddafi's ex-chief of staff Bashir Saleh was taken to France in November 2011 with the aid of the French presidency and businessman Alexandre Djouhri. However, Saleh later fled France after Mediapart published details of a letter addressed to him outlining the Gaddafi regime's agreement to fund Nicolas Sarkozy's 2007 election campaign. Fabrice Arfi and Karl Laske report.

Claude Guéant, Bernard Squarcini, Bachir Saleh et Alexandre Djouhri
In April 2012, Mediapart revealed a document recovered from the archives of the toppled regime of late Libyan dictator Muammar Gaddafi detailing its agreement to fund Nicolas Sarkozy's 2007 presidential election campaign. The letter, signed by Gaddafi's intelligence chief Moussa Koussa, was addressed to Bashir Saleh, head of the regime's multi-billion-dollar Libyan African Portfolio investment fund. Following the collapse of the Gaddafi regime, Saleh found asylum in France. But after Mediapart's report, and while he was the object of an Interpol 'wanted' for his arrest and extradition back to Libya where he faced fraud charges, Saleh subsequently fled to South Africa. Mediapart can reveal how French magistrates have established that Saleh's last-minute flight on May 3rd 2012 was organised by Alexandre Djouhri, a businessman close to Sarkozy's longstanding chief of staff Claude Guéant. But also present when the two men met in the shadows of the Eiffel Tower in the early evening of that same day was Sarkozy's domestic intelligence chief, Bernard Squarcini. Karl Laske and Fabrice Arfi report.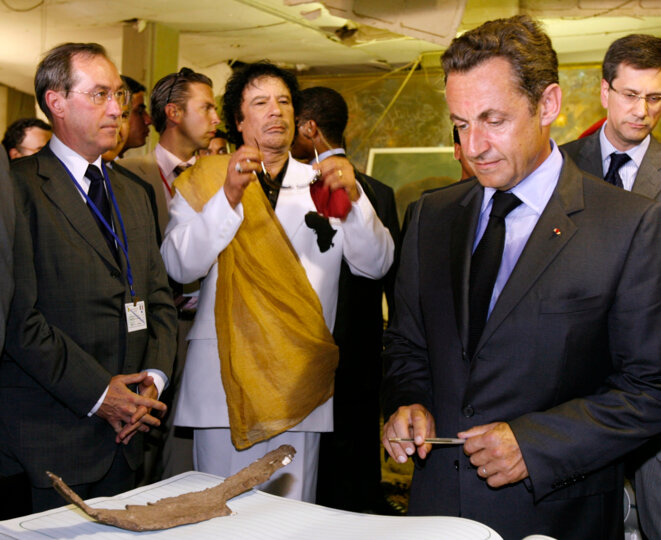 Claude Guéant, Mouammar Kadhafi et Nicolas Sarkozy à Tripoli, en 2007. © Reuters
In a dramatic development Claude Guéant, ex-chief of staff to President Nicolas Sarkozy and a former interior minister, has been placed under formal investigation for "laundering of the proceeds of tax fraud as part of an organised gang", "forgery" and "use of false instruments" in connection with the probe into claims that the late Libyan leader Muammar Gaddafi illegally funded Sarkozy's successful 2007 presidential election campaign. Investigators want to know the origin of more than 500,000 euros that was transferred into his bank account in 2008 and part of which he later used to buy a flat in Paris. Experts in the art world have cast doubt on Guéant's explanation that the money came from the sale of two paintings by 17th century Dutch artist Andries Van Eertvelt.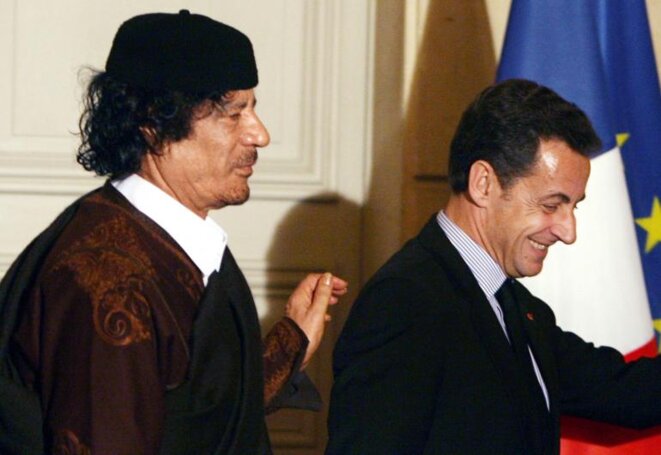 © Reuters
On November 14th, Mediapart revealed that a judicial investigation had authenticated key evidence that the regime of late Libyan dictator Muammar Gaddafi had agreed to secretly finance the 2007 election campaign of former French president Nicolas Sarkozy. Yet this information of important public interest has remained ignored by French news agencies and rolling news broadcasters. To stifle news it suffices to not report it, writes Mediapart editor-in-chief Edwy Plenel. He explains here why this website has now decided to publish in full the contents of the judicial report which confirms as genuine an official Libyan document detailing the plans for the funding scam - and which was first published by Mediapart in 2012.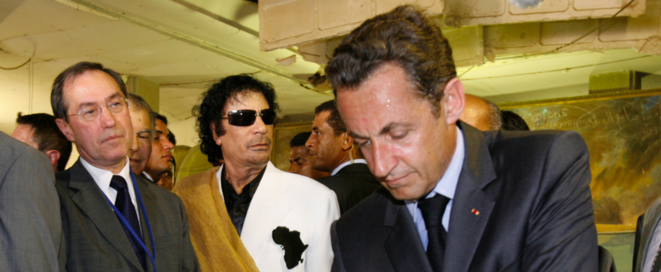 25 juillet 2007. Claude Guéant (à gauche) et Nicolas Sarkozy retrouvent le colonel Kadhafi à Tripoli. © Reuters
Graphology experts assigned by a French judicial investigation to determine the authenticity of the signature on a document published by Mediapart detailing the Gaddafi regime's approval of payment of 50 million euros to back Nicolas Sarkozy's 2007 presidential election campaign have unanimously concluded that it is indeed that of Moussa Koussa, head of the Libyan foreign intelligence services and later the dictator's foreign affairs minister. The finding is a crucial new development in the investigation which has now gathered testimony from numerous experts backing the authenticity of the document. Fabrice Arfi and Karl Laske report.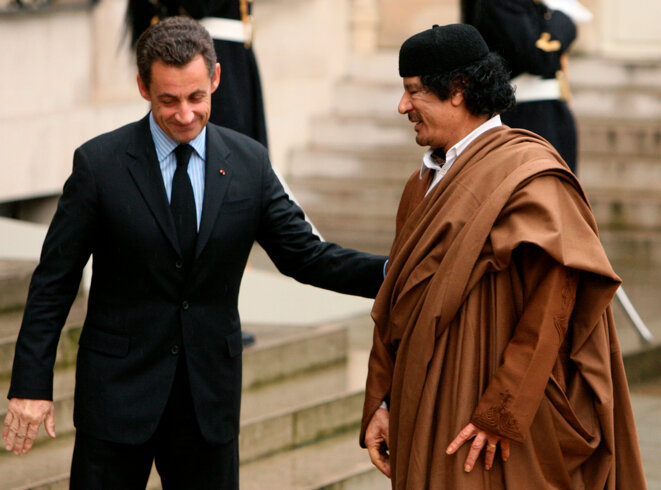 Nicolas Sarkozy et Mouammar Kadhafi sur le perron de l'Elysée, en 2007. © Reuters
The story of the covert Libyan funding of Nicolas Sarkozy's 2007 election campaign started two years earlier with a meeting between Colonel Muammar Gaddafi and the then presidential hopeful Sarkozy himself, Mediapart can reveal. According to arms dealer Ziad Takieddine, who was in Tripoli at the time, Sarkozy directly asked Gaddafi for financial help during an official visit to the North African country in October 2005. A short time later Sarkozy's close political friend and ally Brice Hortefeux made a visit to Tripoli in which he had an off-diary meeting with Gadaffi's security chief Abdullah Senussi, a key figure in the corruption allegations involving Libya and France. Judges investigating the Libyan funding of Sarkozy's campaign are now painstakingly piecing together the background to the affair. Fabrice Arfi and Karl Laske report.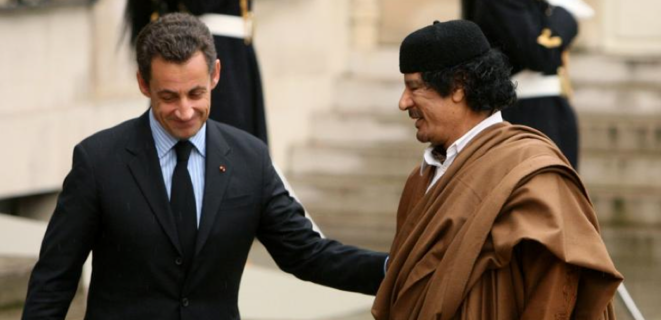 Dans la cour de l'Elysée en décembre 2007. © Reuters
In April 2012, Mediapart published an official Libyan document that revealed that the regime of the late Libyan dictator Muammar Gaddafi approved payment of 50 million euros to fund Nicolas Sarkozy's successful 2007 presidential election campaign. The publication of the document prompted the opening of a judicial investigation into the claims that Gaddafi illegally financed Sarkozy's campaign, and the ongoing probe represents a major threat to the former president who this month announced his return to active politics. "About Libya, the judges know that the documents are false," said Sarkozy in an interview published last weekend. But in fact, as Fabrice Arfi and Karl Laske report, the magistrates leading the investigation have collected statements from numerous experts whose testimony gives credence to the document published by Mediapart.