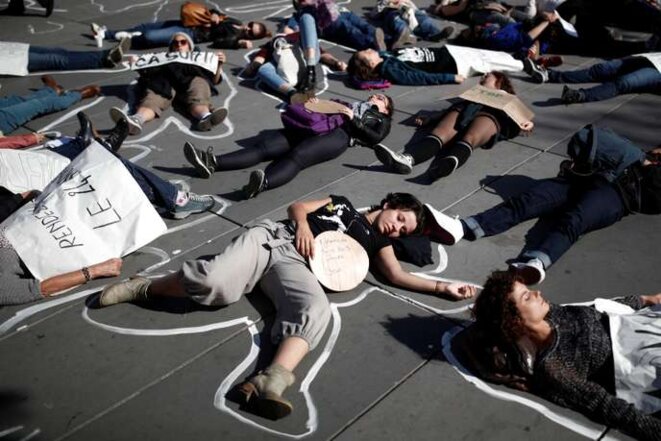 A demonstration in Paris protesting murders of women in domestic violence, September 2018. © Benoît Tessier/Reuters
Victims of domestic violence in France, the vast majority of who are women, are being failed by the justice system and police, notably by not offering effective responses to formal complaints, concludes a French justice ministry report published at the weekend. The report examined 88 cases of domestic violence that ended in murder during the period 2015-2016, and of these 83 percent of the victims were women, many of whom had previously lodged complaints. Associations monitoring media-reported cases of women murdered by their partners or ex-partners estimate they number 135 so far this year. Meanwhile, justice minister Nicole Belloubet has said that the justice system "very clearly" is malfunctioning, and that new legislation must be drafted to address the failings. Dan Israel reports.
Xavier Dupont de Ligonnès, 58, who disappeared after the bodies of his wife and four children were found in the garden of the family home in Nantes, north-west France, in April 2011, is reported to have been arrested on his arrival in Glasgow on a flight from Paris after his fingerprints were positively matched.
Calling on France to mobilise against 'underground Islamism', President Emmanuel Macron led a ceremony on Tuesday in homage to four staff who were stabbed to death at Paris police headquarters last Thursday by one of their colleagues in an attack which investigators believe was motivated by his allegiance with Islamist extremists.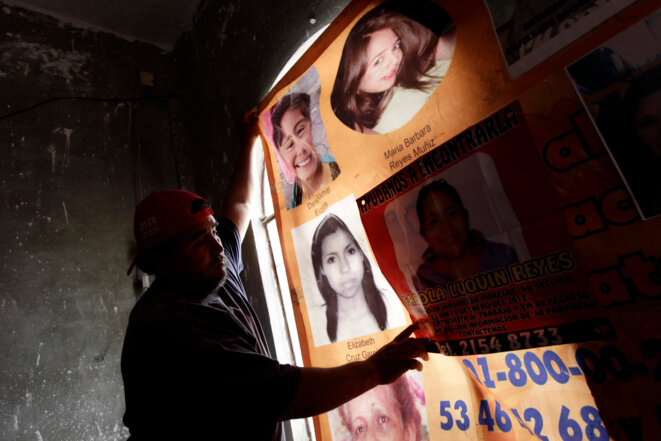 In April 2013 a man displays the photos of women who have died or disappeared in Ecatepec, Mexico. © Henry Romero (Reuters)
Figures show that in the month of January more than ten women a day were murdered in Mexico. In some areas of the country, say women's rights campaigners, women are disposed of like "a piece of garbage". Meanwhile to the dismay of local associations the new left-wing government in the country is not treating the issue as a priority. Marie Hibon reports on the appalling situation facing many women in Mexico.
A knife-wielding 36-year-old man described by France's interior minister as suffering from 'serious psychiatric problems' was shot dead by police on Thursday after murdering his mother and sister and severely wounding another woman in the town of Trappes, south-west of Paris, in an attack which the Islamic State group claimed responsibility for.
A woman police officer, together with her son and daughter, were among six people arrested for questioning over the murders in 2016 of a policeman and his partner, who worked in police adminstration, at their home west of Paris by a man who claimed he was acting in the name of the Islamic State group.
More than half of the murders of women in France in 2015, excluding victims of terrorist attacks, were committed by members of their domestic entourage, and of these the majority were carried out by current or former husbands and partners. The startling figures emerge from a study by an official French statistics agency, which found that women most at risk from their domestic environment are aged between 15 and 35 and live in rural areas. Louise Fessard reports.
Police have excluded a terrorist motive for the killings in a building courtyard in central Paris where a man was arrested beside the lifeless bodies of his father and brother.
The couple's three-year-old son survived the knife attack by a man claiming allegiance to Islamic State group and who was later killed by police.
Man released after being questioned by police over the shooting of British-Iraqi businessman Saad al Hilli, his wife and mother in 2012. 
The massacre that took place at the offices of Charlie Hebdo on Wednesday morning is an act without precedent, writes Mediapart editor François Bonnet. The killers who targeted the satirical magazine also attacked the very heart of what makes a democracy, freedom of the press and, beyond that, our individual and collective freedoms.
Prosecutor says equipment found on the man arrested for the fatal shootings at Brussels' Jewish Museum showed he tried to film his attack.
The move came after the murders of an Israeli couple and a Frenchwoman at the Brussels Jewish museum and an anti-Semitic attack near Paris.
The reprisal murders that take place in Marseille regularly make the headlines and have helped fuel the idea that crime in France's major Mediterranean port city is spiralling out of control. However, as Louise Fessard reports, the crime statistics and other research tell a different story.