Evidence collated by Reuters – including statistical data that indirectly captures the impact and testimony from community leaders – indicates the COVID death rate among French Muslims is much higher than in the overall population.
The French parliament's lower house, the National Assembly, has approved by a clear majority legislation presented as a needy curb of the 'separatism' of radical Islamist activities, expanding state powers to close places of worship and religious schools, and to ban extremist preachers, while opponents say it further stigmatises Muslims and limits free speech.
Muslim Council is due to meet President  Macron to confirm the text of a new 'charter of Republican values'  for imams in France to sign.
Move comes amid backlash over French president's views on secularism and freedom of expression.
In keynote speech, French president said local officials will get extra powers to fight radicalism and social problems will be tackled.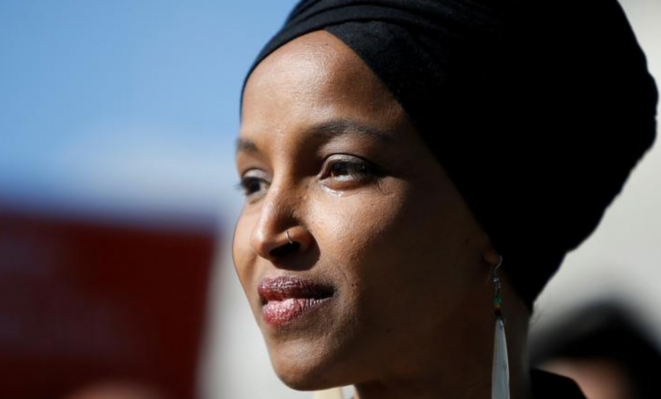 Ilhan Omar. © Reuters
US Congresswoman Ilhan Omar, elected to the House of Representatives last November, has since become a focal target for President Donald Trump and many among of the American Right. Arriving in the country as a child with her refugee family from Somalia, obtaining US nationality at the age of 17, she has engaged a political career as an outspoken, hijab-wearing Muslim politician who espouses radical-left policies. She also denounces American support of the Israeli government, and her controversial comments on that subject and the place of Muslims in US society have prompted death threats and accusations of anti-Semitism. Just what does Ilham Omar really represent, and what is behind the virulent campaign by Trump and his allies over recent months to make her a political pariah? Mediapart's US correspondent Mathieu Magnaudeix reports.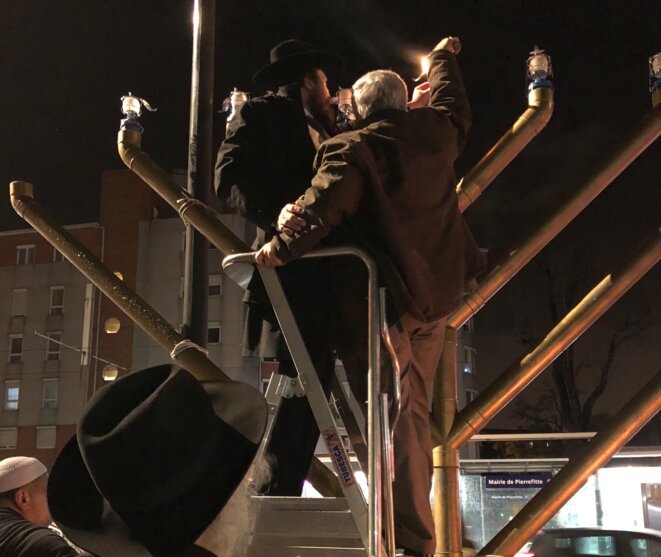 Rabbi Haim Lumbroso with Pierrefitte mayor Michel Fourcade during Hanukah celebrations. © Sarah Smaïl/Bondy Blog
In November, French Prime Minister Édouard Philippe announced that over the first nine months of this year there had been a 69% increase in reported anti-Semitic attacks in the country compared with the same period in 2017. Some urban areas are witnessing a desertification of once significant Jewish communities, and notably in the socially deprived Paris suburbs of Seine-Saint-Denis, with a relatively large Muslim population, where synagogues are closing down as increasing numbers of Jews are moving out amid religious tensions and fears of insecurity. Others, meanwhile, and notably religious and community leaders, are locally active in attempting to fight anti-Semitism through dialogue and education. Sarah Smaïl, from Mediapart's online partner Bondy Blog, reports from Seine-Saint-Denis.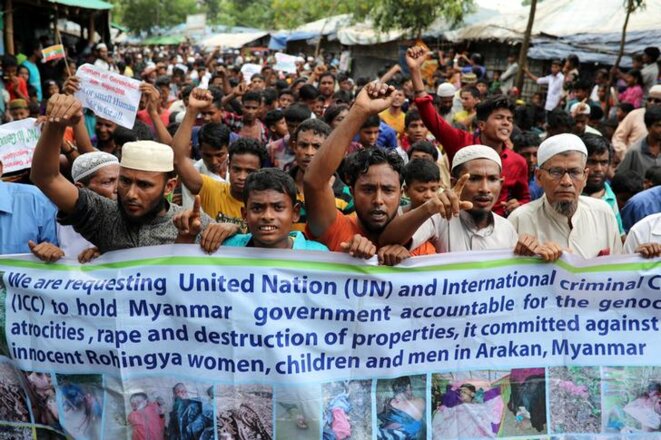 Displaced Rohingya demonstrating in a refugee camp in Bangladesh on August 25th. © Reuters
A United Nations report has called for Myanmar's military to be investigated for genocide against the Rohingya people and for crimes against humanity in the treatment of minority groups in the country. The news follows demonstrations this weekend calling for UN action over the crisis by tens of thousands of Rohingya in refugee camps in Bangladesh, where more than 700,000 of the stateless Muslim people have fled since they became the target of a campaign of killings and repression launched in August 2017. As Guillaume Pajot reports from Myanmar, the persecution of Muslims is not limited to the Rohingya, but is widespread in the country whose de facto leader, Nobel Peace Prize laureate Aung San Suu Kyi, is accused of doing little to prevent.
What the French interior ministry calls a 'proccupying' rise in anti-Semitic acts since 2016 appears to be prompting a flight of Jews from some areas around Paris with a predominently Muslim population, while Muslim representatives say talk of a 'new anti-Semitism' is a nonsense that ignores Islamophobia among Jewish communities. 
Arrests were made in operations across France but mainly on the island of Corsica, prosecution sources said.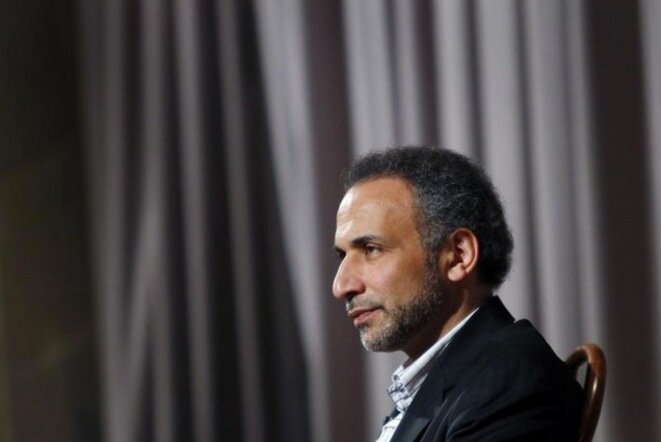 Tariq Ramadan, under investigation for rape and placed in preventive detention. © Reuters
Over the past two weeks a number of Muslim figures and organisations in France, together with anti-racist militants, have become increasingly vocal in calling for the release from preventive detention of prominent Islamic intellectual, scholar and preacher Tariq Ramadan, a professor of contemporary Islamic studies at the University of Oxford, who was earlier this month placed under investigation for two rapes. His supporters argue that he is subject to unusually harsh treatment, that his state of health has not been properly taken into account, with some also throwing doubt on the veracity of the accounts of his alleged victims. But, as Louise Fessard reports, the support leant to Ramadan has opened deep divisions among French Muslims, with questions raised over the motivations of the campaigners.
That is the question we ask ourselves after these dizzy recent weeks of a political and media cabal against us, writes Mediapart publishing editor Edwy Plenel in this op-ed article, in which he offers an answer and responds to the extraordinary call by former French prime minister Manuel Valls that Mediapart be "removed from public debate."   
A programme aimed at de-radicalising Islamist extremists in France, launched by President François Hollande after the country was hit by a series of terrorist attacks, has been an 'amateurish' flop driven by a government that 'panicked', a cross-party parliamentary commission of enquiry has reported.
The perceived threat of the 'Anglo-Saxon model' is the upcome of distinct communities based on ethnic identity, while France, said PM Manuel Valls, 'does not see itself as a juxtaposition of communities, each with their autonomous path'.