Keyword: Myriam El Khomri
Related keywords
Democracy belongs to neither the Left nor the Right, and when it is flouted by governments of either political side every democrat worthy of the name must simply say "no", argues Mediapart editor-in-chief Edwy Plenel following the socialist government's decision to force through parliament, without a vote, its controversial labour law reforms which, he writes in this op-ed, represent a social regression for every employee in France.
The bill, which has prompted weeks of nationwide protsests from unions and student groups, would free up hire and fire conditions for employers.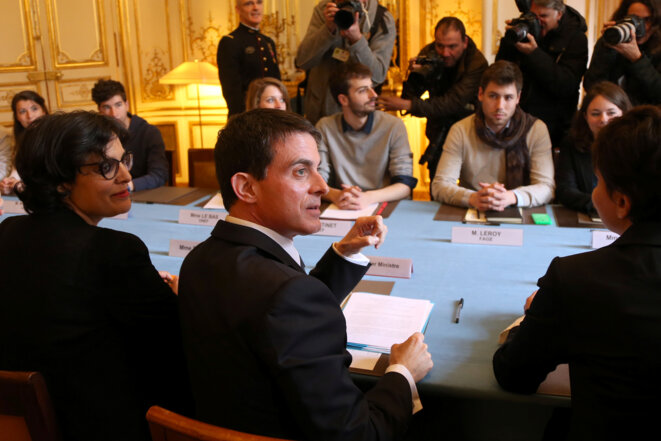 Manuel Valls, with labour minister Myriam El Khomri (l) and education minister Najat Vallaud-Belkacem, meeting with student representatives on Monday. © Reuters
François Hollande's expected bid for a new term of office in presidential elections next year is facing a serious threat from growing student anger over his government's proposed new labour law. A string of national protests have brought student and trades unions onto the streets in recent weeks against what they see as a pro-business, retrograde reform that heightens job insecurity at a time of record unemployment. The perspective of a spring revolt prompted the government to present a package of measures for the young on Monday, worth a yearly 500 million euros and aimed at easing access to the labour market and to provide financial aid for the worst off. But while the measures were broadly met with approval, the student unions vowed to continue the battle against the reform. Faïza Zerouala reports.
A package of financial measures for students and first-time job seekers, costing around 500 million euros, met with approval from main students' union.
Trades and student unions took to the streets across France against reforms that put almost all of France's strictly codified labour relations up for negotiation.
Early reports were of a lower than expected turnout for the protests against proposed reforms that reduce rights and safeguards for employees.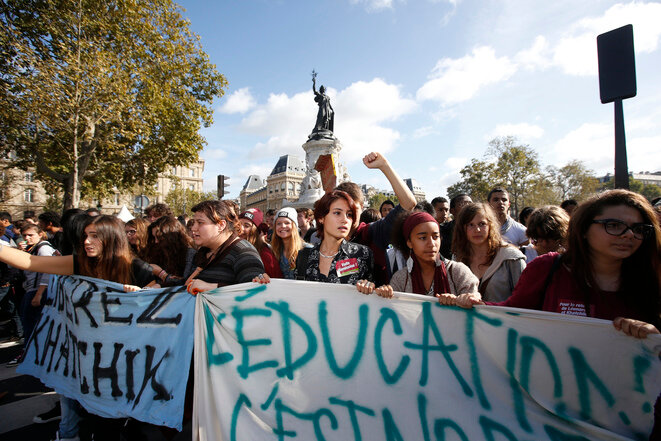 What French governments fear: when students take to the streets. © Reuters
A total of 20 student and youth organisations have called for protests on Wednesday, March 9th against the government's proposed reforms of employment law. Though the formal presentation of the bill has now been postponed pending further discussions with trade unions, ministers still fear the spectre of widespread social mobilisation, of the kind seen ten years ago that sank plans for new workplace contracts. In particular, President François Hollande is afraid the final months of his presidency would be doomed if students take to the streets in large numbers. Lénaïg Bredoux and Faïza Zerouala report on the unpredictability of France's student protests.
However, Manuel Valls promised 'improvements' to controversial bill which as it stands would make it easier for companies to lay off workers.

Facing the storm: employment minister Myriam El Khomri and prime minister Manuel Valls. © Reuters
On Monday February 29th the prime minister Manuel Valls announced that the government was postponing for two weeks the formal presentation of a new bill reforming employment law. This concession came after days of vociferous opposition to the bill from trade unions, students and many members of France's ruling Socialist Party itself who see the measure as an attack on workers' rights. Mediapart's Lénaïg Bredoux, Rachida El Azzouzi, Mathilde Goanec and Mathieu Magnaudeix analyse how what was intended to be a flagship government reform went so badly wrong.
Move by premier Manuel Valls follows angry reactions from unions, students and members of his own Socialist Party over planned reforms.
Number of people without work in France has risen to 3.59 million but employment ministry says it hopes figure will start to fall in 2016.
Official data showed the biggest monthly fall in the unemployment rate in France since the start of the economic crisis in 2007.
Former junior minister for urban affairs, who has limited government experience, faces key task of bringing down France's jobless rate.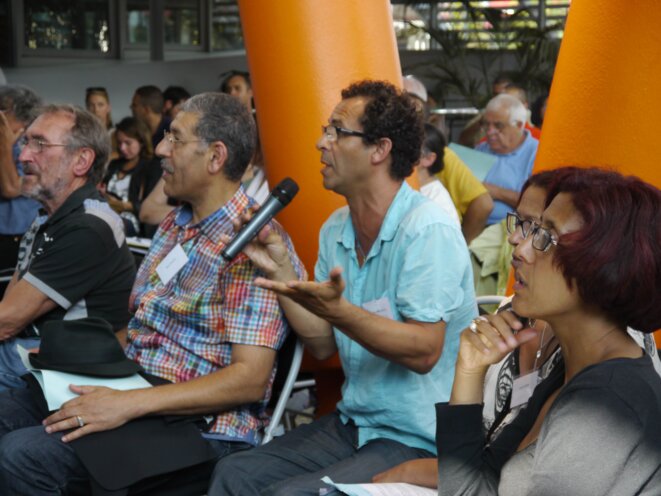 Les débats ont été vifs pour accorder les 150 associations. © TSC/MP
Local associations and residents groups representing people living in deprived parts of France say they have had enough of the inaction of successive governments. A number of them gathered recently to form what they describe as a 'union of the suburbs', a union with ambitious plans to overturn the way politics is done in France's urban areas. 'Pas sans nous' – 'Not without us' – has drawn up detailed plans to ensure local people get a genuine say in how their hard-pressed, often poor districts can be improved. Their next step: to force the authorities to listen to them. Thomas Saint-Cricq reports on a group that draws inspiration from the community 'empowerment' movement in the United States.