Keyword: Najat Vallaud Belkacem
An 'angry' Najat Vallaud-Belkacem said Pope had been 'fooled' if he thought French pupils are being taught that 'one can change one's sex'.
A damning report commissioned by an independent evaluation body has found that schools in France exacerbate rather than reduce inequalities in society. The report, compiled from the work of more than 30 experts from different disciplines, says that the French education system has been failing many pupils for decades. In particular it singles out the failure of what are called education priority areas, a policy pursued by politicians of both the Left and Right. These special zones have been stigmatised and turned into educational ghettoes, says the report, shunned by better-off families and used mostly by children from disadvantaged backgrounds. Faïza Zerouala reports.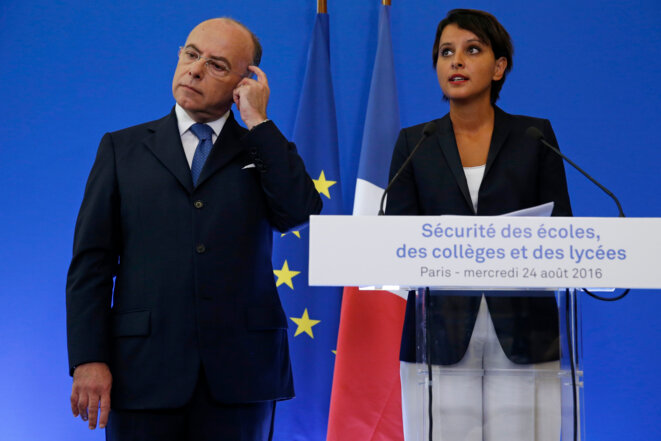 School security: interior minister Bernard Cazeneuve and education minister Najat Vallaud-Belkacem. © Reuters
Pupils in France go back to school this week amid ever-greater security and against the backdrop of a constant threat of terrorism. The education minister and the interior minister have held a joint press conference to outline the unprecedented measures that are being taken to ensure the safety of children at school. As Faïza Zerouala reports, the authorities have to strike a careful balance between ensuring educational establishments are prepared for a terrorist attack and avoiding causing anxiety among younger pupils.
French education minister says Muslim pupils must be made aware that 'secularism is not something against them, it protects them'.
Education minister Vallaud-Belkacem has launched new plans to tackle bullying which affects up to 700,000 pupils and students a year.
The long summer holidays are over and on Tuesday this week French pupils went back to school. There are none of the major reforms and controversies that have greeted previous new academic years under President François Hollande. But there are still some changes for schoolchildren and teachers alike, notably new compulsory moral and civics lessons prompted by the terror attacks in Paris in January. Feriel Alouti and Lucie Delaporte report.
Thousands of teachers are expected to take to the streets on Tuesday over planned reform of France's middle schools or collèges.
Najat Vallaud Belkacem, the target of right-wing jibes, now faces testing teachers' strike this week against her plans for secondary school reform.
Former French president Sarkozy came under fire for singling out two non-white female ministers in a largely white government as incompetent.
Duties of Geneviève Fioraso as minister for higher education and research will be taken on by education minister Najat Vallaud-Belkacem.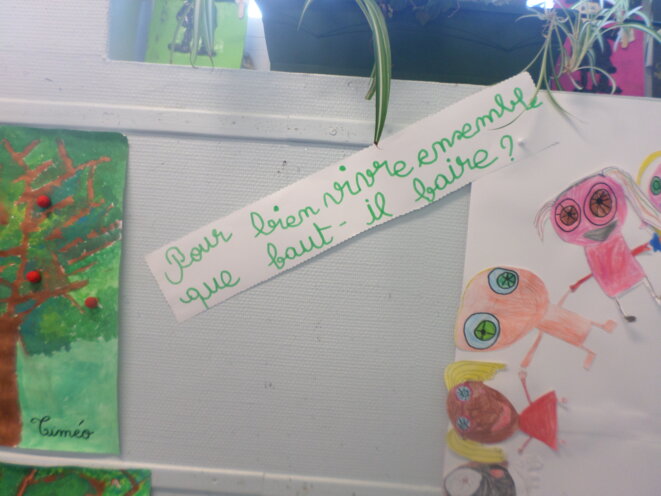 Dessin d'enfants à l'école maternelle © LD
In its response to the terror attacks in Paris in January the French government emphasised the importance of schools and the central role of secularism in fighting intolerance and extremism. Mediapart recently visited schools in the north of the French city of Amiens, an area which has recently seen riots and where the Moroccan-born education minister Najat Vallaud-Belkacem herself grew up and was educated. Here the issue of secularism divides teachers, parents and local help groups alike. "I have the impression that, faced with this debate, everyone is a bit lost," says one teacher. Mediapart's education correspondent Lucie Delaporte reports from the city.
Since her appointment Najat Vallaud-Belkacem has been subject of racist and sexist comments and malicious rumours on social media.
France's pupils and teachers have gone back to school this week in the annual ritual known as the 'rentrée scolaire'. Amid the usual hopes and expectations for the new school year, many teachers feel a growing sense of frustration. For despite the promise by President François Hollande to make education a priority and create 60,000 new teaching posts, many current staff feel their working conditions and pay have been overlooked. In some deprived areas, meanwhile, hard-pressed teachers have been voting with their feet, asking to be transferred to less challenging regions. Here Mediapart examines the situation in three of those vulnerable education authorities, who have been forced to take on thousands of trainee teachers to fill their classrooms this year. Thomas Saint-Cricq and Lucie Delaporte report.
Around 15 communes refused to open their primary schools on Wednesday despite reform that extends school week to five days.