Related keywords
Officer initially said he had opened fire on the 22-year-old man in self-defence but under questioning said he had fired by accident.
Officer who shot man, 22, while trying to arrest him, sparking riots, initially said it was in self-defence but has now given new version of events.
Cars were burned and a shopping centre partly set alight in Nantes after a 22-year-old man was shot dead by an officer during a police check.
The French government has announced that a five-decade plan to build a major airport hub at Notre-Dames-des-Landes, close to Nantes in north-west France has been abandoned after fierce opposition by environmentalists.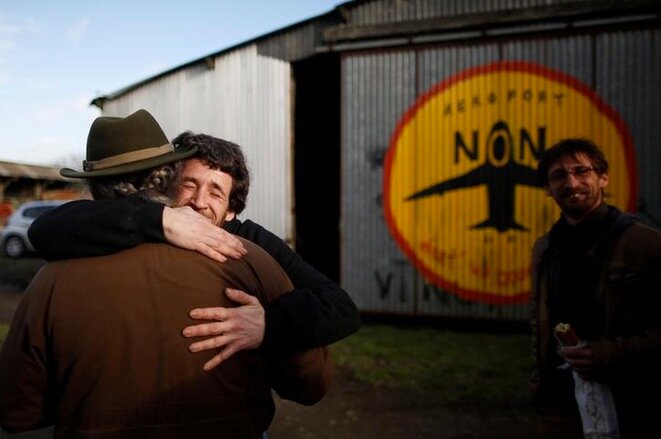 Activists occupying the site of the Notre-Dame-des-Landes airport celebrate on Wednesday after the government's decision to abandon the project. © Reuters
French Prime Minister Édouard Philippe announced on Wednesday that a controversial plan to build a major new airport near Nantes in north-west France, a project first mooted 50 years ago and which was bitterly opposed by environmentalists who prevented construction work from commencing by occupying the rural site, has been definitively abandoned. The decision ends decades of fudging by successive governments, infuriating supporters of the 600-million-euro project at Notre-Dame-des-Landes who argued it would have provided a much needed boost to the region's economy.
A protest in the town of Nantes, north-west France, by more than two thousand people against a planned visit there on Sunday by Front National presidential candidate Marine Le Pen ended in ugly confrontations with police, during which businesses were vandalised and several officers injured.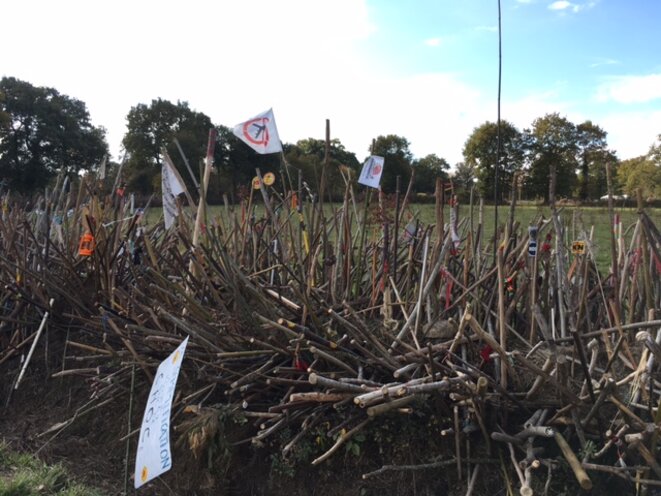 Wall of defence: thousands of opponents' sticks line the boundary of the new airport site. (JL)
Government plans to build a controversial 580-million-euro "Great West" airport in countryside near the town of Nantes in north-west France received a major blow earlier this week when a magistrate ruled that the environmental damage could not be justified by economic opportunity. The shock decision against a project that has been more than fifty years in the making, and which is ardently championed by Prime Minister Manuel Valls while hotly contested by ecologists, is now under review by a panel of judges who will give a final decision early next week. Jade Lindgaard reports from Nantes.
Update Monday November 14th: The magistrate's ruling was overturned by the panel of judges in Nantes on Monday. Airport opponents announced they are now to lodge an appeal before France's highest administrative court, the Council of State.
After Prime Minister Manuel Valls pledged this week to begin evacuation of the site of France's contested "Great West" airport near Nantes in north-west France, militant ecologists, anti-capitalism activists, and local inhabitants occupying the earmarked land are preparing for a showdown with anti-riot police.
In February prime minister Manuel Valls promised that work would begin on a controversial new airport at Notre-Dame-des-Landes near Nantes in western France by the autumn. Yet despite a much-criticised local referendum that backed the plan, there are no immediate signs that construction work is about to begin, or even that the protesters who currently occupy the site face imminent eviction. The latest hold-up has been caused by demands from Brussels for information on the wider environmental impact of the project, which could see the start of work delayed until next year. Aurélie Delmas reports.
Party boss Jean-Christophe Cambadélis said militants were threatening to attack party members in Nantes where conference was due to be held.
Students hurled bottles at riot police in Paris and Nantes in anger at planned employment law that has now been approved by ministers.
Protesters want Notre-Dame-des-Landes airport plan to be withdrawn and expulsion orders given to local families and farmers to be scrapped.
Demonstration attracted up to 20,000 people protesting against proceedings to evict inhabitants, including farmers, from planned site.
At the end of 2015 the giant construction firm, Vinci, who are scheduled to build a new airport near Nantes in the west of France, sought an emergency court order to expel small-scale farmers who live and work on the planned site. The farmers, some of whose families have been on the same land for generations, are refusing to go. On Saturday January 9th opponents of the deeply controversial airport project staged a demonstration in support of the local farming community threatened with expulsion. Jade Lindgaard reports.