Party boss Jean-Christophe Cambadélis said militants were threatening to attack party members in Nantes where conference was due to be held.
Students hurled bottles at riot police in Paris and Nantes in anger at planned employment law that has now been approved by ministers.
Protesters want Notre-Dame-des-Landes airport plan to be withdrawn and expulsion orders given to local families and farmers to be scrapped.
Demonstration attracted up to 20,000 people protesting against proceedings to evict inhabitants, including farmers, from planned site.
At the end of 2015 the giant construction firm, Vinci, who are scheduled to build a new airport near Nantes in the west of France, sought an emergency court order to expel small-scale farmers who live and work on the planned site. The farmers, some of whose families have been on the same land for generations, are refusing to go. On Saturday January 9th opponents of the deeply controversial airport project staged a demonstration in support of the local farming community threatened with expulsion. Jade Lindgaard reports.
The roof and the back of the 19th-century building, dedicated to religious martyrs St Donatien and St Rogatien, were left severely damaged.
Journalist claims French players were on amphetamines during a famous, violent win over All Blacks in 1986.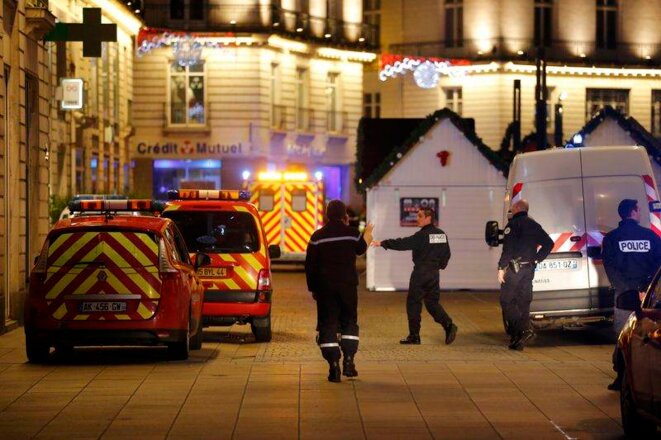 © Reuters
Three separate and shocking incidents in France over recent days raised fears that a terrorist campaign had been launched over the Christmas period. They began with an attack last Saturday by a knife-wielding man, shouting 'god is  great' in Arabic, on a police station in central France, when three officers were wounded and the assailant shot dead. On Sunday, a car was driven into pedestrians in the south-east city of Dijon by a man also reportedly chanting in Arabic, in which 13 people were injured. Then on Monday, a man drove a van into a crowded Christmas market in the western city of Nantes, injuring ten people, one of whom later died. The strange message from the government, writes political affairs correspondent Hubert Huertas in this opinion article, is that the situation is not alarming, but is alarming. For while finally dismissing a combined terrorist plot, it has also slammed the 'go' button on the machine that produces fear.
Five people are seriously after a van, whose driver later stabbed himself, was driven at shoppers at a Christmas market in Nantes.
Judge ruled that it was a 'religious emblem' and therefore incompatible with the French principle of 'religious neutrality in public spaces'.
Running battles took place between youths and police in Nantes and Toulouse after protests over death last week of botany student Rémi Fraisse.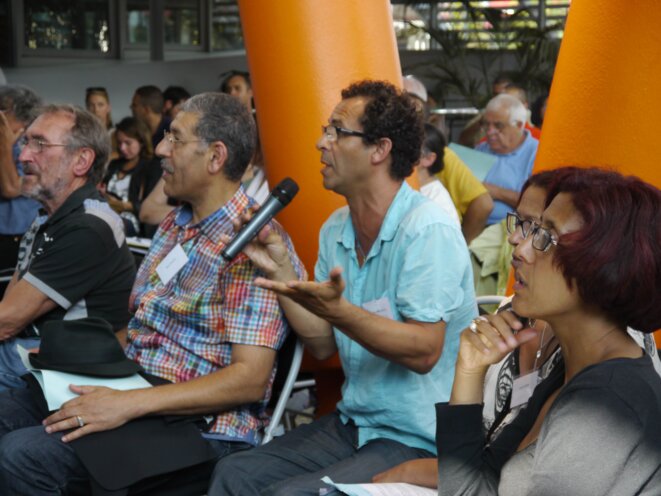 Les débats ont été vifs pour accorder les 150 associations. © TSC/MP
Local associations and residents groups representing people living in deprived parts of France say they have had enough of the inaction of successive governments. A number of them gathered recently to form what they describe as a 'union of the suburbs', a union with ambitious plans to overturn the way politics is done in France's urban areas. 'Pas sans nous' – 'Not without us' – has drawn up detailed plans to ensure local people get a genuine say in how their hard-pressed, often poor districts can be improved. Their next step: to force the authorities to listen to them. Thomas Saint-Cricq reports on a group that draws inspiration from the community 'empowerment' movement in the United States.
Latest operation took place amid high secrecy in Nantes eight months after first heart was implanted in a patient who died 75 days later.
Anti-sexism initiative at school in west France, in which male pupils have been invited to wear skirts, leads to protests from conservative groups.
Six riot police officers were injured trying to disperse protesters who lobbed projectiles and threw paint onto Nantes' city hall.