The long-running saga over plans to build a new airport in the west of France looks set to return to the political centre stage this weekend with the staging of a major demonstration. The French government backs the Great West airport project near Nantes, where Jean-Marc Ayrault was mayor before becoming prime minister in 2012. But despite losing their latest round of legal actions, opponents are determined to prevent the construction of an airport they say is 'pointless' and which will destroy the habitat of many species of flora and fauna. Jade Lingaard reports.
The number of the controverial banned comic's followers on Twitter has more than doubled and his Facebook 'likes' now exceed half a million.
One-man show by comedian accused of anti-Semitism banned at last minute after interior minister wins appeal against earlier legal setback.
French president calls on prefects to be 'vigilant and inflexible' faced with breaches of 'republican principles' as comedian's shows get banned.
The man vainly tried to justify the attack as an attempt to uphold a controversial law banning women from wearing face-covering veils in public.
Police tried to stop the man, 43, who was declared ineligible for unemployment benefit, but he doused himself in petrol and set himself alight.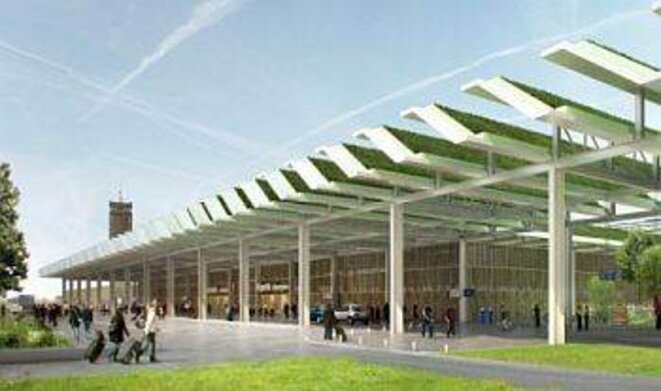 The plan to build the so-called Great West Airport in the unique hedgerow farmland of France's lower Loire Valley has provoked one of the biggest environmental protests seen in the country for years. The row also has a strong political dimension with Prime Minister Jean-Marc Ayrault being a big supporter of the plan ever since he was mayor of Nantes, while the government's Green allies are deeply opposed. But there is also another, less visible, aspect to the project - the favourable contract won by giant French construction group Vinci to build and run the airport. Jade Lindgaard reports.
Officials given green light to tear down illegal squats on land due to become new airport but activists say court order means nothing.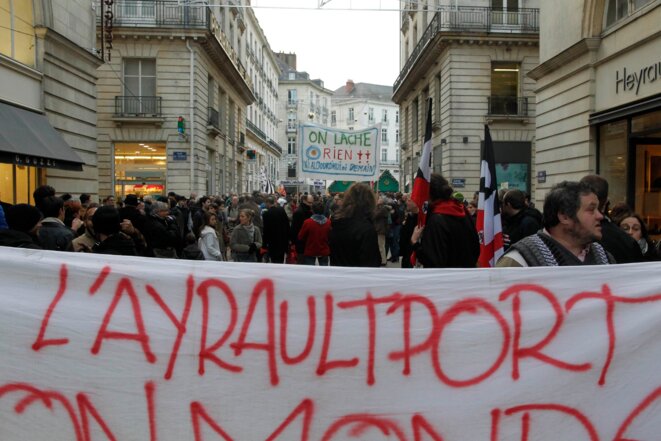 © Reuters
Prime minister Jean-Marc Ayrault has sought to calm the major controversy surrounding plans for a new airport near his home city of Nantes by calling for "dialogue". But at the same time the forces of law and order led a major operation against protesters at the planned airport site, leaving up to 100 people injured. Jade Lindgaard charts the latest developments in a bitter saga that is proving damaging both to the government's relations with its green allies and its reputation on environment issues.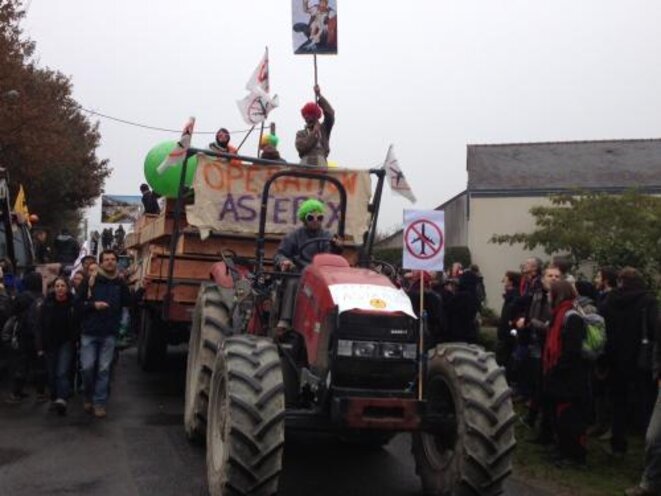 © JL
A long-simmering protest movement against a project to build a new airport close to the town of Nantes, in western France, has over recent weeks grown into a major political battle that now threatens a rupture in the already strained relations between the ruling Socialist Party and its Green party allies, the EELV. Thousands of demonstrators – 13,000 according to the police, 40,000 according to the protestors – turned out at the weekend (pictured), supported by the EELV, to re-occupy the zone designated for the construction of Notre-Dame-des-Landes airport in a rural area close to Nantes, and which the largely socialist-led local authorities argue is a key element in the future development of the economy in north-west France. Jade Lindgaard reports.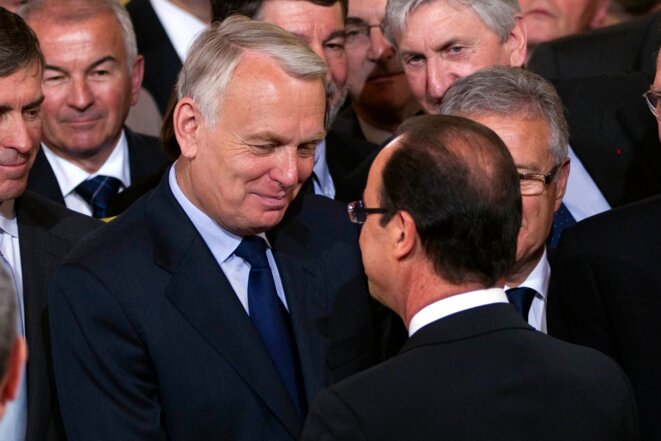 Jean-Marc Ayrault, mardi 15 mai, quelques heures avant sa nomination à Matignon © Reuters
French President François Hollande pledged during his election campaign to clean up French political governance, blighted by years of recurrent scandals and conflicts of interest. Among the promises he made was that anyone who had been convicted of crimes would be excluded from government. Yet Hollande's first act after he was sworn in was to appoint Jean-Marc Ayrault as his prime minister who, when mayor of Nantes in 1997, received a suspended prison sentence for favouritism in the allocation of a city hall contract, described by a court of audit as "a serious infringement of the rules governing public contracts". While Ayrault insists that "my personal integrity was never in question", his lawyers argue that he has been legally rehabilitated and have threatened to sue those who engage in "character defamation" by publicly raising the affair. Mathilde Mathieu and Michel Deléan report.