Related keywords

Part of a key report on the Kerviel affair that was ignored then shredded.
Was Société Générale's determination to hold on to a 2.2-billion-euro tax rebate partly behind the French bank's motivation to pursue its "rogue trader" Jérôme Kerviel with such zeal? That is a question raised by a report written for French prosecutors in May 2008 and now seen by Mediapart and other French media as part of a joint investigation. As Martine Orange reports, it appears this important report was first ignored by the judicial authorities and then shredded.
Jérôme Kerviel. © Reuters
New and compelling evidence has emerged to suggest that the conviction of the Société Générale's so-called 'rogue trader' Jérôme Kerviel, who was jailed for his actions that were estimated to have cost the bank 4.9 billion euros, is unsound and was reached after a botched and biased investigation steered by the bank, Mediapart can reveal. The latter claimed that Kerviel's superiors knew nothing of his reckless trades. But in a secretly-taped conversation, a senior magistrate with the Paris public prosecutor's office involved in the case says the police officer in charge of the investigation was "entirely manipulated" by the bank, and that it was "obvious" that "the Société Générale knew" what its trader was doing. Martine Orange reports.
MPs of Right and Left call for a retrial of trader Jérôme Kerviel after Mediapart's disclosure of new evidence implicating SocGen bank.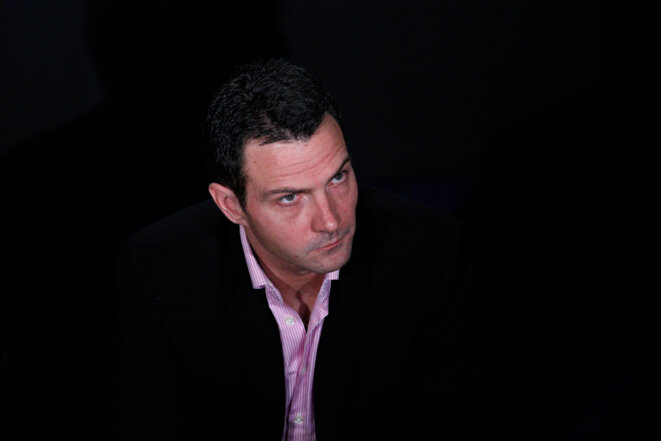 Jérôme Kerviel, en avril 2012 © Reuters
In January 2008, French bank Société Générale announced it had lost 4.9 billion euros through the reckless actions of one of its traders, Jérôme Kerviel, claiming it had been unaware of his actions. Kerviel, who maintained from the start that his hierarchy knew what he was doing, received a jail sentence for forgery, fraud and hacking, and was ordered to pay the bank, in damages, the huge sum it lost. But last month, Mediapart can reveal, the former head of the French police's financial crime squad, who led its investigation of the events and who was once convinced of the bank's claims that Kerviel acted on his own, has given a statement to a French judge in which she details why she later became convinced, during her second investigation into the affair in 2012, the trader's bosses knew of his actions. Commander Nathalie Le Roy said she now feels she had been "used" by the bank in the 2008 investigation, how it later held back key evidence she requested, of witness accounts that Kerviel's superiors were already made aware in 2007 of his extravagant trades, of allegations that Société Générale staff were made to sign gagging agreements and revealed that its claimed losses have never been independently verified. Martine Orange reports on a dramatic turnaround in the affair which appears bound to reopen the case.