Keyword: National Assembly
France's health pass is currently required in places such as restaurants, bars and cinemas.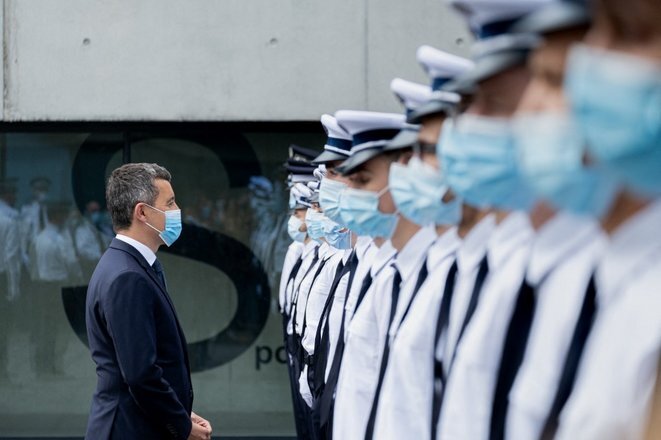 Interior minister Gérald Darmanin meets police officers at Lille on May 14th 2021. © Célia Consolini/Hans Lucas via AFP
The French Republic should not be subject to the demands of the police. Yet this democratic principle is under challenge from the demonstration held by police officers on Wednesday, May 19th. Organisers of the protest in front of the National Assembly in Paris, which was supported by members of the current government, the far right and the two historic parties of the Left, are demanding minimum sentences for anyone found guilty of attacks on police officers. This undermines one of the key principles of the French Republic, that the police force is there to serve all citizens, and not to seek law changes in its own interest or the interests of the government of the day, argue Mediapart's publishing editor Edwy Plenel and political correspondent Ellen Salvi in this op-ed article.
Interior minister Gérard Darmanin sparks controversy by attending to 'show his support' at protest outside France's National Assembly on Wednesday, held to demand minimum sentences for anyone attacking the police.
The French lower house, the National Assembly, on Tuesday approved draft legislation on new measures to tackle climate change, including bans on some domestic flights and the creation of a new 'ecocide' crime to punish polluters, before the bill, which Greenpeace called 'a lost opportunity', goes to the Senate.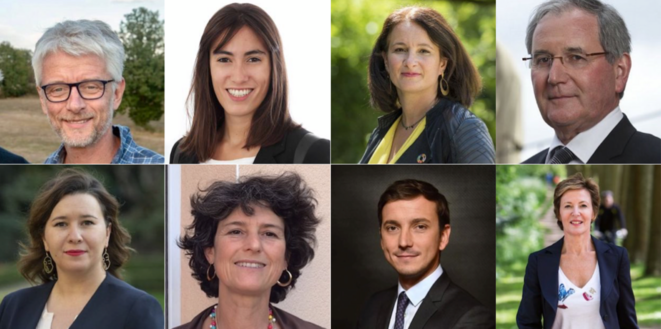 Some of the 30 MPs who have quit Emmanuel Macron's ruling La République en Marche party. © DR
Since the Parliamentary elections held in 2017 around 30 Members of Parliament have deserted the ranks of Emmanuel Macron's ruling La République en Marche party. Some have joined other movements, a few have set up their own groups while others simply sit as independents. A year before the next presidential and Parliamentary elections, Mediapart's Ellen Salvi talked to some of these MPs about why they supported Emmanuel Macron in 2017 but are not prepared to do so in 2022.
The draft law - dismissed as inadequate by critics - contains work by 150 randomly-selected French citizens who made more than 100 proposals to fight global warming.
The decree avoids the need for a Parliamentary vote after the opposition filed more than 40,000 amendments to the draft law.
The French lower house, the National Assembly, on Tuesday approved a bill on bio-ethics which will notably allow fertility treatment for single women and lesbian couples, and also voted through draft legislation containing new measures to crack down on domestic violence, both of which must now be passed on for approval by the Senate. 
French MPs approved a controversial draft bioethics law in a move that has already sparked outrage from defenders of the traditional family unit.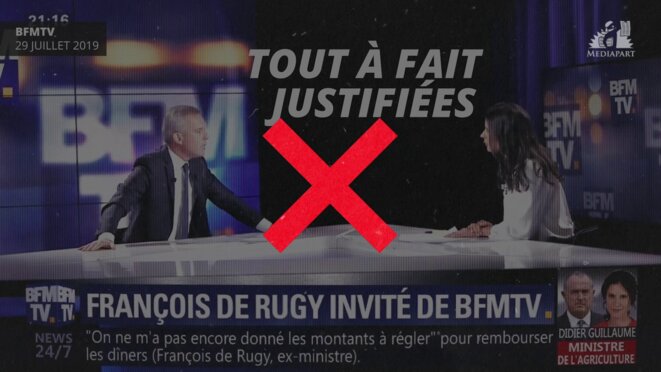 Ex-minister François de Rugy seeks to clear his name on BFM TV, July 29th 2019. © DR
A string of revelations from Mediapart about his lifestyle and use of public money led to the resignation of François de Rugy, environment minister and number two in the French government, on July 16th 2019. Since then the former minister has been on a PR offensive, helped by friends in the media, seeking to prove that his name has subsequently been "cleared" and that Mediapart's revelations had been "refuted". This is obviously untrue. Fabrice Arfi, Michaël Hajdenberg, Antton Rouget and Marine Turchi look back over the facts of the case.
Executive introduced a draft law that would reduce number of seats in the lower house of parliament, the National Assembly, from 577 to 433.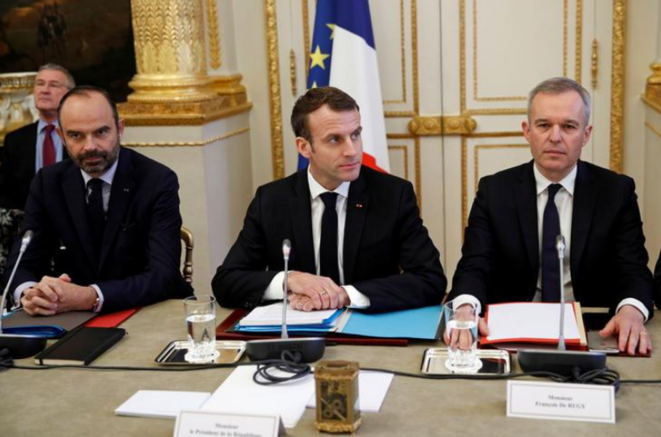 François de Rugy, right, with President Emmanuel Macron and Prime Minister Édoaurd Philippe, December 10th 2018. © Reuters
When the affair over environment minister François de Rugy's use of public money first broke, President Emmanuel Macron was determined to hold firm and keep his minister in government. He did not want to "give an inch" to Mediapart he was reported as saying, and initially insisted that unless and until a criminal investigation was opened his minister should stay. But in the end, because of the impact the story was having among the public, and despite the fact that there was little real prospect of legal proceedings being started, President Macron bowed to political reality – and de Rugy left the government. Ellen Salvi reports.
An online petition is demanding the removal from the French lower house, the National Assembly, of a mural painting by French artist Hervé Di Rosa which commemorates the abolition of slavery with caricatural images of black people, and which the petition's organisers say "constitutes a humiliating and dehumanising insult to the millions of victims of slavery".
Address by European Commission president cancelled to 'give priority' to a hearing on the 'gilets jaunes' protests that have swept across France.