Keyword: National Assembly
Major divide between MPs on the Right who want the bill to go further, and those on the Left who fear a 'permanent state of emergency'.
When the MPs who make up President Emmanuel Macron's ruling majority got their first taste of Parliamentary life this summer it was widely agreed that the representatives, many of them novices in politics, had not performed brilliantly. Now, just days before the next Parliamentary session opens, the La République en Marche (LREM) MPs have gone on a two-day "seminar" in a bid to give them an insight into how they should work both in the National Assembly and their constituencies. But as Christophe Gueugneau and Ellen Salvi report, the event was not an unqualified success, partly due to the lack of a common ideology to bind them together.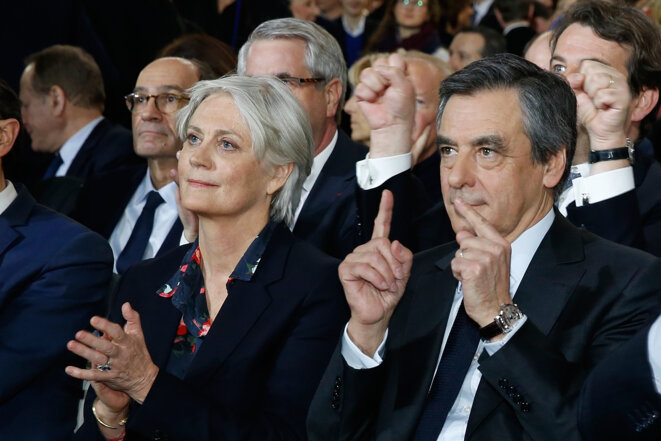 Penelope and François Fillon: the 'fake jobs' affair highighted the fact that many MPs employed family members. © Reuters
The much-trumpeted law to improve morality in public life and restore public confidence in the nation's elected representatives has passed its key hurdle in the French Parliament. The two key measures voted for by Members of the National Assembly were the ban on MPs employing members of their own family, and an obligation to produce receipts for expenses. After 50 hours of sometimes lively debate and 800 amendments, MPs voted overwhelmingly in favour – even if some on the Right called it an act of "masochism". Mathilde Mathieu reports.
Édouard Philippe said for every 100 euros Germany raised in taxes it spent 98 euros, while France spent 125 euros for every 117 euros raised.
The new Members of Parliament have taken up their seats in the National Assembly following the Parliamentary elections and they consist of new faces, new groups and a new social demographic. Many of them are from a non-political, civic society background, with their own habits, customs and beliefs and bringing with them, too, a desire to circumvent the old political obstacles and delays of the past. But, says Hubert Huertas, this new group may themselves soon end up personifying those very same old political ways.

After National Assembly protest, ministers promise extra €250 million to fund police and a review of officers' rights to defend themselves.
France's National Assembly, the lower house, on Tuesday approved the government's proposed legislation that aims to significantly reduce the glaring social and economic inequalities between France's overseas territories and the mainland over a period of two decades. The move was one of President François Hollande's election pledges, and is set to be his last major reform before the next presidential elections in April 2017. The bill will now go before the upper house, the Senate, before returning to the National Assembly for its final adoption. Julien Sartre reports.
French Member of Parliament Denis Baupin on Monday resigned from his role as deputy speaker of the lower house, the National Assembly, just hours after the publication of an investigation by Mediapart and France Inter radio in which several female colleagues, including a fellow MP, allege they were sexually harassed by him. Baupin, 53, who is married to housing minister Emmanuelle Coste, last month resigned from the EELV Green party to which all of his accusers belonged at the time of the alleged events. He denies the accusations, which include physical groping and other lewd behaviour and repeatedly sending sexually explicit phone text messages. Lénaïg Bredoux reports.
The bill, which has prompted weeks of nationwide protsests from unions and student groups, would free up hire and fire conditions for employers.
The non-binding vote supports ending the EU sanctions slapped on Russia after it annexed Crimea and after tension escalated over Ukraine.
The French Senate voted on Thursday in favour of inscribing into the constitution the stripping of French nationality from dual-nationals convicted of terrorist crimes. The text adopted by the Senate is fundamentally different to that adopted last month in the National Assembly, the lower house, which allows for the stripping of French nationality of anyone convicted of terrorism, effectively allowing for individuals to become stateless. As Christophe Gueugneau and Ellen Salvi report, the conflict now appears likely to definitively bury what was one of President François Hollande's two key and highly controversial constitutional reforms in reaction to the November 13th terrorist massacres in Paris.  
At the end of four days of debates, French MPs on Wednesday voted in favour of the socialist government's package of proposed amendments to the country's constitution, which include stripping French nationality from convicted terrorists and giving temporary state of emergency powers a permanent legal basis. The measures are highly controversial and have opened deep divisions both on the Left and Right, yet when the crucial voting of the reforms began on Monday, just 136 MPs out of a total 577 were present. Mediapart political affairs commentator Hubert Huertas argues here that the decried absenteeism reveals above all an inherent weakness of the French parliamentary system.
Manuel Valls spoke as French MPs start to debate controversial plans to strip French citizenship from people convicted of terrorism.
French MPs approve prolongation of measure that allows anyone's house to be searched and people to be put under house arrest without trial.
The National Assembly approved by 438 votes to 86 a bill giving the state wide-ranging spying powers, strongly decried by rights' groups.