Weeks after an incident in which France accused Turkish warships of intimidating one of its frigates, the French defence ministry has announced it is suspending its role in Nato's Mediterranean operation Sea Guardian, accusing Turkey of violating an arms embargo against Libya.
At a press conference in London ahead of a summit to mark Nato's 70th anniversary, US President Donlad Trump said comments earlier this month by his French counterpart Emmanuel Macron who said the military alliance was 'brain dead' were 'very, very nasty' and 'disrespectful', adding a jibe that France was 'not doing well economically at all'.
French government will summon Turkish envoy in Paris for talks after Turkey's president accused Emmanuel Macron of suffering 'brain death'.
German foreign minister Heiko Maas, reacting to French President Emmanuel Macron's remark last week that the North Atlantic Treatty Organisation, NATO, was 'brain dead', has said that 'without the United States, neither Germany nor Europe will be able to effectively protect themselves'.
 In an interview with the magazine The Economist ahead of a London summit to mark 70th anniversary of the founding of the North Atlantic Treaty Alliance (Nato), French President Emmanuel Macron said weakening US commitment to the alliance has depleted its strength and that 'What we are currently experiencing is the brain death of Nato', while he urged Europe to think of itself as a 'geopolitical power' to ensure it remained 'in control' of its destiny.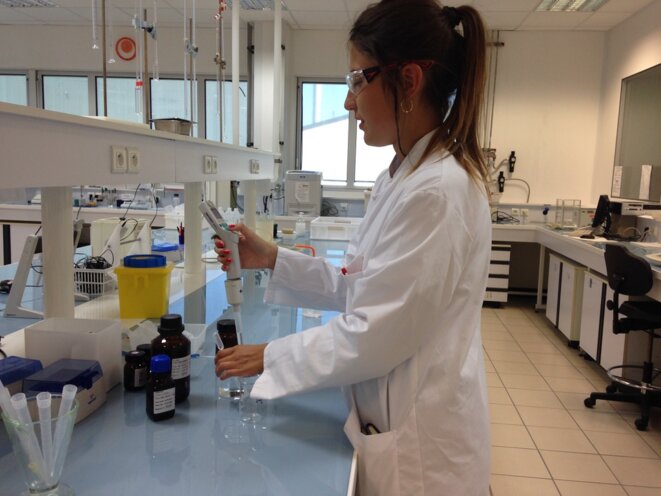 In the quality control laboratory at the French Army's antidote-producing Central Pharmacy. © RLS
In a military base not far from the city of Orleans south of Paris, a top-security factory ensures France is well-prepared for a range of chemical and biological threats. Even when there is no imminent danger some 30 million to 40 million pills are made each year – and destroyed when they pass their expiry date. Mediapart's Rozenn Le Saint was given rare access.
Plan is to increase spending by a third between 2017 and 2025 to meet NATO commitments and modernise France's army and nuclear deterrent.
French President Emmanuel Macron interviewed in French weekly JDD said the widely commented handshake duel with his US counterpart Donald Trump, when the two met for the first time last week in Brussels, was 'a moment of truth' with a man he said was, along with Russian President Vladidmir Putin and Turkish leader Recep Erdoğan, 'in a logic of relations of power'.
French officials said Turkish President Recep Erdogan has said he will examine the case of French photographer Mathias Depardon, arrested  earlier this month while on an assignment for National Geographic magazine in south-east Turkey, after French President Emmanuel Macron raised the issue with him ahead of a NATO summit in Brussels.
French President Emmanuel Macron met with US President Donald Trump at the US ambassador to Belgium's private residence in Brussles on Thursday, on the sidelines of a NATO summit, after which Macron said they had a 'long' and 'very frank' discussion on 'all subjects', when he urged the US not to withdraw support for the Paris Climate agreement pledges. 
Paris sent unofficial delegation to US to argue that French armed forces were better placed to be America's special ally in Europe after Brexit.
The airman - the ninth member of the French Air Force to die in the tragedy - suffered serious burns and died at a Madrid hospital.
The Greek F-16 crashed during take-off at a NATO training centre at Albacete, southeast of Madrid, killing ten and injuring up to 19.
British immigration minister says fencing could replace the 'inadequate' barriers at the French port as tensions rise over migrant issue.