Related keywords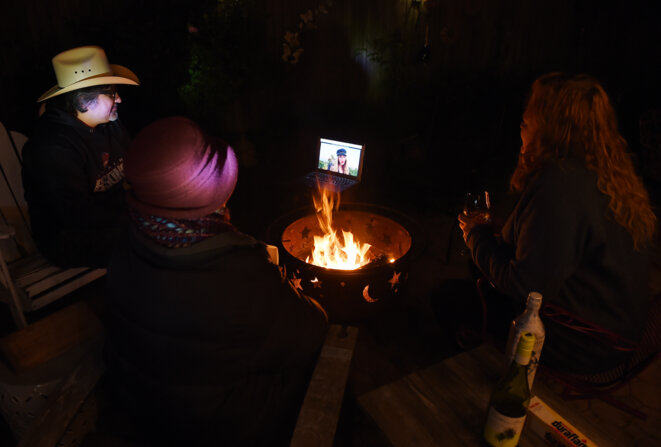 Neighbours in the United States watch the 'One World : Together At Home' online concert on April 18th 2020. © AFP
One of the side effects of the coronavirus pandemic has been a shake-up in the world of culture, including in France. As cinemas have stayed closed and music festival and tours have been cancelled, online streaming has stepped in to satisfy consumer demand for new film releases and live performances. Critics fear that not only is the culture industry rapidly becoming concentrated into the hands of a few major global players, there is also a risk that the dominance of online in films and music will reduce cultural diversity for many people – especially the poorest. Mickaël Correia reports.
US streaming giant Netflix on Friday inaugurated a vast new office in Paris and announced a catalogue of new content for its market in France, where it currently claims 6.7 million subscribers, as well as further production partnerships.
France's state-owned public service network France Télévisions is joining forces with main private network TF1 and also M6, the country's most profitable private channel, to launch a subscription service next year called Salto, offering a back catalogue of French TV shows and original content in response to the growing success of US video entertainment giant Netflix, which has attracted 3.5 million subscribers in France.
Film production streaming giant Netflix's chief content officer, Ted Sarandos, said his company was pulling out of next month's Cannes Film Festival, arguably the most prestigious annual filmmakers venue, because they will not be treated equally due to a French law that stipulates films cannot be released on home entertainment platforms until 36 months after their release in cinemas.
But makers of new Netflix political drama insist they will avoid stereotyping 'larger than life' Mediterranean city as crime-ridden and seamy.
The video-on-demand platform has defied sceptics and made strong start in France after major marketing campaign.
The US video streaming company says it aims to lure a third of households as subscribers within five to ten years.
American video streaming giant launches across Europe on Monday amid fears it will undermine investment in France's home-grown movies.