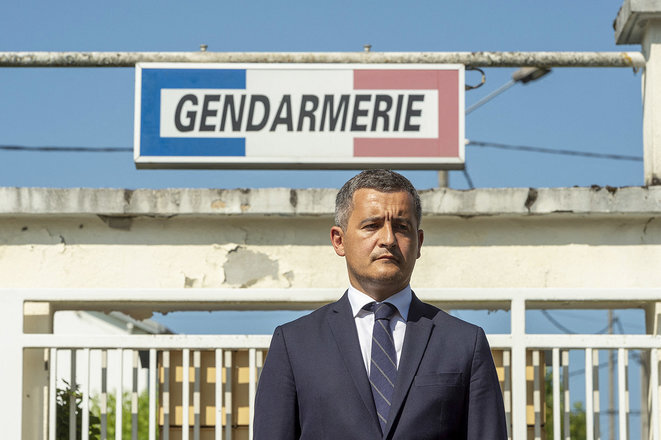 French interior minister Gérald Darmanin, July 22nd 2021. © Photo Thierry Zoccolan / AFP
Following an investigation by Mediapart which revealed how the newly appointed head of the gendarmerie in France's South Pacific territory of New Caledonia had been convicted of domestic violence, Colonel Éric Steiger was forced to resign his prestigious post last Friday. Despite the public outrage prompted by the case, and notably how the colonel's hierarchy were well aware of his conviction, French interior minister Gérald Darmanin, in a radio interview on Tuesday morning, denounced a "cabal" against Steiger, who has admitted committing violence against his ex-wife, adding "I am not for witch-hunts". Matthieu Suc, Pascale Pascariello and Antton Rouget report.
Independence supporters had wanted all sovereign powers - including justice and policing - to be transferred from France.
A "yes" vote would see France lose its most import Pacific territory and dent the pride of a former colonial power whose reach once spanned the Caribbean, large parts of Africa, Asia and the Pacific.
This Sunday, more than 180,000 voters will cast their ballot to find out whether New Caledonia will stick with France or become its own independent state.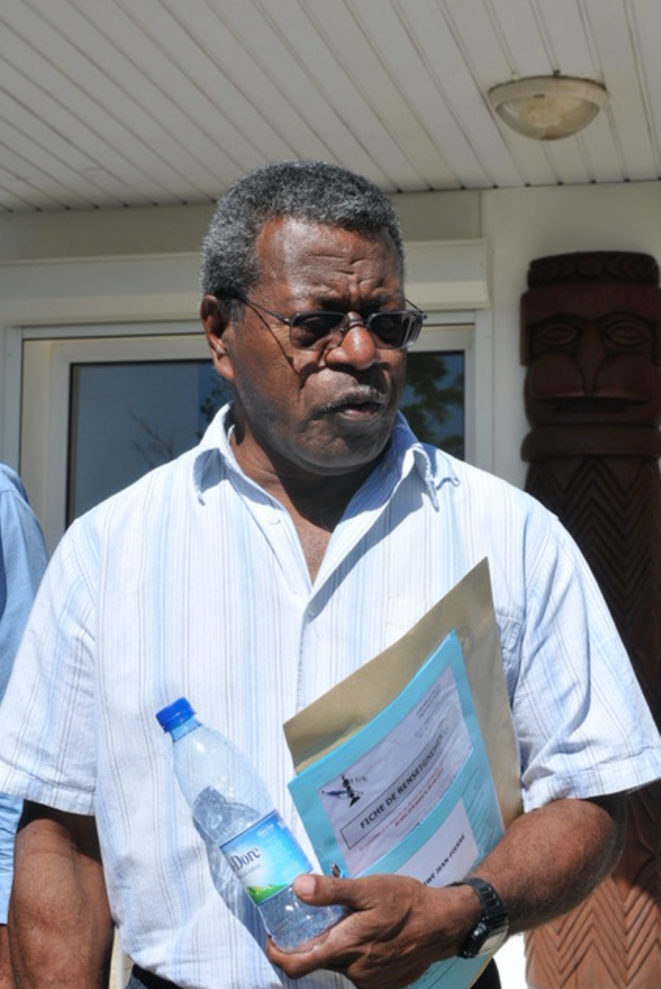 New Caledonia pro-independence leader Jean-Pierre Djaïwé. © Le Pays
The inhabitants of the semi-autonomous South Pacific French territory of New Caledonia are to vote on Sunday in a referendum on whether they want full independence from France, which colonised the archipelago in the mid-19th century. In a similar referendum in 2018, nearly 57% of votes cast were against cutting ties with Paris. Can the pro-independence movement swing the result in their favour this time around? Joseph Confavreux interviews New Caledonia's prominent pro-independence political leader Jean-Pierre Djaïwé.  
Final results showed that 56.4% chose to remain part of France while 43.6% voted to leave - a tighter result than some polls had predicted.
Vote in New Caledonia being closely watched as test of support for France in its many territories around the world.
As the country prepares for a referendum on 4 November, the scars of colonisation are still raw.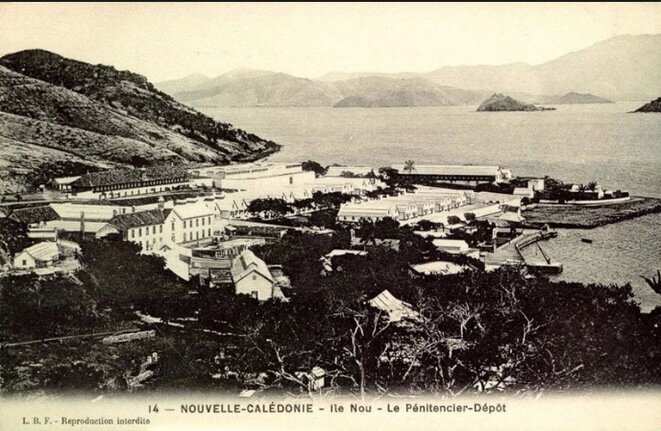 A postcard view of the notorious New Caledonia penal colony at Île Nou. © DR
The French overseas territory of New Caledonia will hold a referendum on November 4th to decide whether the South Pacific archipelago should opt for self-rule. It comes after a 30-year political process to ease continuing high tensions between pro-independence militants from the indigenous Kanak population and the community of ethnic Europeans. The territory has a chequered and often violent history since it became a French possession in 1853, which Mediapart is charting this summer in a series of articles which examine the construction of what was a most singular colonial project. Here, Lucie Delaporte returns to the story of how the defeated militants of the 1871 Paris Commune were deported to New Caledonia alongside Algerian tribesmen who led one of the first major revolts against French rule in Algeria.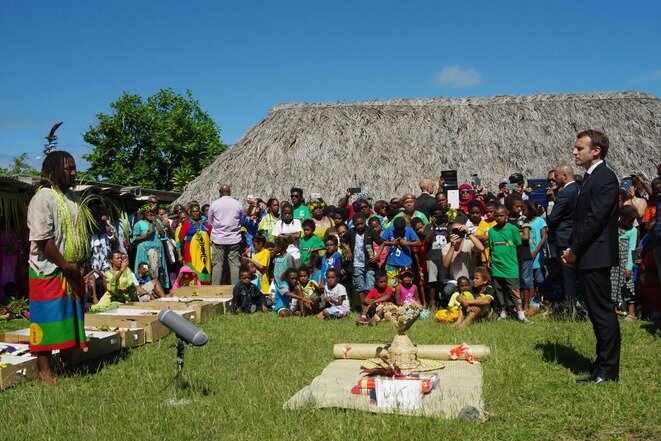 President Emmanuel Macron during his visit to Ouvéa in New Caledonia. © Julien Sartre
President Emmanuel Macron is visiting New Caledonia as the Pacific archipelago prepares for a crucial vote in the autumn on whether to embrace full independence from its old colonial power. The French head of state will be there on the 4th and 5th of May, two grim dates in the calendar of recent New Caledonian history. On May 5th 1988, 19 hostage takers and two soldiers died after the military intervened to rescue gendarmes kidnapped by a separatist group on the island of Ouvéa. A year later, on May 4th, 1989, two nationalist leaders were killed on the same island by another separatist who felt they had betrayed the cause. Joseph Confavreux reports on a bloody past that still hangs over the region's politics and on the attempts at reconciliation and forgiveness.
President's visit set to boost effort by those residents hoping a referendum will result in a rejection of independence, without reigniting conflict.
Macron due to discuss security in Pacific where France has significant interests, with both countries concerned over rising Chinese influence.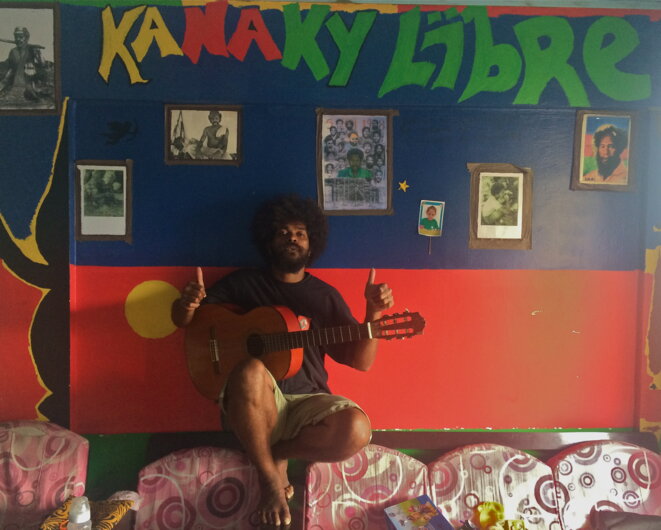 Pro-independence militant Darewa Dianou: "They killed my father and, afterwards, they come and tell us that they will de-colonise us?" © ES
The French Pacific territory of New Caledonia, which became a French colony in 1853, will hold a referendum next year on the proposition of self-rule. The referendum is the result of 30 years of a political process to ease tensions between pro-independence militants from the indigenous Kanak population, which make up about 45% of the archipelago's 270,000 inhabitants, and ethnic Europeans. A key issue of the referendum will be the extent of involvement of the young generation, and in particular young Kanaks who are the worst affected by high unemployment and educational failure. Ellen Salvi reports from New Caledonia.
French Prime Minister Edouard Philippe is at the centre of controversy over his decision to charter a luxuriously equipped Airbus plane at a cost of 350,000 euros to fly him and his staff back to France from Japan, leaving a French air force jet at his disposition to return empty, which he said was because of night-flight comfort and the need to return early to Paris before President Emmanuel Macron left on a foreign trip.