Related keywords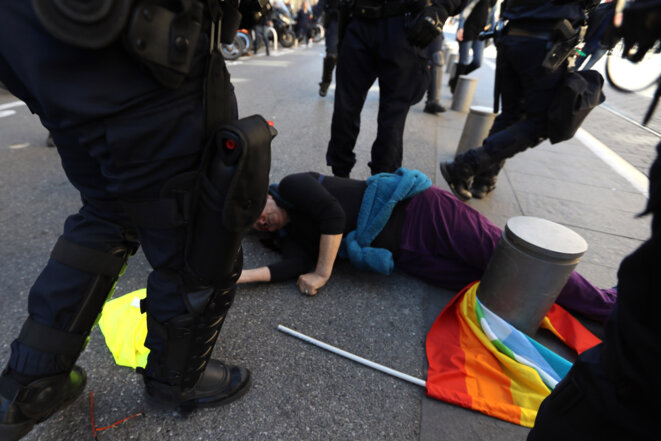 The activist Geneviève Legay on the ground having been knocked over by a police officer on March 23rd, 2019, in Nice. © Valery HACHE/AFP
In the spring of 2019 Mediapart journalist Pascale Pascariello revealed the lies told by a state prosecutor and President Emmanuel Macron himself over a case involving an activist in her 70s who was injured during a protest amid allegations of police violence. This week, on Tuesday 26th May, the reporter was questioned as a potential suspect by the police body which investigates police actions, the Inspection Générale de la Police Nationale (IGPN). The alleged offence is receiving information passed on as a result of a breach of professional confidentiality. As Mediapart's Fabrice Arfi writes, it is the fourth time in under 18 months that the legal system has targeted Mediapart's sources following investigations that have proved embarrassing for the government.
Following the closure of all fenced parks in Paris, the authorities have now closed green spaces in central Paris and also walkways along the River Seine, citing a lack of observance of the lockdown measures aimed at slowing the spread of the coronavirus epidemic, while the Rivierra city of Nice has closed its celebrated seafront Promenade des Anglais amid rumours of impending curfew measures.
French President Emmanuel Macron has leant his support for the release of secret military files concerning the mysterious crash over the Meditarranean Sea in September 1968 of an Air France Caravelle plane as it descended for landing at Nice airport, and which victims' families have long suspected was the result of a missile fired by a French warship during a military exercise.
Referee stopped Nice-Marseille  game for 10 minutes after banners and chants - incident is latest in a series to have occurred in France.
While the 19th nationwide day of action on Saturday by France's so-called 'yellow vest' anti-government protest movement passed off largely without violence, a 73-year-old woman taking part in a banned rally in the south-east city of Nice received life-threatening head wounds in a charge by riot police.
The trial has opened in the southern French town of Aix-en-Provence of ten people accused of taking part in the killings in the Rivierra city of Nice four years ago of Monaco multi-billionaire Hélène Pastor and her chauffeur, including Pastor's son-in-law who is alleged to have hired two hitmen with the aim of inheriting the property owner's huge fortune.
A pregnant young Roma mother has been jailed for a year in Nice after being convicted of mistreating her children on the Mediterranean city's streets. Human rights and Roma groups see a worrying link between the woman's arrest and conviction and a campaign by the right-wing mayor Christian Estrosi to clean up the city's streets for the tourist season, and claim the authorities have sought to make an example of her. Louise Fessard reports.
Jacques Cassandri, 74, used a pseudonym in a book published in 2010 in which he declared himself to be the organiser of an elaborate robbery in the Rivierra city 42 years ago when a gang tunnelled their way into a bank's vault of safeboxes and escaped by boats through sewers to the open sea with loot worth almost 30 million euros. 
Suleiman Kerimov, a Russian senator whose family Russia's biggest gold producer, Polyus, has been released on bail of 5 million euros and had his passport confiscated by magistrates in Nice who have placed him under investigation for suspected money laundering and tax fraud in connection with property deals on the French Riviera.
Thousands of passengers were forced to sleep in their trains overnight Saturday after rail services linking Marseille and Nice were halted as a  precautionary measure when weekend wildfires, which left three firefighters and an elderly woman in need of medical treatment, surrounded tracks.
A Paris court has refused a public prosecutor's demand that the latest issue of French weekly Paris Match be withdrawn from sale over its publication of gruesome CCTV images of the 2016 Bastille Day terrorist attack in Nice when a truck ploughed into seafront crowds, killing 86 and injuring hundreds more, but has ordered the magazine not to republish the photos.
President Emmanuel Macron, joined by his predecessors François Hollande and Nicolas Sarkozy, travelled to the Riviera city of Nice on Friday to take part in commemorations of the terrorist attack committed last year by a Tunisian national, and claimedt in the name of the Islamic State group, who drove a heavy truck into seafront crowds celebrating Bastille Day, killing 86 people and injuring more than 450 others.
The Paris public prosecutor's office has asked for a court order to remove the weekly magazine from sales points in France on Thursday over its publication of gruesome images from CCTV footage of the terrorist attack in the Rivierra city in July last year when a man acting in the name of Islamic State drove a truck into seafront crowds killing 86 people and injuring more than 450 others. 
The head of the far-right party's branch in Nice, Benoît Loeuillet, was recorded in an undercover interview for a TV documentary as saying that the mass extermination of six million European Jews during WWII did not happen.