François de Rugy chosen to replace high-profile minister Nicolas Hulot who quit live on TV; a new sports minister has also been named.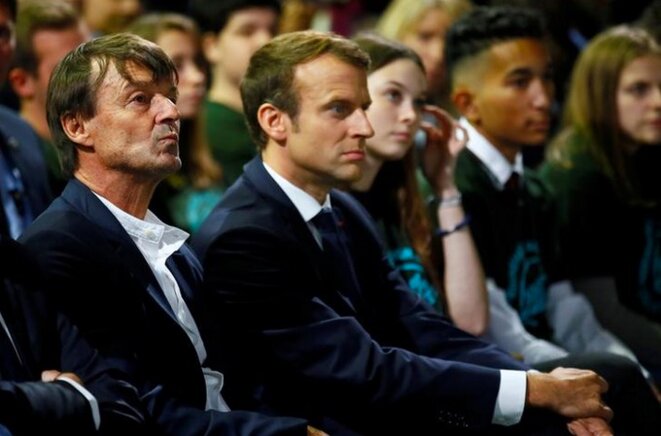 Nicolas Hulot and President Emmanuel Macron in October 2017. © Reuters
The Benalla affair, which involved the French president's security aide, caused political damage to Emmanuel Macron at the start of France's summer break. The head of state hoped that the post-holiday resumption of political daily life would allow him to regain control of events. But following the shock resignation of his high-profile environment minister Nicolas Hulot, and with economic growth in France set to be lower than forecast this year, Macron seems once again at the mercy of events. Ellen Salvi analyses the French president's woes.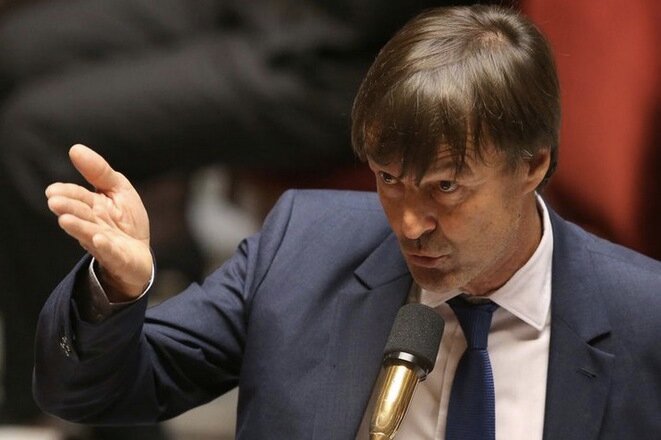 Nicolas Hulot addressing French parliament in September 2017. © Stéphane Mahé/Reuters
French environment minister Nicolas Hulot dramatically resigned from government on Tuesday, announcing his surprise decision during a live radio interview. Mediapart publishing editor Edwy Plenel argues here that it represents a salutary electroshock that highlights the impasse of economic policies leading to an ecological catastrophe, and also puts an end to the illusion that the will of a supposedly providential man alone can bring about a sudden turnaround in approach to environmental issues. Hulot's resignation, he says, resonates as a call for society to mobilise itself in favour of a veritable political alternative.       
French environment minister Nicolas Hulot, one of the most popular ministers, resigned during a live radio interview, citing 'an accumulation of disappointments' with the environmental 'mini-steps' decided by President Emmanuel Macron and his government which he said were too influenced by lobbyists.
French environment minister Nicolas Hulot has applauded a Californian court judgment which found agrochemical giant Monsanto did not warn of the serious health risks of using its herbicide Roundup, ordering it to pay nearly $290 million to a school groundskeeper who developed terminal cancer after using the product, adding that he hoped the ruling 'corrects the indifference of politicians' over the dangers of the weedkiller's key compound glyphosate. 
President's Macron's environment minister, a popular former TV star, was close to tears talking about how claims have put him in a 'crazy rage'.
The official declarations by French government ministers of their personal wealth, which can be consulted online, show that French labour minister Muriel Pénicaud is the richest, with assets worth 7.5 million euros, and that environment minister Nicolas Hulot, a figurehead of the Green movement in the country, owns six cars, a motorboat and a motorbike.
Environment minister Nicolas Hulot said it was not realistic to cut nuclear energy's share in power mix to 50% by 2025 from 75% now.
Video shows hunters killing a tired but otherwise unhurt stag in a residential area on the outskirts of the forest of Compiègne, northeast of Paris.
Environment minister wants financial inducement to switch to a less polluting vehicle to be available to all owners of older cars from 2018.
Environment minister Nicolas Hulot, who said in July France will need to close up to 17 of its 58 reactors, did not this time specify a number.
Environment minister Nicolas Hulot has announced a plan to shut down 17 out of France's 58 nuclear reactors as part of a pledge to reduce the share of nuclear production of the country's energy from 75 percent to 50 percent by the year 2025, although he did not detail which plants would be partially or totally closed.
Move by Emmanuel Macron's government comes a day after Volvo said it would only make fully electric or hybrid cars from 201.
Édouard Philippe reconfirmed ban on neonicotinoids hours after agriculture minister Stèphane Travert had said he wanted to soften it.