Related keywords
Left to right: newly elected Nicolas Sarkozy hosts Muammar Gaddafi in Paris; French-Lebanese intermediary Ziad Takieddine; Niolas Sarkozy's close allies Brice Hortefeux and Thierry Gaubert. © Reuters/Document Mediapart
An investigation by Mediapart has confirmed that a longstanding close aide to former French president Nicolas Sarkozy received 440,000 euros in a secret offshore account paid from Libyan funds one year before the 2007 French presidential elections, casting further suspicion that Sarkozy's successful bid was partly financed by the late Libyan dictator Muammar Gaddafi. The money was transferred by a shell company belonging to a French-Lebanese intermediary who is central to the funding allegations, through which transited several millions of euros from the Tripoli regime. Fabrice Arfi and Karl Laske report.
Verdict by the French Cour de Cassation means prosecutors will now decide whether ex-president faces court over massive campaign overspend.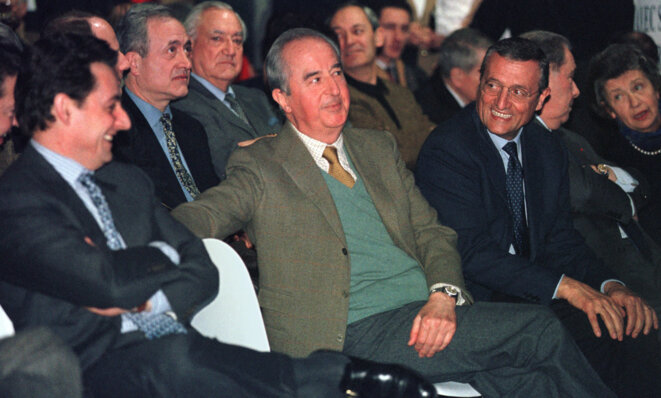 Édouard Balladur (centre) in 1995 with François Léotard (right) and Nicolas Sarkozy. © Reuters
Senior public prosecutor François Molins has concluded that former French prime minister Édouard Balladur and the defence minister who served under him, François Léotard, should be sent for trial for siphoning payments from public weapons contracts with Saudi Arabia and Pakistan to fund Balladur's presidential election campaign. Molins's formal recommendations follow a lengthy judicial investigation into what has become known in France as "the Karachi affair", a complex and far-reaching alleged corruption scam which surfaced after the murders of 11 French naval engineers in the Pakistani port city in 2002.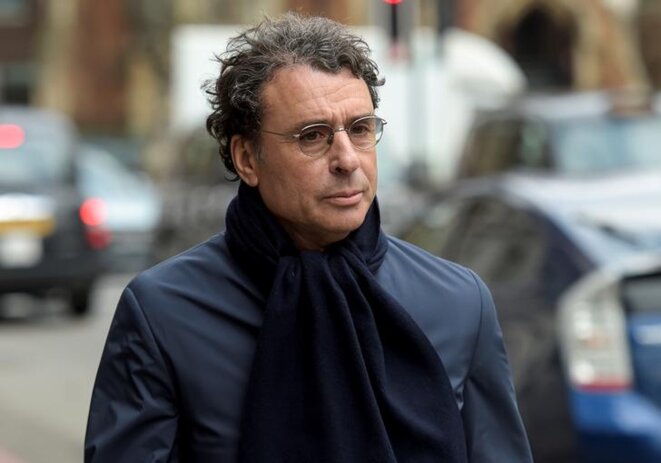 Middleman Alexandre Djouhri in London, where he is fighting against extradition to France.
French detectives and judges investigating the financial links between former President Nicolas Sarkozy's entourage and the Libyan regime of dictator Muammar Gaddafi are making progress in relation to a key figure in the affair. He is businessman Alexandre Djouhri, currently living in London, whom French judges are trying to extradite for questioning. His right-hand man, banker Wahib Nacer, was placed under formal investigation in the affair earlier this year. Fabrice Arfi reports on the latest judicial developments that are causing concern for the Sarkozy clan.
Paris Match cover shows ex-president head and shoulders above his wife Carla Bruni-Sarkozy despite fact she is almost 10cm taller than him.
An appeal by former French president Nicolas Sarkozy against a decision to prosecute him on charges of corrupting a senior magistrate to obtain information in a legal case concerning him has been rejected, and he is now expected to stand trial within months. 
Sarkozy had appealed to Constitutional Council invoking 'double-jeopardy' because he had already been found guilty over election spending.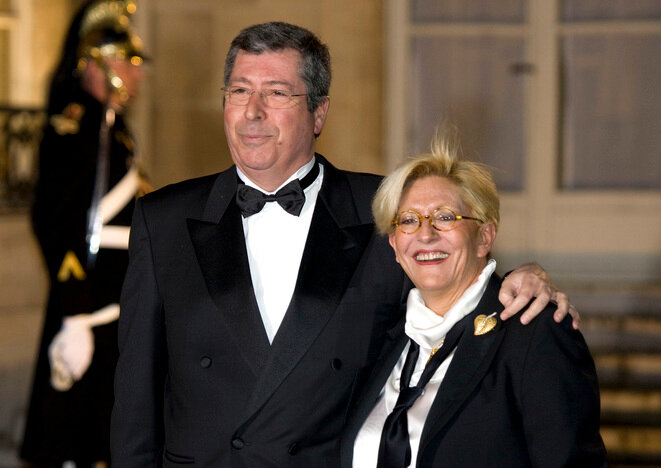 Patrick and Isabelle Balkany at the Élysée, March 11th 2008. © Reuters
On Monday May 13th 2019 the mayor of a wealthy Paris suburb, Patrick Balkany, and his wife Isabelle Balkany went on trial in the French capital for offences including tax fraud and money laundering. They are accused of having hidden some 13 million euros from the tax authorities, and prosecutors say they are the true owners of luxury properties in France, the Caribbean and Morocco. Alongside them on trial is lawyer Arnaud Claude who, like the Balkanys, is a personal friend of former president Nicolas Sarkozy as well as having been his partner in a law firm. Mediapart's legal affairs correspondent Michel Deléan sets the scene on a high-profile trial.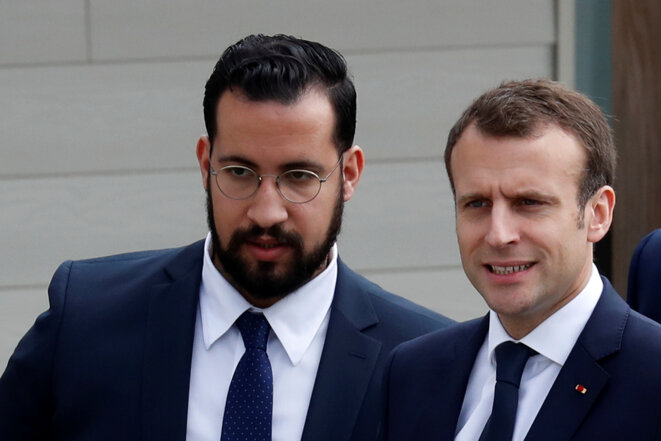 Alexandre Benalla and President Emmanuel Macron during a visit to Normandy April 12th 2018. © Reuters
Mediapart is not a back-room intelligence agency but a news-gathering organization. We do not spy on anyone nor do we install secret microphones, writes Mediapart publishing editor Edwy Plenel. We are content with revealing information in the public interest while respecting press laws. That is true in the current affair involving President Emmanuel Macron's security aide Alexandre Benalla just as it was in the earlier Bettencourt, Sarkozy-Gaddafi and Cahuzac affairs, he says.
Alexandre Djouhri is wanted by Paris over claims including corruption of a foreign public official and conspiracy to misappropriate public funds.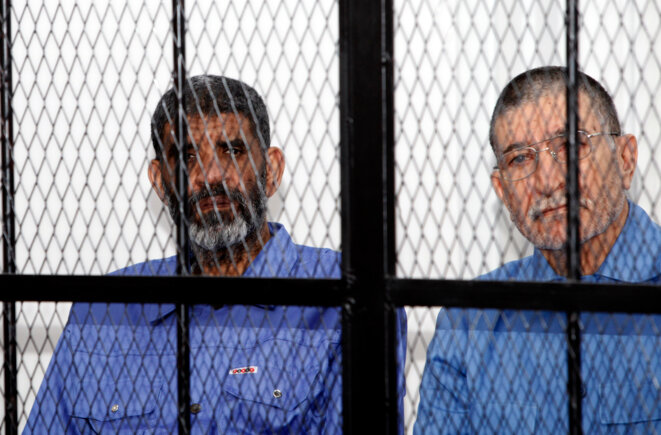 Mohamed Abdulla Senussi (left) during his trial in Tripoli in April 2014. © Reuters
As part of their investigation into the suspected funding by the Gaddafi regime in Libya of Nicolas Sarkozy's 2007 presidential election campaign, two French judges travelled to Tripoli earlier this month when they questioned, for the first time face-to-face, Gaddafi's former spy chief, and brother-in-law, Mohamed Abdulla Senussi. Mediapart has gained access to extracts from the statements provided by Senussi, who detailed how he oversaw the payment of 7 million euros for Sarkozy's campaign, as ordered by Gaddafi. He also confirmed that, as part of the deal, the former French president's personal lawyer and friend Thierry Herzog was involved in moves to overturn an international arrest warrant issued against Senussi after his conviction in absentia by a Paris court for his part in the blowing up of a French airliner in 1989.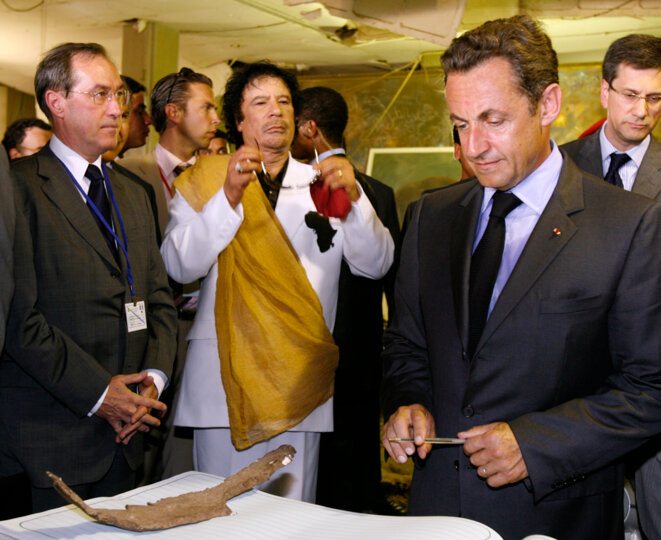 Left to right: the French president's chief aide Claude Guéant, Muammar Gaddafi and Nicolas Sarkozy inTripoli in 2007. © Reuters
France's highest appeal court, the Cour de Cassation, has rejected an appeal by former president Nicolas Sarkozy in a case against Mediapart relating to the authenticity of a key document showing he was promised Libyan funding for his 2007 election campaign. The judgement, published on Wednesday January 30th, means that the former president can no longer evade the election funding scandal revealed by this site, says Mediapart's publishing editor Edwy Plenel.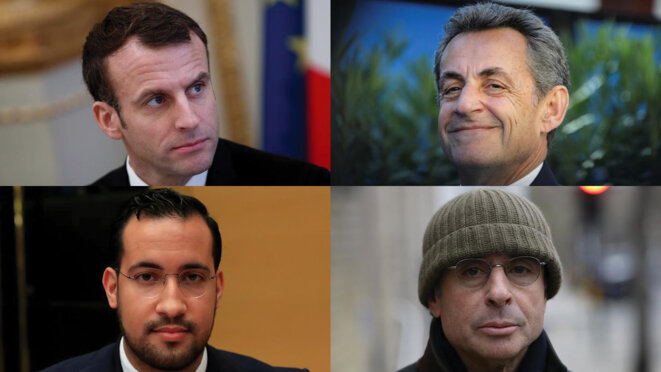 Clockwise from top left: Emmanuel Macron, Nicolas Sarkozy, Alexandre Djouhri and Alexandre Benalla. © Reuters
In recent weeks the current French president Emmanuel Macron has deepened his ties with former rightwing president Nicolas Sarkozy. The latter recently represented France at a ceremony in Georgia and the pair have lunched together. But by a curious coincidence two of their former allies, each of them facing judicial investigations in France, have also been meeting. They are Alexandre Benalla, President Macron's former security advisor who caused a scandal over the summer after he was filmed using violence against protestors in Paris on May 1st, and Alexandre Djouhri, a businessman and middleman who was close to Nicolas Sarkozy and who is awaiting extradition to France as part of the investigation into Libyan funding of Sarkozy's 2007 election campaign. Fabrice Arfi reports.
Macron has lunched with Sarkozy and sent him to represent France at swearing-in of Georgia's new president, a move that caused a political stir.