Keyword: Nicole Belloubet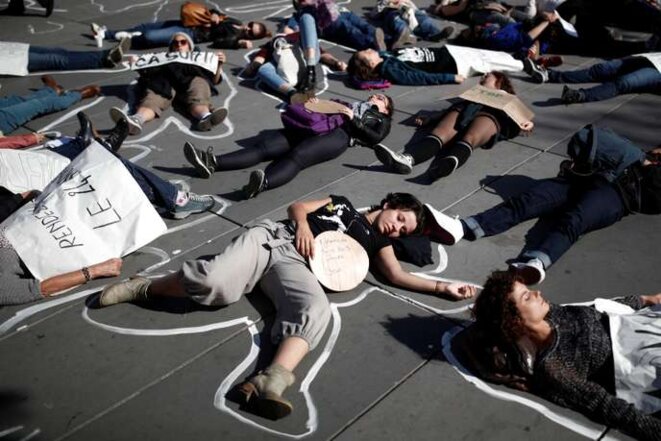 A demonstration in Paris protesting murders of women in domestic violence, September 2018. © Benoît Tessier/Reuters
Victims of domestic violence in France, the vast majority of who are women, are being failed by the justice system and police, notably by not offering effective responses to formal complaints, concludes a French justice ministry report published at the weekend. The report examined 88 cases of domestic violence that ended in murder during the period 2015-2016, and of these 83 percent of the victims were women, many of whom had previously lodged complaints. Associations monitoring media-reported cases of women murdered by their partners or ex-partners estimate they number 135 so far this year. Meanwhile, justice minister Nicole Belloubet has said that the justice system "very clearly" is malfunctioning, and that new legislation must be drafted to address the failings. Dan Israel reports.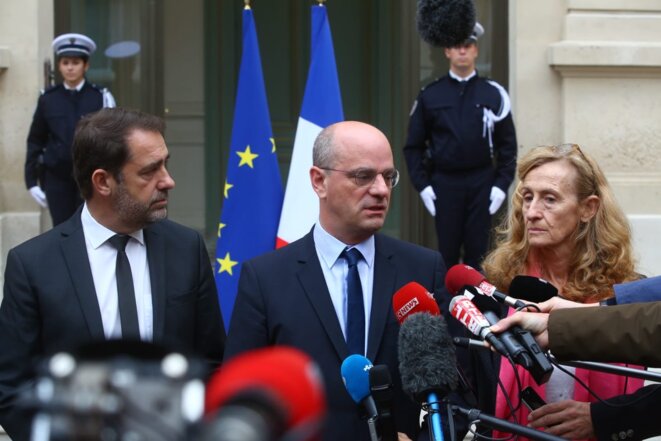 Interior minister Christophe Castaner, left, education minister Jean-Michel Blanquer and justice minister Nicole Belloubet. © @Twitter @jmblanquer
A recent video showing a pupil pointing a pistol – later discovered to be fake - at his teacher in a school in France went viral. The government called an urgent meeting of senior ministers to work out a plan of action to tackle violence in France's schools, amid talk that the police might be asked to patrol in some establishments. Detailed policies are expected to be announced soon. But as Manuel Jardinaud and Faïza Zerouala report, this tough rhetoric, which recalls the days of Nicolas Sarkozy's presidency, has not gone down well with many teachers.
The official photo of the new French governemnt, June 2017. © Elysée
Following the recent Parliamentary elections President Emmanuel Macron has formed a new government under the same prime minister Édouard Philippe. However, what was supposed to be a minor technical change to the government has become rather larger in scale after the departure of four ministers in response to potential scandals. The result is a government that gives us a glimpse of how the new centrist president intends to balance his administration between the Left and the Right of the political spectrum. Stéphane Alliès, Christophe Gueugneau, Mathieu Magnaudeix and Mathilde Mathieu report.