Jean Castex said it was likely the 'same hatred, the same cowardice, the same inhumanity that was at work in Niger and at the Bataclan', a reference to the Paris music venue attacked in 2015 by terrorists.
Jihadists are suspected of attack that killed six French aid workers, a driver and a guide at a wildlife reserve.
Six French tourists, along with their driver and guide, are reported to have been shot dead by unidentified gunmen on motorcycles in a suspected terrorist attack during a safari in Niger, which lies in a region of West Africa where Boko Haram and groups linked to al Qaeda and Islamic State operate.
French President Emmanuel Macron has held a summit in Pau, south-west France, with leaders of five West African states engaged alongside France in fighting jihadist forces in the Sahel when he announced a further 220 French troops would be sent to the region to join their 4,500 colleagues already on the ground and the creation of a joint command structure with regional states.
Facing hostility in five former colonies over a stalled fight against extremists, President Macron has taken a harsh public stance but few expect him to follow through.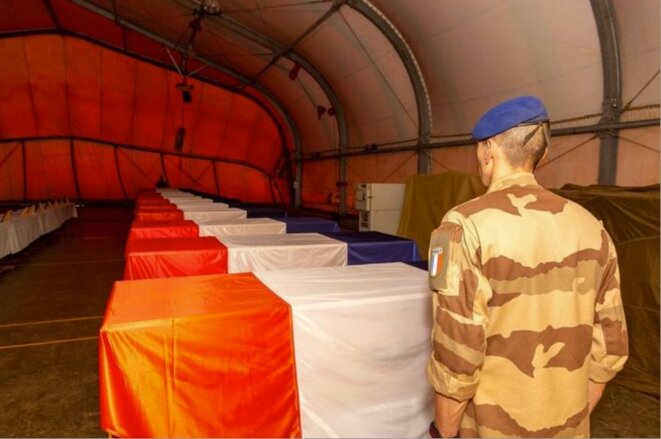 A French soldier at Gao in Mali deep in reflection in front of the coffins of the 13 French troops killed in the country on November 25th 2019. © Reuters
On Monday November 25th 13 members of the French military were killed when two helicopters crashed in Mali during France's ongoing military operations there. The grim news sparked debates back in France about the country's military involvement in the Sahel region of Africa. But as Mediapart's René Backmann writes, the legacy of France's colonial past and the remnants of its post-colonial approach to the continent known as 'Françafrique' suggest that President Emmanuel Macron's government will be unable to see that military combat against jihadism is not the only response that is needed to tackle the region's instability.
In the wake of footage of sub-Saharan migrants captured in Libya being sold as slaves, France has pledged to offer asylum to 25 Eritreans, Ethiopians and Sudanese, including 15 women and four children, who were taken to Niger under UN protection from detention in the North African country. 

Left to right: Nicolas Sarkozy, Ziad Takieddine, Claude Guéant, Abdullah al-Senussi and Sarkozy's lawyer Thierry Herzog.
Mediapart is publishing four documents which prove that from 2005 to 2009 Nicolas Sarkozy and his aides tried to extricate Libyan spy chief Abdullah al-Senussi from his legal problems in France where he had been convicted for his involvement in the bombing of a passenger plane over Africa. The same Senussi is suspected of having sent five million euros in Libyan cash to Sarkozy and his chief of staff Claude Guéant before the 2007 presidential election - as revealed by the man who says he physically carried the money, arms dealer Ziad Takieddine. Fabrice Arfi and Karl Laske report.
US defence officials say they will ask for cost of helping France fight insurgents in Sahel region of Africa to be 'reimbursed'.
Four hostages kidnapped in 2010 by al Qaeda-linked group arrive back in Paris where officials denied reports a ransom was paid for their release.
The four male hostages, kidnapped in Niger in 2010 at a uranium mine run by the French nuclear company Areva, are reportedly in fair health.
At least one person died and 13 others were wounded in the attack, while another targetted a military camp killing 20 soldiers.
Military sources say special forces to be sent to Niger uranium sites run by French state-owned company Areva as threat of attacks rise over Mali.
France calls for the extradition of former Libyan spy chief Abdullah Senussi for his part in a 1989 airliner bombing over Niger that killed 170 people.