Related keywords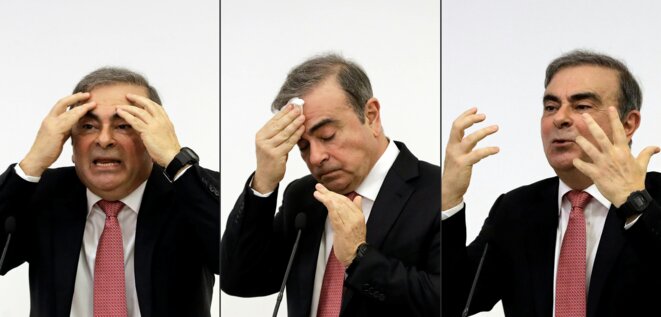 Carlos Ghosn during a press conference in the Lebanese capital Beirut, January 8th 2020. © Joseph Eid/AFP
Former Renault chief executive and Nissan chairman Carlos Ghosn's secret escape from Japan on December 29th, when he was allegedly smuggled out of the country in a musical instrument box by hired former special services veterans, was as dramatic as his arrest there one year earlier on charges of serious financial misconduct. But the manner of his flight bore all the hallmarks of the use over two decades by the one-time titan of the world's carmaking industry of private security personnel, both to spy on his staff but also shareholders and board members. Mediapart's Matthieu Suc, author of a recent book detailing Ghosn's seeming obsession with surveillance, reports.
Speaking at a news conference in Lebanon, Ghosn described himself as a 'hostage' in Japan with a choice between dying there - or running.
One Lebanese TV channel reported that Ghosn fled his residence in Tokyo with help of paramilitary group disguised among a band of musicians.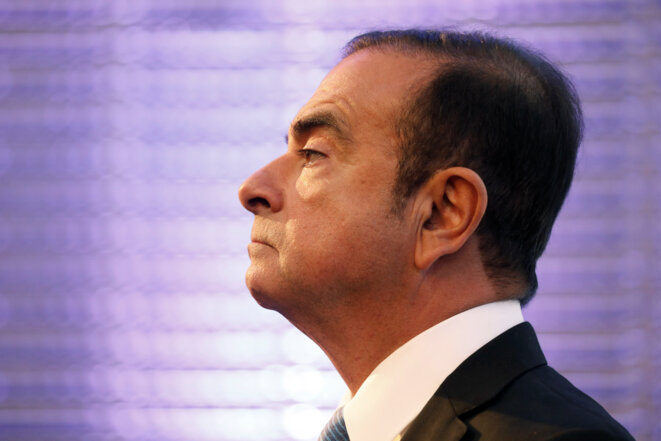 Carlos Ghosn on October 6th, 2017 © Reuters
The former Renault chairman and CEO, Carlos Ghosn, has travelled to Lebanon having fled from Japan where he was on bail facing charges of alleged financial wrongdoing. Ghosn, who was also chairman of Renault's Japanese partner Nissan, and who has always claimed his innocence, immediately justified the extraordinary move by saying he no longer wanted to be "held hostage by a rigged Japanese justice system where guilt is presumed". From the start of the affair Ghosn has claimed he is the victim of a plot, while largely avoiding details of the allegations against him. Mediapart's Matthieu Suc, author of a recent book on Renault, reports.
Carlos Ghosn, who was awaiting trial in Japan on financial misconduct charges, says he is in Lebanon to avoid a 'rigged Japanese justice system'.
Carole Ghosn, wife of Carlos Ghosn who was arrested in Japan last November on accusations of financial misconduct, has appealed to US President Donald Trump to help end his continued detention in Tokyo by lobbying the Japanese prime minister at the forthcoming G20 summit.
French carmaker Renault, partly state-owned, could reduce its stake in its Japanese counterpart Nissan in an effort to save the strained commercial alliance between the two marques, said France's economy and finance minister Bruno Le Maire, adding that French plans for a merger between the two, resisted by Nissan, could be abandoned.
Former Nissan boss is put back under arrest over allegations he misused company funds, a surprise move he calls 'outrageous and arbitrary'.
Carlos Ghosn said some Nissan executives wanted to stop his plan to integrate Renault with its Japanese alliance partners, Nissan and Mitsubishi.
The case of the arrest and continued detention in Japan of Renault chairman and CEO Carlos Ghosn over alleged financial misconduct has revealed the severity of the Japanese judicial system, which again denied him bail at a hearing in Tokyo this week. But it has also illustrated the situation of impunity granted in France to numerous high-placed individuals like Ghosn, writes Mediapart co-founder Laurent Mauduit in this opinion article. For while it now appears that the French government is finally moving towards his replacement as head of the French carmaker, economy and finance minister Bruno Le Maire has until now done his utmost to protect Ghosn, even declaring that there was 'nothing in particular to report' on his tax situation in France, when in fact the boss of one of France's biggest industrial corporations has been a tax resident in the Netherlands since 2012.
Hundreds queue at Tokyo court for chance to see former chairman of Nissan and current Renault boss respond to financial misconduct claims.
Carlos Ghosn, chairman and CEO of French carmaker Renault, and former chairman of Nissan, has been re-arrested in Japan over new allegations of financial misconduct, ending his hopes of a release from custody today after his arrested last month on suspicion of tax fraud.
French car manufacturer, of whom Ghosn is also chairman and CEO, had wanted Japanese partner firm to delay removal of boss after arrest.
Carlos Ghosn, chairman of Nissan and also chairman and chief executive of its French partner Renault, is said to have under-reported his income.