Related keywords
One Lebanese TV channel reported that Ghosn fled his residence in Tokyo with help of paramilitary group disguised among a band of musicians.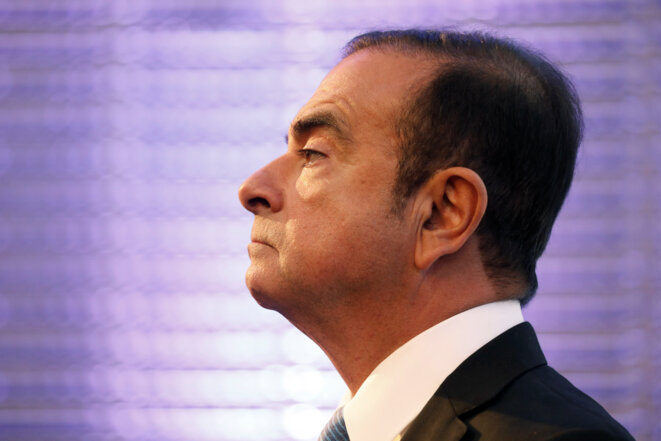 Carlos Ghosn on October 6th, 2017 © Reuters
The former Renault chairman and CEO, Carlos Ghosn, has travelled to Lebanon having fled from Japan where he was on bail facing charges of alleged financial wrongdoing. Ghosn, who was also chairman of Renault's Japanese partner Nissan, and who has always claimed his innocence, immediately justified the extraordinary move by saying he no longer wanted to be "held hostage by a rigged Japanese justice system where guilt is presumed". From the start of the affair Ghosn has claimed he is the victim of a plot, while largely avoiding details of the allegations against him. Mediapart's Matthieu Suc, author of a recent book on Renault, reports.
Carlos Ghosn, who was awaiting trial in Japan on financial misconduct charges, says he is in Lebanon to avoid a 'rigged Japanese justice system'.
Carole Ghosn, wife of Carlos Ghosn who was arrested in Japan last November on accusations of financial misconduct, has appealed to US President Donald Trump to help end his continued detention in Tokyo by lobbying the Japanese prime minister at the forthcoming G20 summit.
French carmaker Renault, partly state-owned, could reduce its stake in its Japanese counterpart Nissan in an effort to save the strained commercial alliance between the two marques, said France's economy and finance minister Bruno Le Maire, adding that French plans for a merger between the two, resisted by Nissan, could be abandoned.
Former Nissan boss is put back under arrest over allegations he misused company funds, a surprise move he calls 'outrageous and arbitrary'.
Carlos Ghosn said some Nissan executives wanted to stop his plan to integrate Renault with its Japanese alliance partners, Nissan and Mitsubishi.
The case of the arrest and continued detention in Japan of Renault chairman and CEO Carlos Ghosn over alleged financial misconduct has revealed the severity of the Japanese judicial system, which again denied him bail at a hearing in Tokyo this week. But it has also illustrated the situation of impunity granted in France to numerous high-placed individuals like Ghosn, writes Mediapart co-founder Laurent Mauduit in this opinion article. For while it now appears that the French government is finally moving towards his replacement as head of the French carmaker, economy and finance minister Bruno Le Maire has until now done his utmost to protect Ghosn, even declaring that there was 'nothing in particular to report' on his tax situation in France, when in fact the boss of one of France's biggest industrial corporations has been a tax resident in the Netherlands since 2012.
Hundreds queue at Tokyo court for chance to see former chairman of Nissan and current Renault boss respond to financial misconduct claims.
Carlos Ghosn, chairman and CEO of French carmaker Renault, and former chairman of Nissan, has been re-arrested in Japan over new allegations of financial misconduct, ending his hopes of a release from custody today after his arrested last month on suspicion of tax fraud.
French car manufacturer, of whom Ghosn is also chairman and CEO, had wanted Japanese partner firm to delay removal of boss after arrest.
Carlos Ghosn, chairman of Nissan and also chairman and chief executive of its French partner Renault, is said to have under-reported his income.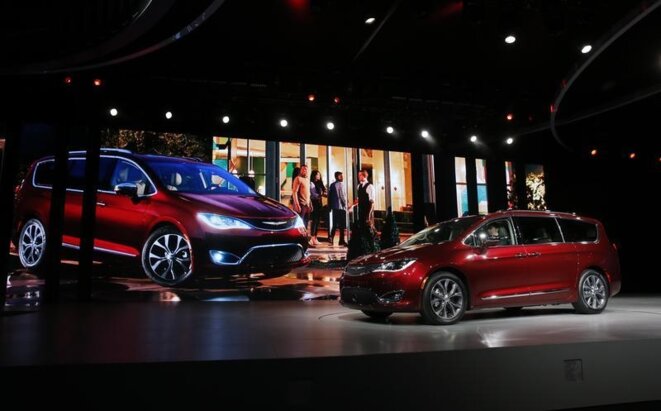 Chrysler cars at the Detroit car show in January 2016. © Reuters
Renault and PSA Peugeot Citroën are not the only car makers to have used the same software to increase the prices of their spare parts. Mediapart, working with the European Investigative Collaborations (EIC), Reuters and Belgian daily De Standaard, can reveal that 31 different car makers were approached to use the software and that at least three of them, Nissan, Jaguar Land Rover and Chrysler, have employed it to boost revenue. Between them these five huge automobile manufacturers have raked in an extra 2.6 billion euros from motorists around the world. Yann Philippin reports.
Last Friday, the board of French carmaker Renault insisted it would pay chief executive Carlos Ghosn a package of 7.2 million euros for his services in 2015, despite a revolt by shareholders who disapproved of the deal which economy minister Emmanuel Macron on Tuesday denounced as "excessive". In this opinion article, Mediapart's economic affairs correspondent Martine Orange argues that Ghosn, who is also paid a yearly 8 million euros as head of Nissan, is typical of a new caste of cynical oligarchs who are unaccountable to anyone, even to the very shareholders who first launched them on a path of greed.