French president praised the multilateralism of NATO and the EU while offering gratitude to the United States.
French President Emmanuel Macron held a marathon seven-hour conference with local mayors in Normandy on Tuesday, the start of a national consultation on policy issues follwing the rolling 'yellow vest' protests, but caused controversy with disparaging comments about some in economic difficulty.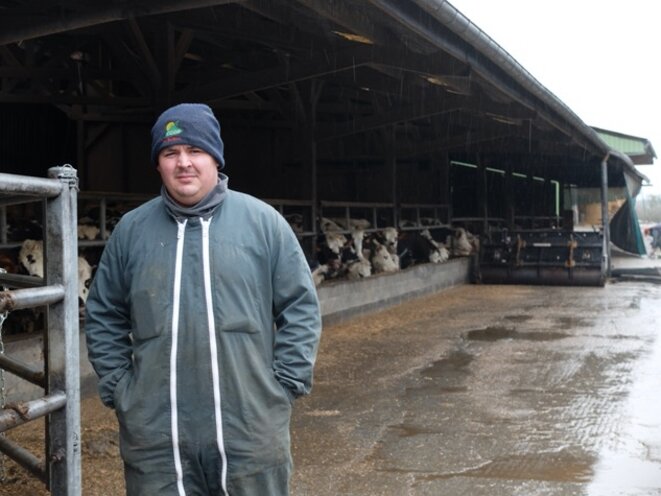 Farm film star Sébastien Cœuré. © CT
A recently-released film 'Normandie nue' or 'Naked Normandy' uses comedy to depict the crisis facing the world of farming in France. The movie, which stars 'The Intouchables' actor François Cluzet, features real farmers from a village in northern France who agree to strip naked for the film. But behind the film's slapstick moments the crisis and hardship are real enough. Caroline Trouillet met some of the farmers involved.
A 17-year-old who tried to reach Syria last year with one of two men who attacked a church in Normandy was detained in Geneva and deported to France, reports say.
Adel Kermiche, 19, used encrypted messaging service Telegram to tell fellow jihadists 'You take a knife, you go to a church, you make carnage'.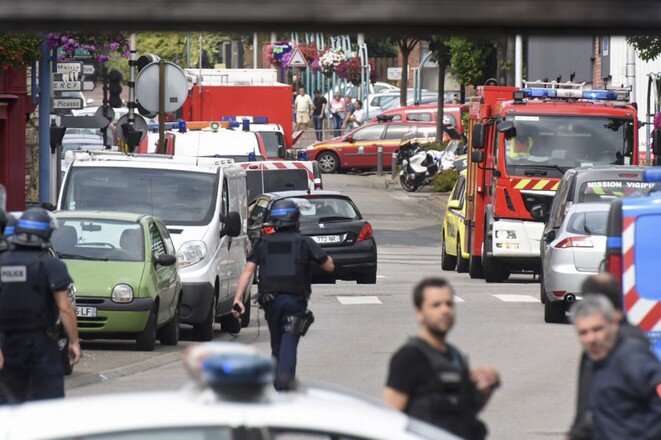 The scene close to the church of Saint-Étienne-du-Rouvray on Tuesday morning. © Reuters
A priest was murdered and one of his parishioners left in a critical condition by two knife-wielding men acting in the name of Islamic State group (IS) who attacked a Normandy church during a celebration of Mass on Tuesday morning. IS later claimed responsibility. The assailants, who had cut the 85-year-old priest's throat in front of a small group of nuns and worshipers, and who attempted to cut the throat of a parishioner, were shot dead by police as they came out of the church in what is believed to be the first attack on a Catholic place of worship in Europe by Islamic extremists. Paris public prosecutor François Molins provided further details about the attack on Tuesday evening. Graham Tearse reports.
CGT union votes to stop production at Total's Normandy refinery in north-west France as workers seek withdrawal of labour reform bill.
A 28-year-old man has been arrested after the body of David King, 70, who went missing last October, was found in a well in his garden.
The three long bones unearthed at a quarry at Tourville-la-Rivière are an extremely rare find in northwestern Europe.
Three workman are to be tried for the theft of more than 900,000-euros worth of buried gold they found while building a house extension.
French president urges people to fight current threats to peace with 'same vision, the same courage' as those who took part in Normandy landings.
Around 400 separate events will be held as American, Russian and British heads of state are among those marking 70th anniversary of landings.
French president says he will raise issue with US president who is flying in for talks in Paris ahead of Friday's D-Day commemorations.
The British monarch will attend commemorations marking the 70th anniversary of the D-Day landings in Normandy in north-west France.