Related keywords
General Jean-Louis Georgelin, who is co-ordinating the project of restoring the fire-damaged Notre Dame cathedral  in Paris, says that delays, including that caused by the coronavirus epidemic, could still be overcome to return the building 'to a place of worship within five years'.
As repair work continues on the fire-damaged 850-year-old Gothic cathedral, Midnight Mass on Christmas Eve will be moved to the church of Saint-Germain l'Auxerrois.
French army general Jean-Louis Georgelin, appointed to steer the rebuilding of Notre Dame cathedral after it was seriously damaged by a fire in April, has told a parliamentary cultural affairs committee that the architect in charge of the project should "shut his mouth" over a conflict about the replacement of the edifice's spire.
Inès Madani, 22, and Ornella Gilligmann, 32, were sentenced to jail sentences of 30 years and 25 years respectively on Monday after being found guilty by a Paris court of attempting – although,  in the event, failing – to set off a car bomb close to Notre Dame cathedral in Septembner 2016, which prosecutors said could have killed or wounded around 60 people in a nearby bar.
The 45-year-old IT assistant killed three police officers and an administrative worker before he was shot dead by an officer.
Work on cleaning up the damage to Notre Dame cathedral in Paris, which was severely damaged by fire in April, resumed on Monday after a break of three weeks due to widespread lead contamination from the building, the extent of which was revealed by Mediapart last month.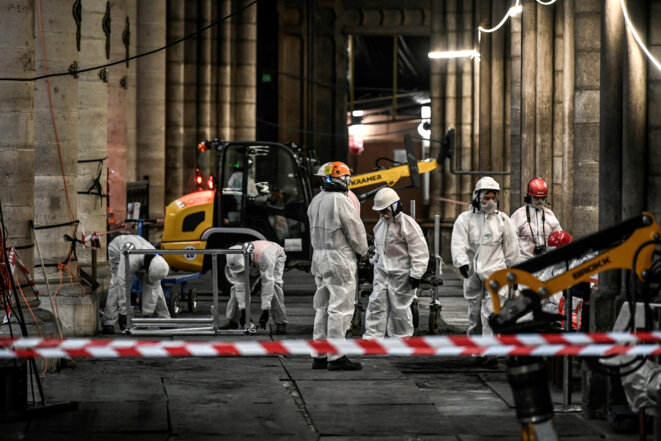 Site workers at Notre-Dame cathedral on July 17th 2019 © Reuters.
Out of 175 children so far tested after the April fire at the cathedral, 16 have levels of lead in their blood above the threshold at which an initial alert is raised, according to figures from the Paris regional health authority. Two have concentrations above the level at which lead poisoning is officially declared, though one of these cases is not apparently linked to lead from the blaze. Meanwhile the parents of one child with high lead levels in his blood have spoken of the "Kafkaesque" response of the authorities to their plight. Pascale Pascariello reports.
Blaze that destroyed cathedral's spire and roof also melted massive quantities of lead, toxic dust from which has been deposited on the ground.
Environmental protection NGO Robin des Bois has filed a lawsuit claiming 'the relevent authorities, including the diocese [...] neglected to assist residents, visitors and workers, allowing them to be exposed to the toxic fallout' of lead pollution caused by the fire that ravaged Notre Dame cathedral in April, following Mediapart's report earlier this month of high levels of lead contamination in the surrounding area.
Architects fear that heavy rainfall - forecast for the French capital on Wednesday - could result in further collapse of the 800-year-old cathedral.
The rector of Notre-Dame, Monsignor Patrick Chauvet, has said that a wooden structure to receive worshippers should be erected in front of the fire-damaged 850-year-old cathedral while it is repaired, which is expected to take at least five years.
As the vast and costly project to rebuild Notre-Dame cathedral after the huge damage caused by fire on Monday, individuals have begun donating to a public fund for the reconstruction, while several corporations have pledged contributions totalling of several hundred million euros. 
Notre-Dame cathedral in Paris, which was devastated by fire on Monday evening, occupies a very special place in France because of its combination of the secular, the sacred and the profane, and its symbolic representation of the country as a whole.
A fire that erupted early Monday evening in the upper sections of the 850-year-old Notre-Dame cathedral in Paris was still buring late into the night after destroying the world-renowned building's  roof and famous spire, although more significant damage is feared to both its structure and historic artefacts.