Keyword: Notre-Dame-des-Landes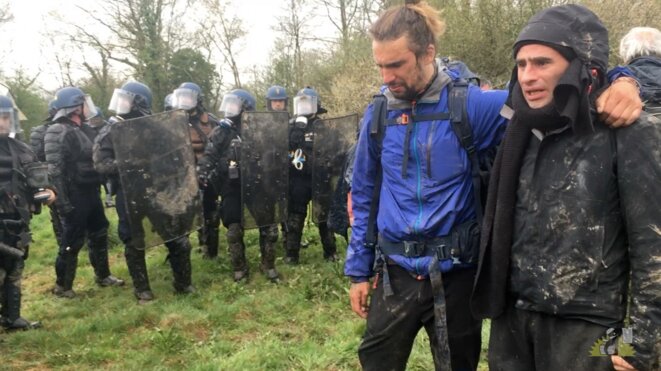 Notre-Dame-des-Landes, Monday April 9th. © JL
A massive police operation to evict environmental activists occupying farmland in north-west France which was until recently earmarked for the construction of an airport began in the early hours of Monday, marked by violent clashes which left several people injured, and is set to continue through the week. The heavy-handed expulsion of occupants of a number of experimental alternative farming projects on the land at Notre-Dame-des-Landes, during which police used stun grenades and tear gas, was accompanied by the destruction of numerous homes and agricultural installations, including an emblematic collective farm on the site which had hoped to gain official approval for its long-term future.  Christophe Gueugneau and Jade Lindgaard report from Notre-Dame-des-Landes.
Violent clashes escalated on Tuesday as more than 2,000 police officers continued what is expected to be a week-long operation to evict activists from a settlement built on the farmland site of a now abandoned airport project near Nantes in north-west France, with several people reported injured amid exchanges of tear gas and petrol bombs.
About 2,500 gendarmes early on Monday began evicting environmental activists from a number of habitations set up during years of protest on the farmland site in north-west France of a now-abandoned project to build a 'Great West' airport, and where the government has decided only officially approved agricultural enetrprises can remain.
Thousands of activists, some in carnival masks, symbolically set fire to a giant wooden plane to mark end of airport plans in western France.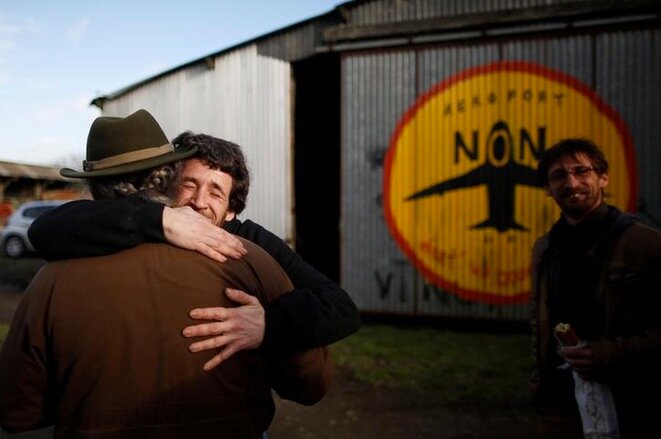 Activists occupying the site of the Notre-Dame-des-Landes airport celebrate on Wednesday after the government's decision to abandon the project. © Reuters
French Prime Minister Édouard Philippe announced on Wednesday that a controversial plan to build a major new airport near Nantes in north-west France, a project first mooted 50 years ago and which was bitterly opposed by environmentalists who prevented construction work from commencing by occupying the rural site, has been definitively abandoned. The decision ends decades of fudging by successive governments, infuriating supporters of the 600-million-euro project at Notre-Dame-des-Landes who argued it would have provided a much needed boost to the region's economy.
Group of campaigners has protested against new airport in western France since 2008; they now await president's 'final decision' on the project.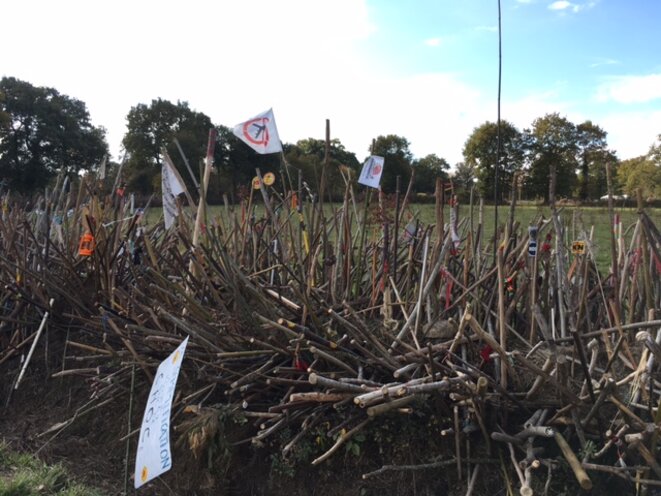 Wall of defence: thousands of opponents' sticks line the boundary of the new airport site. (JL)
Government plans to build a controversial 580-million-euro "Great West" airport in countryside near the town of Nantes in north-west France received a major blow earlier this week when a magistrate ruled that the environmental damage could not be justified by economic opportunity. The shock decision against a project that has been more than fifty years in the making, and which is ardently championed by Prime Minister Manuel Valls while hotly contested by ecologists, is now under review by a panel of judges who will give a final decision early next week. Jade Lindgaard reports from Nantes.
Update Monday November 14th: The magistrate's ruling was overturned by the panel of judges in Nantes on Monday. Airport opponents announced they are now to lodge an appeal before France's highest administrative court, the Council of State.
In February prime minister Manuel Valls promised that work would begin on a controversial new airport at Notre-Dame-des-Landes near Nantes in western France by the autumn. Yet despite a much-criticised local referendum that backed the plan, there are no immediate signs that construction work is about to begin, or even that the protesters who currently occupy the site face imminent eviction. The latest hold-up has been caused by demands from Brussels for information on the wider environmental impact of the project, which could see the start of work delayed until next year. Aurélie Delmas reports.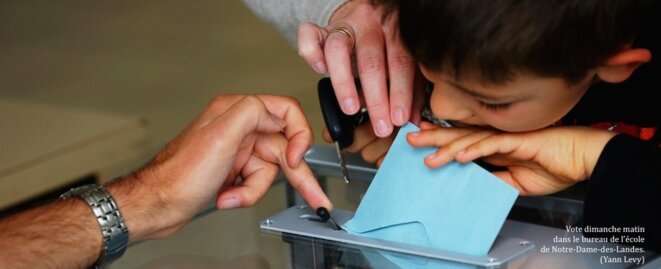 Voting in the airport referendum in western France. © Yann Levy
While all of Europe, including France, has been focussed on the shock result of the Brexit vote, a more local referendum campaign has been taking place in western France. On Sunday June 26th nearly a million voters in the Loire-Atlantique département or county were asked for their verdict on plans for a new airport at Notre-Dame-des-Landes near Nantes. The referendum itself, whose outcome the government says it will respect and which has been criticised for its many shortcomings, was won by suporters of the scheme. But Mediapart's environment correspondent Jade Lindgaard argues that the issues at stake go beyond the local airport project: and that they affect everyone in France and beyond.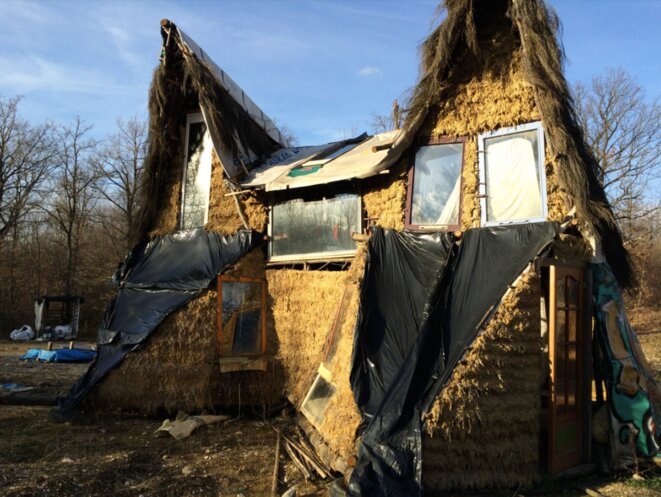 The home of protesters who are trying to stop a Center Parcs holiday centre from being built.
The protesters who have occupied the proposed site for a new airport at Notre-Dame-des-Landes near Nantes in west France have grabbed media attention in recent years. Less well-known are the environmental activists who have set up a similar camp in an ancient forest on the other side of the country in a bid to stop the development of a new Center Parcs holiday centre. As Jade Lindgaard reports, unlike their anti-airport counterparts, the protesters opposing the Center Parcs project are from being universally popular with locals.
Protesters want Notre-Dame-des-Landes airport plan to be withdrawn and expulsion orders given to local families and farmers to be scrapped.
Demonstration attracted up to 20,000 people protesting against proceedings to evict inhabitants, including farmers, from planned site.
At the end of 2015 the giant construction firm, Vinci, who are scheduled to build a new airport near Nantes in the west of France, sought an emergency court order to expel small-scale farmers who live and work on the planned site. The farmers, some of whose families have been on the same land for generations, are refusing to go. On Saturday January 9th opponents of the deeply controversial airport project staged a demonstration in support of the local farming community threatened with expulsion. Jade Lindgaard reports.
Six riot police officers were injured trying to disperse protesters who lobbed projectiles and threw paint onto Nantes' city hall.