Related keywords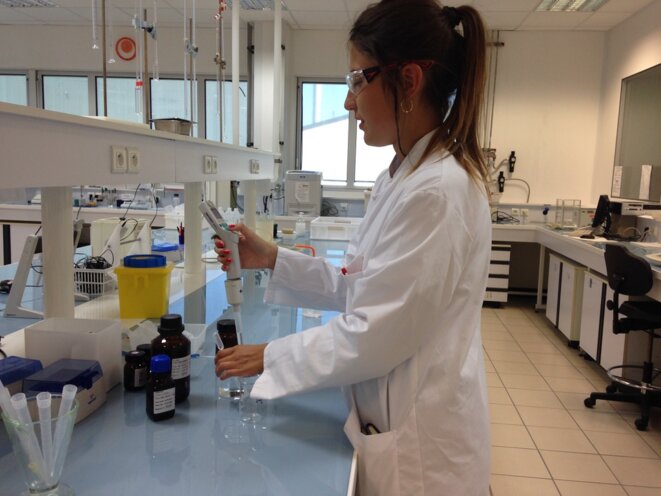 In the quality control laboratory at the French Army's antidote-producing Central Pharmacy. © RLS
In a military base not far from the city of Orleans south of Paris, a top-security factory ensures France is well-prepared for a range of chemical and biological threats. Even when there is no imminent danger some 30 million to 40 million pills are made each year – and destroyed when they pass their expiry date. Mediapart's Rozenn Le Saint was given rare access.
French economy minister Emmanuel Macron says Brexit vote will have 'no consequences' on the £18billion nuclear plant project in Britain.
French head of state threw his weight behind it after his energy minister Ségolène Royal questioned financial sense of £18 billion project.
French energy firm admits there will be no final word on £18 bn project until at least the summer as it pledges to consult works committee.
Plans by French energy giant EDF to build two European Pressurised Reactors (EPRs) at the Hinkley Point nuclear power plant in south-west England have already triggered the resignation of the company's finance director, led to opposition from unions and raised doubts from France's financial watchdog. Now, Mediapart can reveal, in an unprecedented move a number of EDF's own engineers have also expressed their deep misgivings about the multi-billion euro project and called for it to be delayed. As Martine Orange reports, the engineers fear the Hinkley Point construction could threaten the group's plans to renew France's own nuclear power stations in the near future.
German media quote expert as saying 2014 incident at Fessenheim plant near German border was unique occurrence in Western Europe.
Energy minister Ségolène Royal says she is ready to raise the limit on existing reactors to 50 years from 40 years.
French head of state starts Pacific tour with visit to Wallis and Futuna, followed by French Polynesia and finally Peru, Argentina and Uruguay.
The French utilities group EDF is now officially the sole company overseeing France's nuclear industry. This follows an agreement in principle signed earlier this week between EDF and the ailing French nuclear firm Areva which will create a joint company in charge of designing and building new nuclear reactors. France's economy minister Emmanuel Macron has sought to draw a line under the French nuclear industry's recent financial fiasco, preferring to speak instead of a "new adventure" for the sector. Mediapart's Martine Orange analyses the deal.
Deal seen as crucial for France which generates three quarters of electricity from nuclear and needs Areva to service its existing reactor fleet.
Foreign minister Laurent Fabius said Paris will not accept deal unless inspections can be done at all Iranian installations, including military.
Two US experts argue France is only big NATO  power in Europe with military capability and political will to tackle threats to Atlantic Alliance.
Israeli intelligence minister in last-minute meetings with top French diplomats involved in the talks over Tehran's nuclear programme.
The giant French nuclear group Areva, whose core business is making nuclear reactors, has just announced staggering losses of 4.8 billion euros in 2014. That comes on top of nearly 3 billion euros of losses racked up in preceding years. In a bid to resolve this disastrous situation the state-owned company is now drawing up a restructuring plan that could lead to thousands of job losses. However, the group's woes cannot simply be blamed on recent events such as the Fukushima nuclear disaster in Japan or a cyclical downturn. Instead the group's terrible financial position has been building for many years thanks to industrial squabbles, bad management decisions and poor strategy. But as ever, says Mediapart's Martine Orange, it looks as if it will be the workforce who will pay the price of the group's failings rather than France's industrial, civil service and political elites despite their responsibility for this industrial fiasco.