Emmanuel Macron is expected to announce the use of 'mini-reactors' as political and public opinion shifts in France. 
French utility giant EDF has announced that welding repair work ordered by France's nuclear power safety watchdog to its under-contsruction, third-generation nuclear reactor at Flamanville in northern France will add another 1.5 billion euros to the cost of the project, which is already running more than 7 billion euros over budget, while its entry into service, initially planned for 2012, is not now likely before 2023.
Even as air temperatures fall, shortages and excessive temperatures of river water used to cool reactors are worrying nuclear operators EDF.
French president will delay meeting the nuclear energy cap goal set by predecessor, François Hollande, by 10 years.
French junior environment minister Brune Poirson made the commitment on Tuesday, although she did not give a target date.
Environment minister Nicolas Hulot has announced a plan to shut down 17 out of France's 58 nuclear reactors as part of a pledge to reduce the share of nuclear production of the country's energy from 75 percent to 50 percent by the year 2025, although he did not detail which plants would be partially or totally closed.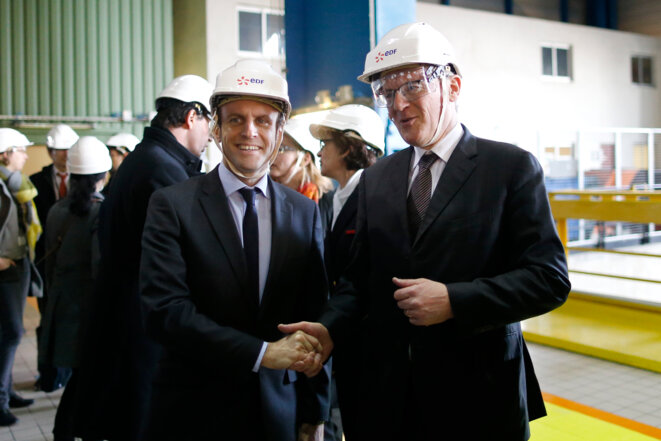 Emmanuel Macron, then economy minister, and EDF boss Jean-Bernard Lévy at a nuclear power station at Civaux, near Poitiers, March 17th, 2016. © Reuters
The new French government has reacted as if it were surprised at the news that the French-led project to build a new nuclear power station in south-west England is already behind schedule and over budget. Yet it has known about the financial and technical risks posed by the Hinkley Point scheme for a long time, says Martine Orange. For the minister who personally backed and oversaw the massive project during the last presidency now himself occupies the Élysée.
French tility giant EDF has dismissed a TV report that it has a secret plan to delay reducing the share of nuclear power in France's energy mix to 50% by 2025, as required by a law passed two years ago, to 2050 instead, describing the suggestion as "malicious rumours". 
Ségolène Royal says government intends to issue a decree ordering the closure of the Fessenheim nuclear power plant by next month.
A senior local official said the blast at the site in northern France was a 'significant technical event' but was not a 'nuclear accident'.
Utility giant EDF has agreed a compensation deal for the closure, now planned for 2018, of the almost 40-year-old power station at Fessenheim, close to the border with Germany in eastern France and built in an area vulnerable to earthquakes and above one of Europe's biggest underground water reservoirs.
French utility giant EDF is facing mounting pressure to abandon its project to build two nuclear reactors at Hinkley Point in south-west Britain. Days after the resignation on March 7th of the state-owned group's finance director over the financial risks involved, it was the turn of France's national court of auditors to sound the alarm amid a damning report on EDF's international operations. Martine Orange reports.
A project by French energy giant EDF to build two European Pressurised Reactors (EPRs) at the Hinkley Point nuclear power plant in south-west Britain has mobilised large numbers of its staff and management against the move. They believe that the huge industrial and financial risks for EDF may result in a meltdown of the group. Martine Orange reports.
French scientists played a key role in discovering radioactivity and atomic energy is broadly accepted by all major political parties except the greens.