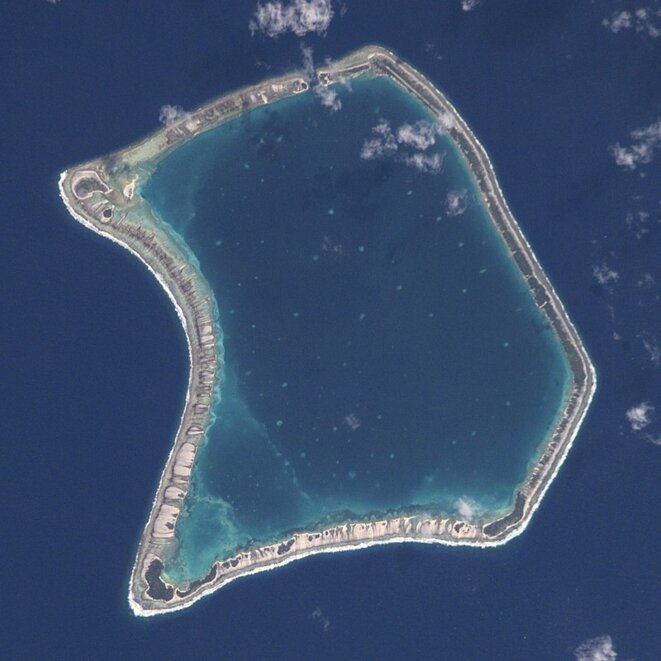 The Fangataufa atoll in French Polynesia, one of the sites of 193 French nuclear bomb tests in the South Pacific. © Wikipedia
The French parliament on Thursday adopted a reform of the organic law that sets out the new measures of autonomy granted by Paris to French Polynesia. Importantly, the legislation includes, for the first time in such a text, a finely tuned recognition that the French nuclear tests were imposed on the South Pacific territory – where a total of 193 bombs were exploded underground, at sea and in the open air over three decades, beginning in 1966 – and the "radiation-induced illnesses" these have provoked. Julien Sartre reports.
Fifty years ago this month, France began carrying out tests of its nuclear bombs in the Pacific Ocean territory of French Polynesia. These were the first of what would become decades of atmospheric and underground nuclear explosions in total disregard for the health of the local population and environment. After years of campaigning, victims of the fallout earlier this month obtained a revision of the rigorous criteria governing financial compensation paid to those who have developed serious illnesses following the tests, and which in effect bars most from receiving any indemnity. But, as Julien Sartre reports, the move has been slammed by victims' rights associations as simply tinkering at the edges of a shameful legal refusal to recognise the lethal damage caused by the tests.     
French president said he wants to 'turn the page' on tests while hailing Polynesia's crucial role in developing France's nuclear capabilities.
Tests conducted from mid-1960s saw government approved detonation of nearly 200 nuclear tests off secluded atolls in French Polynesia.
France is called on to assume the dangerous legacy of its 193 nuclear tests carried out on the Mururoa and Fangataufa atolls between 1966 and 1996.