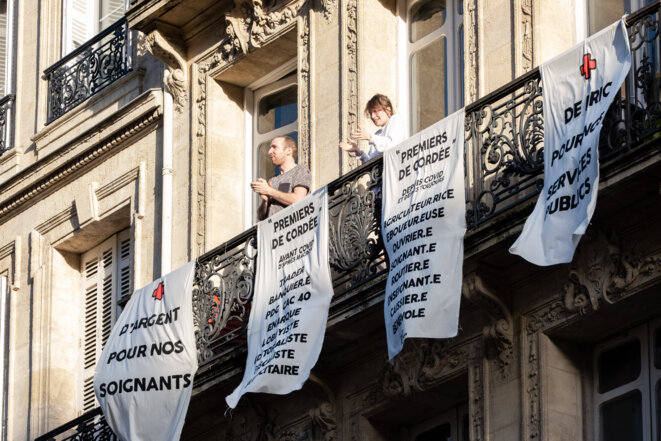 People in Bordeaux, south-west France, applauding health sector workers from their balconies on May 6th 2020. © AFP/Hans Lucas
The ongoing Coronavirus health crisis facing France is leading to unprecedented political change. Large sections of society are on the march: taking charge of their own professions themselves and setting up numerous support structures and initiatives. And as François Bonnet argues in this op-ed article, this sudden land grab of some very political arenas by new groups has left society's traditional  institutions and political forces flat-footed.
The French healthcare system enjoys a reputation as one of the most comprehensive and effective worldwide, and was ranked as the overall best in an international survey by the World Health Organization in 2000. But all that came at a price which is now the target of severe cost-cutting drives. The country's debt-ridden hospitals, once an example of excellence, are short of basic supplies of sheets, blankets, bed pads, syringes, bottled water and nurses' uniforms, among other things. "What was working fine before has since turned into a huge mess," comments a senior doctor at the Pitié-Salpêtrière hospital in Paris. Noémie Rousseau reports.