Move comes as President Emmanuel Macron called on Turkey to halt oil and gas exploration in disputed waters that has heightened tensions with Greece. 
The French parliament has approved a ban on oil and gas production beyond 2040 and also an immediate halt to the granting of new fracking or extraction licences on all mainland and overseas French territories, which currently produce a relatively small equivalent of 815,000 tonnes of oil per year.
Total are also talking with Microsoft as company seeks to explore how complex algorithms could be applied to its work in oil and gas.
French ecology minister Nicolas Hulot has presented a draft bill of law to end France's relatively small fossil fuel production by 2040, as part of President Emmanuel Macron's broader plan to take the lead against climate change, after US counterpart Donald Trump ditched the landmark Paris COP 21 agreement to fight global warming.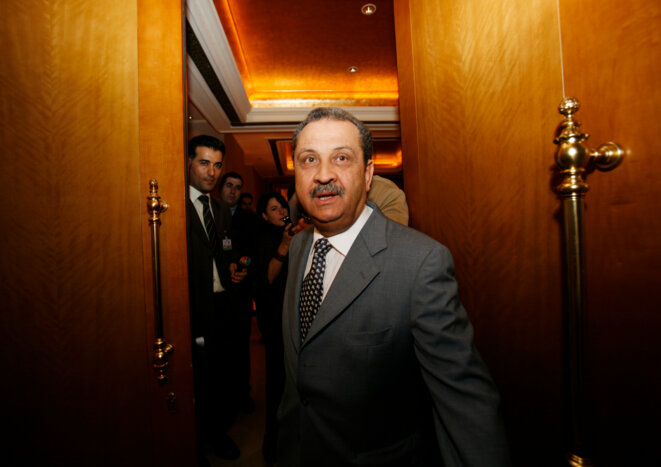 Shukri Ghanem in December 2007 when he was Libya's oil minister. © Reuters
Officially Shukri Ghanem died after suffering a heart attack and falling into the River Danube where he drowned. But few people have ever believed this official version of the former Libyan oil minister's death in Vienna in April 2012. Hillary Clinton's leaked emails show that her entourage and American diplomats considered at the time that Ghanem's death was "highly suspicious". Mediapart has also contacted an acquaintance of the former oil minister in Vienna who has raised several potential theories behind the Libyan's death, including one involving "bribes" to politicians in France, Italy – and Britain. Agathe Duparc reports from Geneva.
Oil refineries, nuclear power plants and transport hubs were hit, motorways and bridges were blocked and protesters clashed with police.
Head of France's oil industry federation says country has been using reserves, which could last for three months, for first time since 2010.
Manuel Valls insists situation is 'fully under control' as union protests at oil refineries leave hundreds of French petrols stations without fuel.
The French oil company Maurel & Prom has come under fire from French and local non-governmental organisations after it abruptly left a drilling platform in the Peruvian Amazon that was no longer deemed economically viable following the fall in world oil prices. In particular it has been accused of leaving behind environmental problems and of playing down the risks of pollution to local communities. Meanwhile the French Parliament has been considering a law that would force multinationals to operate a "vigilance plan" to avoid environmental and other problems in the future. Karl Laske reports.
A committee of the UN's International Maritime Organization is discussing ways to reduce the sulphur content in marine fuels, a pollutant said to be responsible for up to 50,000 deaths a year in Europe alone. But France's representative on the body is an employee of French oil firm Total - which produces those very same marine fuels. As Jade Lindgaard reports, there is embarrassment in Paris over this apparently flagrant conflict of interest.
The brutal execution of French climber Hervé Gourdel by a little-known terrorist group in Algeria has thrown the spotlight on attempts by Islamic State (IS) to extend its network of influence across North Africa and beyond. The Algerian group Jund al-Khilafa kidnapped and beheaded the French mountaineer as a gruesome and public sign of allegiance to the Iraq and Syria-based group. But so far Islamic State has failed to win the allegiance of any other group in Africa as it competes with al-Qaeda for dominance among the jihadist groups of the world. As Pierre Puchot reports, its attempt to be the global leader in jihadism may depend on lasting control of Iraqi oil wealth.
Amid a six-month programme of national consultations commissioned by the French government to help define the country's future energy policies, a conference organised by two leading business organizations in central Paris on May 17th provided a platform for company bosses to argue that energy transition strategies should first and foremost be concerned not with the environment but with industrial competitiveness. Jade Lindgaard reports.
Hoping to reap rewards, Britain and France are engaged in a race to 'rebuild' Libya and get oil, lifeblood of the shattered economy, flowing again.