French health minister says Delta variant only made up between 2 and 4 per cent of confirmed cases in the country.
Health minister Olivier Véran also added three more départements, including the area around Lyon, to 16 already placed under tougher mobility restrictions.
Comments by French health minister Olivier Véran came the day after Rome invoked European Union powers to block the export of 250,000 Covid-19 AstraZeneca vaccine doses to Australia.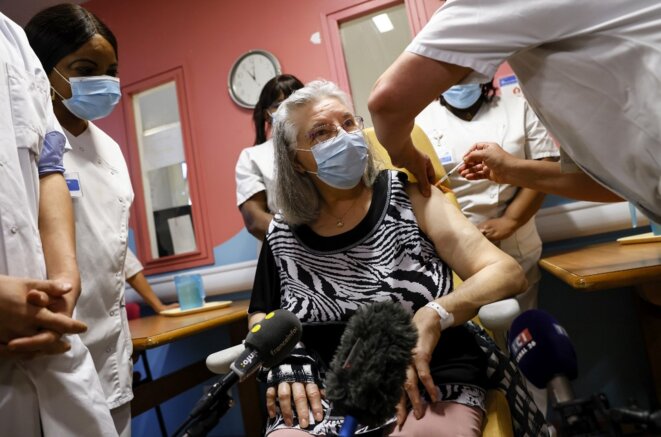 Mauricette M., aged 78, becomes the first French person to get a vaccine on December 27th 2020 at the René-Muret hospital at Sevran near Paris. © Thomas Samson / AFP
In his New Year's Eve address to the nation President Emmanuel Macron made clear his intention to speed up France's Covid vaccination programme, apparently stung by the country's slow performance compared with many others. Privately he is said to be angry at its "unwarranted slowness" and as a result the country is expected to step up its campaign this week. So far the number of vaccinations in France measures in the low hundreds compared with tens or hundreds of thousands - or even millions - in some other countries. Caroline Coq-Chodorge reports on the public mistrust that lies behind France's sluggish start in vaccinating its population.
But French health minister now rules out another nation-wide lockdown.
Health minister Olivier Véran spoke as authorities in France fear arrival of a third wave in the weeks following the Christmas holidays.
France would see the number of Covid sufferers in intensive care peak at 6,000 even if the public complied with the new lockdown, health minister Olivier Véran said.
The searches are part of an investigation into the government response to the global coronavirus pandemic, and included the offices of the current health minister Olivier Veran.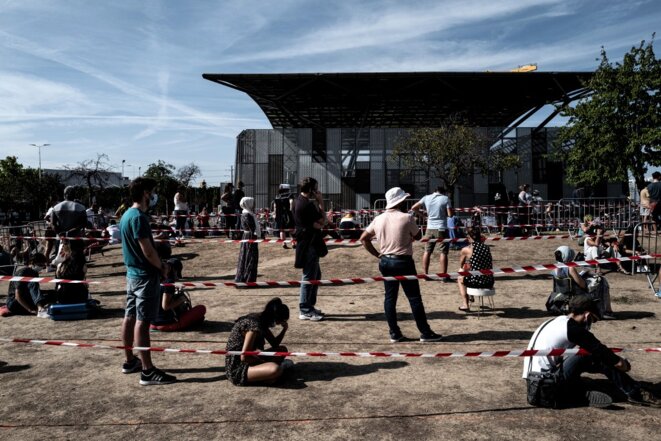 The queue for a free Covid-19 test at a centre in Vénissieux, south-east France, on September 11th, 2020. © Jeff Pachoud / AFP
The spread of the Covid-19 virus is accelerating in France and already the country's testing system is struggling to cope. Many people are having to wait for tests, long queues have formed at testing stations and laboratories, and delays in results themselves – which can be up to five days – are "unacceptable", the authorities admit. After pushing the policy of mass testing in the summer the government is now trying to rein back and give precedence to priority cases. Experts say that, once again, the national authorities have failed to anticipate events and demand. One glimmer of hope may be the arrival of new, much faster tests. Caroline Coq-Chodorge reports.
Health minister Olivier Véran said measures would be announced for Lyon and Nice by Saturday, after curbs on public gatherings were imposed this week in Bordeaux and Marseille.
Former French prime minister Édouard Philippe, who stepped down on Friday to become mayor of the town of Le Havre, former health minister Agnès Buzyn and her successor Olivier Véran, are to be investigated over their handling of the Covid-19 virus epidemic after a special court for judging members of government over wrongdoing while in office accepted nine complaints lodged against them.
The battle to use the drug in France has been waging for the past two months.
France will also keep several schools in the Oise area north of Paris closed after holidays end on Sunday in order to halt the spread of the virus, health minister Olivier Veran said.
Modelling agencies protest as anyone employing models who are considered too thin face fines of up to €75,000 and six months in prison.