Keyword: opération Barkhane
Related keywords
French officials have announced that Foreign Legion member Kévin Clement, 21, was killed in a firefight combat against armed groups in Mali's Menaka region, bringing the total of fatalities among French forces engaged against jihadist forces in the north-west African country since 2013 to 43.
French President Emmanuel Macron, visiting Ivory Coast, said French troops killed 33 jihadists early Saturday in an operation in Mali's Mopti region, when one person was taken prisoner and two Malian gendarmes held hostage were freed.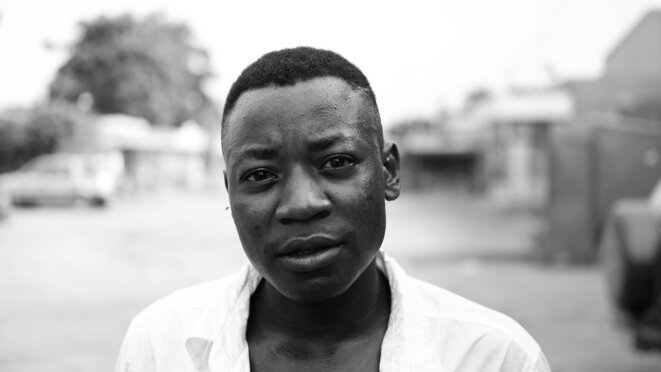 Mohamed, originally from the north of Burkina Faso, wanted to join the army but changed his mind after his family disagreed. © OM
In a country beset with spiralling jihadist violence, young people from Burkina Faso's Fula community are the ideal recruits for armed groups keen to capitalise on the discontent stemming from extreme poverty and the frequent abuses committed by government troops in this part of Africa. And as François Hume and Olivia Macadré report, if they reject the jihadists' call to arms, they are widely seen as guilty by association.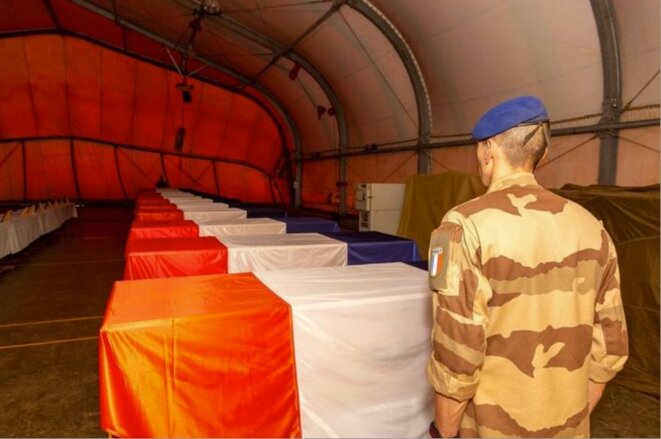 A French soldier at Gao in Mali deep in reflection in front of the coffins of the 13 French troops killed in the country on November 25th 2019. © Reuters
On Monday November 25th 13 members of the French military were killed when two helicopters crashed in Mali during France's ongoing military operations there. The grim news sparked debates back in France about the country's military involvement in the Sahel region of Africa. But as Mediapart's René Backmann writes, the legacy of France's colonial past and the remnants of its post-colonial approach to the continent known as 'Françafrique' suggest that President Emmanuel Macron's government will be unable to see that military combat against jihadism is not the only response that is needed to tackle the region's instability.
During a visit on Sunday to the Mali HQ of French military operations against jihadist insurgents in the Sahel, French Prime Minister Édouard Philippe said 'durable stabilisation' in the region could not be assured without 'the backing of others'.
France's continued propping up of Chadian President Idriss Déby, a repressive autocrat, in whose country French troops are based for their counter-jihadist mission in the Sahel, appears to some like a return to the didgy old practices of the Françafrique system, opines The Economist.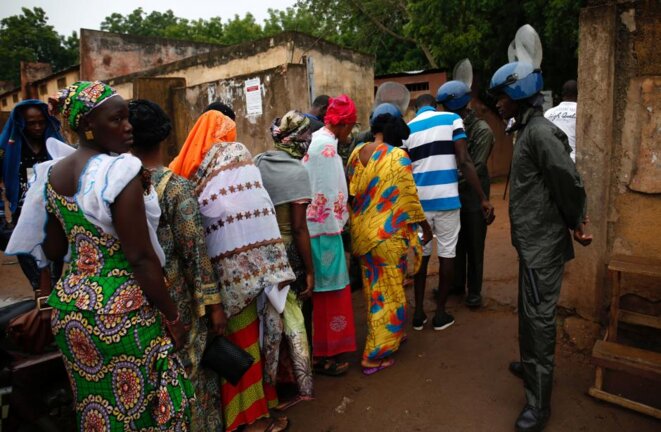 Security checks as voters line up in Mali's capital Bamako on Sunday. © Reuters
The first round of presidential elections was held last Sunday in Mali, the former French colony in West Africa which has become a key centre of the battle, led by France, against jihadist groups operating in the Sahel. Outgoing president Ibrahim Boubacar Keita, 73, hoping for re-election, is roundly attacked by his rivals for having failed to bring security to the country, despite France's military intervention against jihadists in 2013 and the continued presence of thousands of UN peacekeepers. In this analysis of the enduring instability in Mali, Rémi Carayol details how it was fuelled by the toppling of the Gaddafi regime in Libya.
The two soldiers, taking part in France's Operation Barkhane in the West African country where it has deployed about 4,000 troops to contain jihadist groups operating in the region, died after their armoured vehicle ran over an explosive device near the town of Gao. 
A French armly spokesman announced Thursday that a ground and air strike earlier in the week against an al-Qaeda-linked 'armed terrorist group' in northern Mali left 15 jihadists dead, while no French casualties were reported.
The Antonov turboprop, chartered by the French army as part of its anti-jihadist Opération Barkhane in north-west Africa and carrying ten people, broke up after crashing into the sea near Abidjan airport, leaving four Moldovan nationals dead and injuring six other people, four of them French.