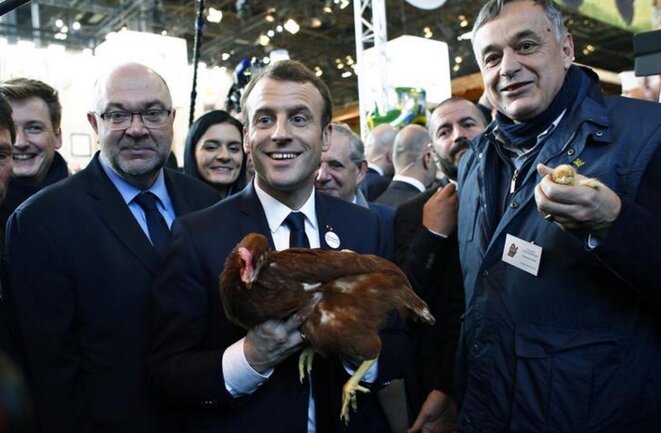 President Emmanuel Macron and a chicken at the Paris farm show, the Salon de l'Agriculture, February 24th, 2018. © Reuters
Emmanuel Macron has always insisted he is not worried about opinion polls and that, as head of state, he is willing to court unpopularity to do what he considers right for France. That has not stopped him basing his political strategy around what the public says, sometimes playing off the polls against critics of his reforms – even if that risks dividing the French people. Ellen Salvi looks at the French president's approach to public opinion.
YouGov poll, commissioned for Huffington Post and CNews TV channel, echoes results of another survey on president's sliding popularity.
Spending cuts, his row with the French military and a perceived aloofness have all contributed to a drop in the opinion polls.
Two opinion polls on voting intentions published on Sunday gave maverick centrist presidential election candidate Emmanuel Macron a comfortable second-round win over the far-right's Marine Le Pen, suggesting the former economy minister has been boosted by his recent alliance with centre-right veteran François Bayrou.
Sarkozy's former chief of staff and interior minister Claude Guéant placed under investigation for complicity in Elysée opinion poll probe.
With jobless total at 16 year high, the French president's poll ratings fall below 20% for the first time since his election win in May 2012.
Unlike in the US, French opinion polls are forbidden from reporting on intentions of voters from specific ethnic, racial or religious background.