With more strikes called for Tuesday by unions opposing his planned reform of France's pension system, President Emmanuel Macron met with ministers on Sunday to discuss details of the draft legislation to be unveiled by his prime minister on Wednesday.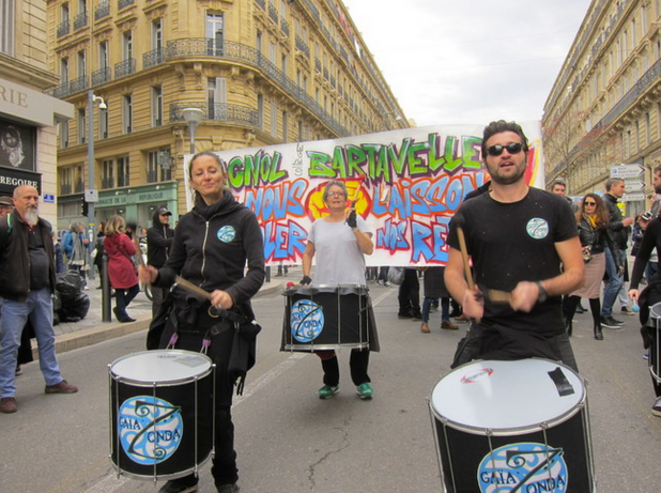 Demonstrators march in Marseille against planned pension reforms, December 5th. © LF
President Emmanuel Macron's planned reform of the French pension system has run into massive union-led opposition, with a crippling general strike of mostly public sector workers last Thursday, when transport systems were paralysed and an estimated one million people demonstrated nationwide. While some sectors, notably the railways, remained affected this weekend, another national day of action is called for Tuesday. Union officials have declared that nothing less than a total withdrawal of the reform plans can end the dispute, raising the possibility of rolling strikes throughout December. The showdown will depend in part on what support unions can maintain in the key sectors of transport, schools, energy and healthcare.
French economy and finance minister Bruno Le Maire has said France will seek to prevent Facebook's digital currency Libra from rolling out in Europe, arguing that it represents 'risks of abuse of dominant position, risks to sovereignty and risks for consumers and for companies'.
The months following September's rentrée, when millions return from holidays, will test the resolve of French President Emmanuel Macron, who came to power last year on a pledge to uproot his country's traditions of work and exclusion and now faces his first major confrontations with public anger and perceptions of entrenched privilege.
Members of Parliament from the French conservative opposition party Les Républicains have signed a motion for the impeachment of socialist president François Hollande over comments he made in a recent book of conversations with two journalists in which the MPs allege he 'seriously violated defence secrecy'.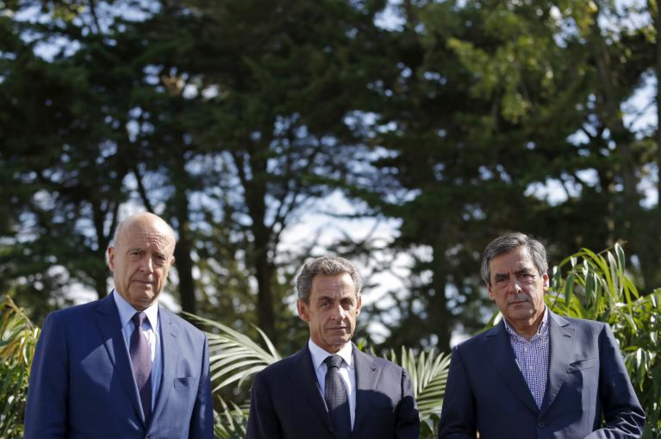 © Reuters
Nicolas Sarkozy's official return to politics last year, when he was elected head of his conservative opposition party, was, his supporters believed, the start of a relatively easy march back to power in elections due in 2017. But the wily former French president, once considered a masterful political tactician, appears to have lost his grip, unable to offer policy initiatives and mired in infighting and scandal. Ellen Salvi hears from party insiders in this analysis of where it has all gone wrong for the man who, a former aide admits, "wants to regain power for the sake of regaining power".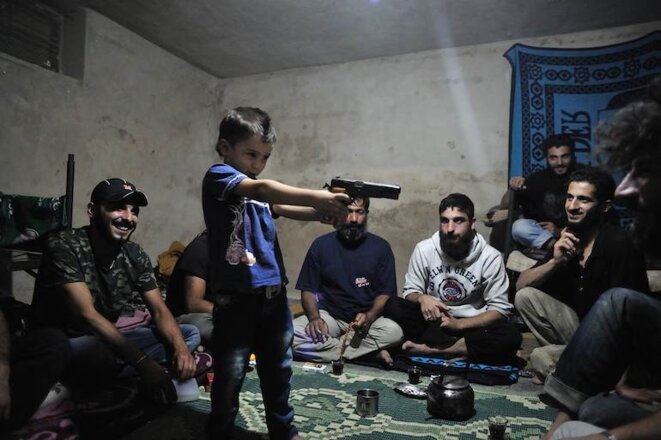 Moment de détente entre compagnons de guerre. Un enfant joue au Moudjahidine sous le regard de ses ainés. © Pierre Roth
French sociologist Romain Huët has spent two years studying the lives of the fighters among the hundreds of small brigades that are part of the Syrian opposition movement fighting, against all odds, the regime of Syrian dictator Bashar al-Assad. Huët has travelled four times to northern Syria where he shared the daily lives of the fighters, who are separate to the Islamic State or the al-Nusra Front but who are devout proponents of an Islamic republic. In this interview with Thomas Cantaloube, he offers a rare insight into the daily horrors of the three-year civil war and profiles these young rebels who, he says, have been transformed from revolutionaries into hardened warriors and who have largely lost the notion of both what was the past and the promise of the future.
Audit says the UMP must cut running costs and seek new credit agreements with its banks as new party bosses try to 'guarantee its survival'.
Though activists in opposition UMP party favour former president, public would prefer alternative candidate such as ex-premier Alain Juppé.
Dominique Venner, 78, shot himself through the mouth at the altar after calling for more radical action in opposition to same-sex marriage.
French foreign minister calls for more aid for mainstream Syrian opposition warning that Islamist militants could take control of the country.
The opposition UMP party, which has been locked in an acrimonious leadership struggle, has agreed to hold a new vote before October 2013.
The main French right-wing opposition party the UMP has been in turmoil following a disastrous leadership election last month that saw both candidates claiming victory and which led to a formal split among its Members of Parliament. There are signs that the two sides may be close to finding a way out of the immediate crisis amid talk of a new contest next year. But, as Marine Turchi reports, the party has not even begun to address its fundamental problems of ideology and strategy faced with the Far Right.
The right-wing opposition party won all three by-elections at the weekend in the latest sign of trouble for Socialist President Francois Hollande.