Keyword: Oradour-sur-Glane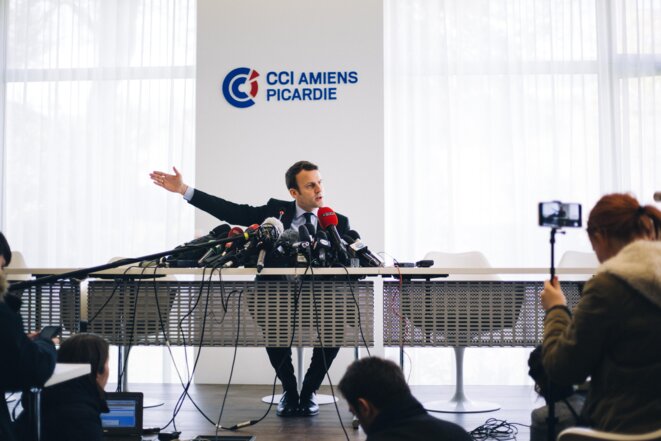 Emmanuel Macron at the Chamber of Commerce in Amiens, April 26th, 2017. © Nicolas Serve / Hans Lucas
Emmanuel Macron's appeals for a unified front against the far right's Marine Le Pen in the run-off for the presidential election have been hit by a major handicap – himself. The former merchant banker and civil servant's CV, image and policies repel many on both the Left and Right. In response he has sought to offer pledges for those who did not vote for him in the first round. But in essence, says Mathieu Magnaudeix, the centrist candidate is holding to his policy line and is aiming for a major and rapid realignment of French politics if he is elected.
Cologne court says not enough evidence to convict 89-year-old over 1944 murder of 642 men, women and children in French village.
Charges against the 88-year-old man relate to Oradour-sur-Glane in central France where 642 people were murdered by SS troops in 1944.
The heads of state visited the ghost village in central France where, in June 1944, German troops slaughtered 642 people, including 207 children.
Joachim Gauck will go to Oradour-sur-Glane where 642 people were massacred by Nazi soldiers in one of worst war-time atrocities in France.
Six former SS troops from a division responsible for the massacre of Oradour-sur-Glane, central France, that left 642 dead face murder charges.