The former France Telecom's move comes as French ministers encourage 'consolidation' in telecom industry from four to three major players.
The French telecommunications giant says hackers stole data on about 1.3 million clients or potential customers in last month's attack.
Chief financial officer of the country's largest mobile operator said 'prices have reached a floor' after two years of fierce competition.
Newspaper report suggests the former state-owned French telecoms giant has been sharing information with security services for many years.
It is Lagarde's third appearance before judges probing her role as French finance minister in huge mediation payout to tycoon Bernard Tycoon.
Labelling it a 'serious alert', an organisation that monitors work conditions said the majority of these suicides were 'explicitly related to work'.
Some observers suggest that the return to just three main mobile phone operators will reduce competition and be bad news for French consumers.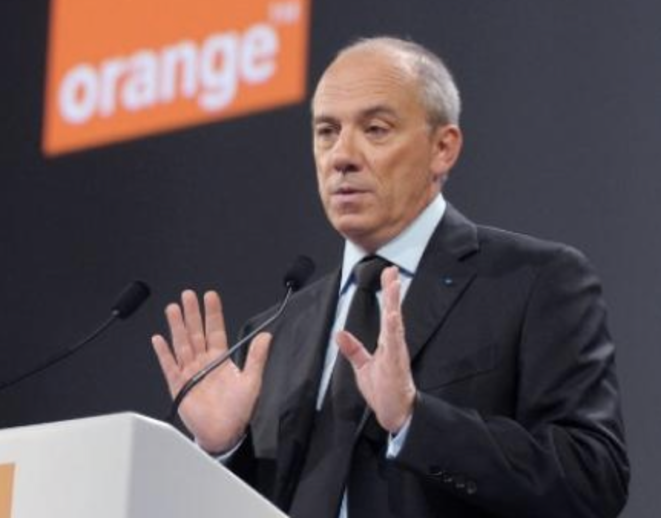 Stéphane Richard, le président d'Orange.
Frédérique Dumas, head of Orange Studio, the film production arm of French telecoms giant Orange and which has co-produced several major box office hits including The Artist, was called upon to abandon the funding of a biopic about the late fashion designer Yves Saint Laurent in order to protect the private interests of Orange CEO Stéphane Richard, according to documents obtained by Mediapart. The move was aimed as a favour for Pierre Bergé, a major shareholder of French daily Le Monde and president of its supervisory board, whose paper was at the time publishing an unflattering series of articles about Richard's implication in a high-profile judicial investigation into suspected fraud. Dumas, who refused to abandon the coproduction project, has since lost her job. Michaël Hajdenberg reports.  
The French telecommunications giant says no passwords were stolen in the attack but some personal details of customers were accessed.
President Barack Obama last week announced the introduction of curbs on the use made by US intelligence agencies of communications data they have collected from private individuals, government leaders and organisations around the world. Obama's move was denounced by civil rights defenders as a weak and minimal response to the unbridled mass espionage practices of the National Security Agency (NSA), revealed to the media by its former contractor Edward Snowden. Among the most startling of these was the recent revelation that the NSA had successfully infiltrated a submarine civil communications cable that runs from France to the Far East, in which it planted a virtually undetectable parallel network to spy on the traffic that passes through it. French telecoms giant Orange, part of the consortium that uses the cable, has told Mediapart it will this month file legal action over the hacking, opening the path for a judicial investigation that could have major political and diplomatic consequences. As Jérôme Hourdeaux reports, the technique used by the NSA to attack the cable is one of the most fearsome mass espionage systems yet uncovered.
Head of Orange says IMF boss knew all the facts before approving arbitration that saw tycoon Bernard Tapie awarded a huge payout in 2008.
Shareholders in the country's partly state-owned telecommunications giant have voted for the change, which comes into effect on July 1st.
Company says the origin of a problem that left 26 million customers unable to make calls or send text messages was a software problem.