French nationals have been advised to leave Pakistan due to violent demonstrations after the arrest of the leader of a hardline political party calling for  France's ambassador to be expelled over his government's defence of the right to show cartoons of the Prophet Muhammad.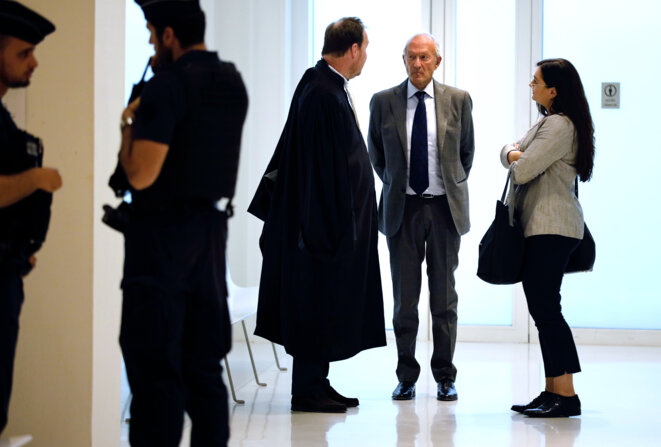 Thierry Gaubert, second from right, one of those found guilty in the Karachi Affair, pictured June 15th 2020. © AFP
On Monday June 15th 2020 a Paris court handed prison sentences to six men found guilty of organising a vast political funding scam involving kickbacks on French weapons sales to Saudi Arabia and Pakistan in what has become known as the 'Karachi Affair'. It was the first time in France that a criminal court has established that a presidential election campaign – in this case involving Édouard Balladur in 1995 – was funded by kickbacks from state arms deals. It is, says Mediapart's Fabrice Arfi, an object lesson in the weaknesses of a democracy in the face of corruption.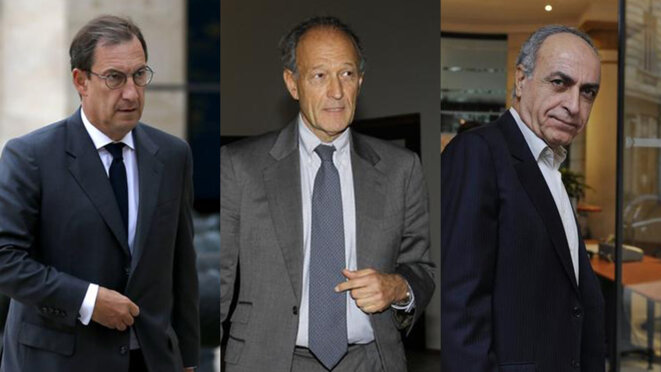 Three of the defendants (l-r): Nicolas Bazire, Thierry Gaubert and Ziad Takieddine. © Reuters
A Paris court has handed prison sentences to six men found guilty of organising a vast political funding scam involving kickbacks on French weapons sales to Saudi Arabia and Pakistan. The kickbacks, secretly transferred in cash sums, were to finance former French prime minister Édouard Balladur's 1995 presidential election campaign. The men, who were on Monday given jail terms of between three and five years, include former minister Renaud Donnedieu de Vabres and Nicolas Bazire, a senior executive at luxury goods group LVMH. The verdicts end the financial chapter of what has become known as the "Karachi Affair", an ongoing judicial saga that centres on the murders of 11 French naval engineers in Pakistan in 2002. Karl Laske and Fabrice Arfi report on the conclusions of the sentencing magistrates.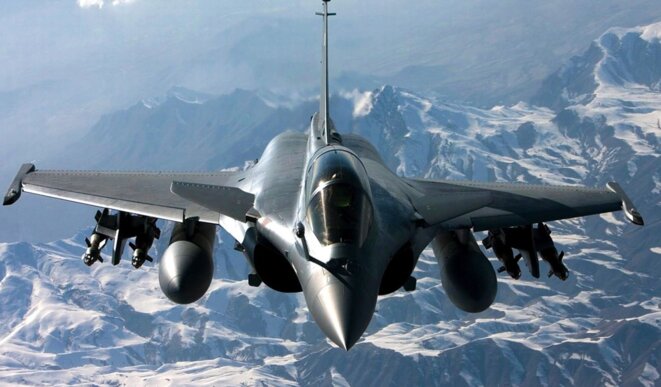 The Rafale fighter jet. © Dassault Aviation
The 8-billion-euro contract signed in New Delhi on Friday for the supply of 36 French-built Rafale fighter jets has been hailed by Paris as a major coup that underlines the technological prowess of the French aeronautical industry. But, Mediapart's India correspondent Guillaume Delacroix reports, the deal was struck after France agreed to massive discounts which virtually halve the total cost. But it also marks a new defence strategy by India, which now regards China as the principal threat to its security, and no longer Pakistan.
In May 2002, 11 French naval engineers were murdered in a suicide bomb blast in the Pakistani port city of Karachi. The ongoing French judicial investigation into the massacre, which has become known as the 'Karachi Affair', has uncovered strong evidence suggesting it was linked to a secret political funding scam in France. Several survivors of the blast are now engaged in a legal battle to get to the truth as to whether former French intelligence officers have lied on oath about what their agency knew about the links between a wealthy Saudi figure, Ali Ben Moussalem, identified as a key figure in the case and the politicians suspected of corruption. Fabrice Arfi reports.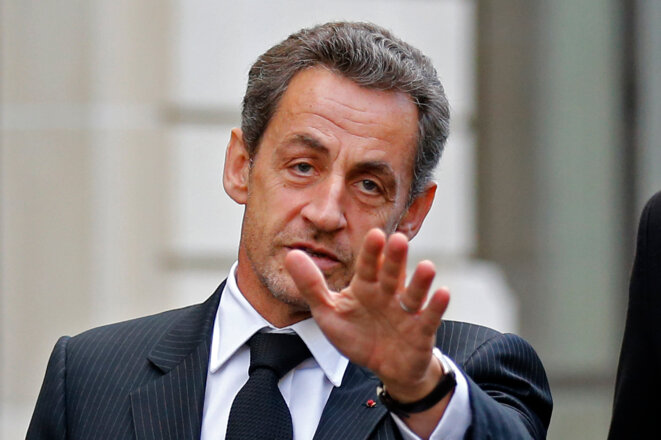 Par quels juges sera-t-il entendu ? © Reuters
Judges investigating suspicions that senior politicians, including Nicolas Sarkozy, were implicated in the use of kickbacks from defence deals to illegally fund a presidential campaign have uncovered a dramatic new piece of evidence. The document, published here by Mediapart, shows that as budget minister Sarkozy signed a letter backing the complex set-up that led to the illegal payments. The document, which dates from 1994, contradicts claims from the former president that he had no involvement in the affair. Its discovery coincides with moves to get Sarkozy and two other former ministers investigated by a special court that handles allegations of offences committed by ministers in the line of duty. Fabrice Arfi and Karl Laske report.
Intelligence officials believe Naamen Meziche was once connected to the Al-Qaeda's cell which planned the 9/11 attacks on the United States.
Fears of more attacks as senior commander with Al Qaeda-affiliated group says five of them have already completed ther training and left.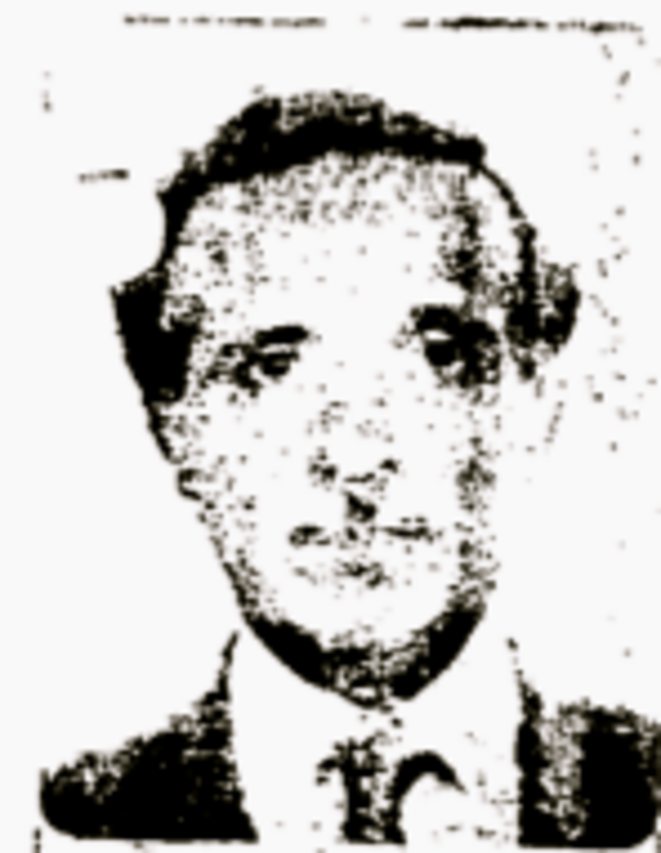 El Assir
A key suspect in a major investigation into the French illegal political funding scandal known as the 'Karachi Affair' is also wanted for suspected money laundering by police in Spain, where he had close links with former Spanish Prime Minister José Maria Aznar and King Juan Carlos, Mediapart can reveal. Companies belonging to Abdul Rahman Al Assir (pictured), a Lebanese-born businessman and arms intermediary, received millions of euros in commissions from French weapons sales that are at the heart of corruption scam allegations implicating President Sarkozy and his close entourage. Despite an international arrest warrant issued against him, El Assir is still on the run. Mediapart, meanwhile, tracked him down in Geneva. Fabrice Arfi and Karl Laske report on the phantom witness that some are hoping will remain just so.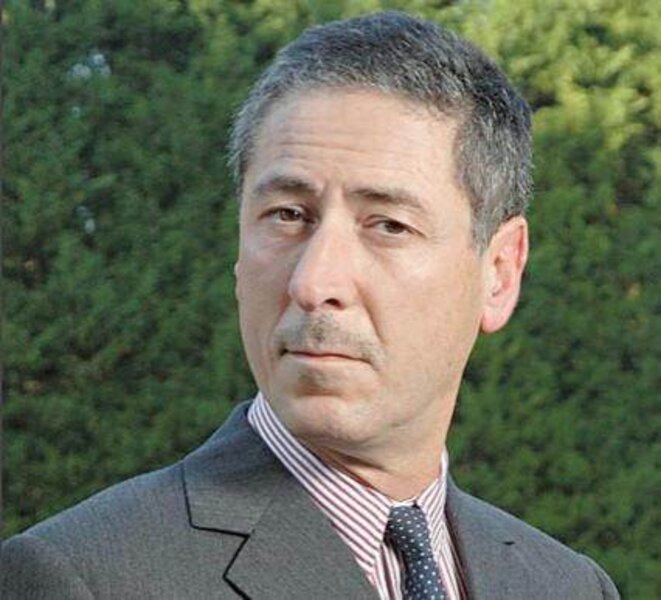 P. Kemp © dr
In a bizarre twist to ongoing French judicial investigations into the suspected high-level political corruption and funding scam known as the 'Karachi affair', a British thriller writer has now entered the complex plot following a police raid on the offices of France's state-owned naval defence group, the DCNS. Mediapart has learnt how the company hired Percy Kemp (pictured), dubbed by the media in France as "a true heir to John Le Carré or Graham Greene", to write a secret report on the murders of 11 French engineers in Karachi in 2002, and which contradicted official claims by Paris and Islamabad that al-Qaeda was responsible. Fabrice Arfi reports.
In May 2002, a group of 11 French engineers died in a bomb attack on their minibus in Karachi, Pakistan. They were helping to build submarines sold to Pakistan in a murky deal involving huge bribe payments. For years the blast was officially attributed to Islamic terrorists, a theory now dismissed. Mediapart has gained exclusive access to secret intelligence reports, hidden for almost nine years, which strengthen suspicions of a cover-up in a political scandal that runs all the way to the doors of the French presidency.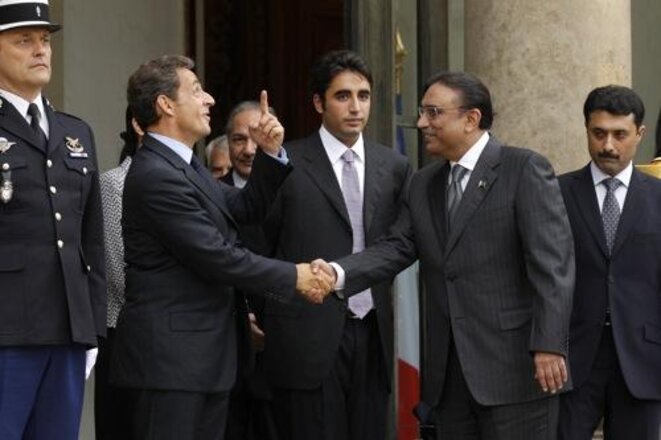 President Nicolas Sarkozy and Pakistani President Asif Ali Zardari. © Reuters
Mediapart has gained exclusive access to evidence obtained by a French judge investigating a suspected far-reaching financial scam surrounding the sale of French submarines to Pakistan that details how Pakistani President Asif Ali Zardari, widow of Benazir Bhutto, once pocketed millions of euros in bribes paid to secure the deal. But the bounty trail of bucks doesn't stop there, for one of those alleged to have rubber-stamped the payment was, according to several witness statements, Nicolas Sarkozy, before he became French president.
The families of 11 French engineers killed in a bomb blast in Pakistan in 2002 want French President Nicolas Sarkozy to be formerly questioned by an investigating magistrate about what he knows of a corruption deal linked to the attack.
The deal is suspected to have involved illegal political party funding in France, paid through secret kick-backs from the sale of submarines to Pakistan, a scam largely confirmed in November in the testimony, before a judge, of a former French defence minister.
Mediapart, which has led the revelations over what is now known as 'the Karachi affair', has produced a video report clearly explaining the backround to the scandal now engulfing the French president. Click here to watch the video and to read a selection of Mediapart reports on the story.