The largest skeleton ever found of a triceratops dinosaur, dating from the the Cretaceous period around 66 million years ago, discovered in the US in 2014 and composed of 200 pieces, has sold at the Paris Drouot auction house for 6.65 million euros.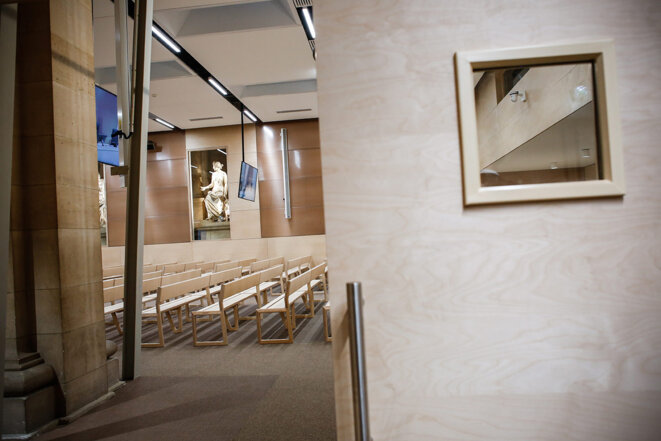 The courtroom used for the trial relating to the Paris terrorist attacks of November 13th 2015. © Photo Sébastien Calvet / Mediapart
The trial of 20 individuals accused of variously perpetrating or helping with the carrying out of the November 13th 2015 terrorist attacks in Paris is continuing, in proceedings that are expected to last nine months. As part of its regular coverage of the trial, Mediapart is publishing the first-hand reactions and reflections of seven victims of the massacres as they follow the court proceedings. Here Roman, aged 30, who escaped alive after terrorists attacked La Belle Équipe restaurant where he was dining with friends, gives his evidence to the court about the attacks and describes the events that preceded it.
A permanent speed limit on traffic of 30 kilometres-per-hour was introduced in Paris on Monday, except for a few arteries that include the Champs Elysées avenue, a measure justified by Mayor Anne Hidalgo on safety and environmental grounds.
Saturday's protests were called for the sixth weekend in a row to denounce a new "health pass" system announced by President Emmanuel Macron that they see as unfairly restricting the rights of the unvaccinated.
An official with France's interior ministry said 161,000 people had demonstrated across the country on Saturday.
Maurizio Di Marzio was the only one of ten suspects linked to the left-wing militant group who was not detained by the authorities in April.
After August, only the main ring road surrounding Paris and major boulevards and arteries will allow speeds higher than 30 kilometres per hour, Green party deputy mayor in charge of transport David Belliard announced on Thursday.
Edinburgh-based oil and gas exploration firm Cairn Energy, locked in a long-running dispute with the Indian government over a retrospective tax bill, announced on Thursday that a French tribunal had granted its application for a freeze of about 20 Indian state-owned properties in central Paris.
A joint formal legal complaint for 'placing the lives of others in danger' has been filed by Paris residents, a trades union and an anti-pollution association over the lack of action to remove significant lead contamination that fell around Notre-Dame cathedral due to the April 2019 blaze which severely damaged the landmark. 
As of today, groups of up to six people are allowed to eat together at outdoor restaurant terraces and France's nationwide curfew is also being pushed back from 7pm to 9pm.
Police made 44 arrests, and used teargas and water cannons, while dispersing a banned march in Paris in protest at Israeli attacks on Gaza.
The organisers of a demonstration planned for this weekend in solidarity with Palestinians amid the Israel-Gaza military conflict said they will go ahead with their march despite an official ban on the gathering which, authorities argue, carried the threat of public disturbance.
It appears that on Saturday the rioters targeted the anti-capitalist CGT trade union on the streets of the French capital.
Police source saidt far-left "black bloc" protesters had repeatedly tried to block the trade union-led march in the French capital, with 34 people detained.