Related keywords
Police source saidt far-left "black bloc" protesters had repeatedly tried to block the trade union-led march in the French capital, with 34 people detained. 
Anti-terror prosecutors are leading probe into murder of 49-year-old unarmed female officer who was stabbed in the neck as she returned from her lunch break; her attacker was then shot dead.
French President says he foresees at least some tourists returning to Paris this summer if they have been vaccinated or have proof of testing negative for the coronavirus.
A gunman shot a man dead and seriously wounded a securiy guard outside a Paris hospital on Monday, in what police suspect was a contract killing.
Rightwing opponents of socialist Paris mayor Anne Hidalgo have jumped onto a social media buzz that went viral over the Easter weekend highlighting uncollected rubbish and graffiti on the streets of the French capital, which Paris city hall officials have denounced as a 'political smear cmpaign'.
Prosecutors have started an investigation after a television report about secret meals in luxury restaurants in Paris in breach of Covid-19 restrictions - some allegedly attended by French governemnt ministers.
The former minister and ex-owner of Marseille football club and his wife Dominique were asleep when four men broke into their house in Combs-la-Ville near Paris, beat them and tied them up with electrical cords.
French Prime Minister Jean Castex on Thursday evening annnounced an initial one-month lockdown on public movement in Paris and 15 other regions as of midnight Friday to stem a resurgence of the Covid-19 epidemic that is already challenging hospital capacity.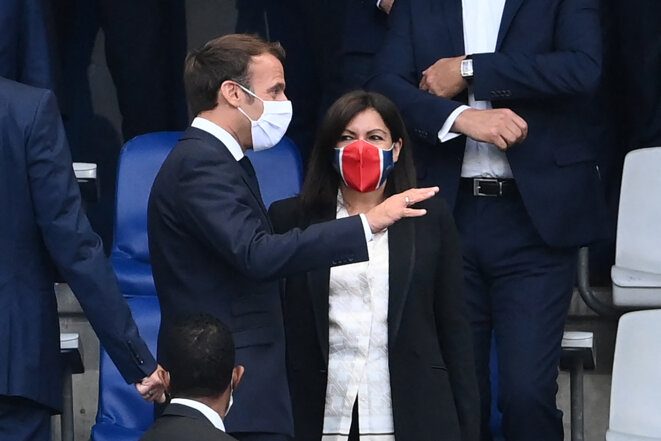 President Emmanuel Macron and Paris mayor Anne Hidalgo on July 24th 2020. © Franck Fife/AFP
The city authorities in Paris, led by mayor Anne Hidalgo, have suggested that the French capital and surrounding region be put under a new lockdown to tackle the worsening Covid-19 virus situation there. This has piled pressure on President Emmanuel Macron who has been described by some as the country's "epidemiologist-in-chief" and who has so far resisted growing calls for a lockdown not just in the capital but across France. As Ellen Salvi reports, the Paris authorities are effectively asking a question that the head of state's supporters are refusing to countenance: what if the French president has got it wrong?
In southern France, waters are starting to recede after the worst flooding in 40 years swelled the Garonne River between Bordeaux and Toulouse.
Demonstrators, including gilet jaunes or 'yellow vest' activists, also protested against Covid restrictions. 
A video shared on social media shows the boy, identified only as Yuriy, being attacked by a mob of hooded men, who hit him repeatedly with a bat and then kicked him as he lay on the ground.
Comment la police a saboté la manifestation du 12 décembre 2020. Enquête vidéo. © Mediapart
Mediapart has gathered and analysed hundreds of videos taken during a demonstration staged in Paris on December 12th 2020 against the French government's controversial "global security" law. Our investigation shows the unlawful nature of dozens of police charges carried out that day. It also documents the arbitrary arrests of demonstrators, baton blows given for no reason and the misleading statements made by interior minister Gérald Darmanin, especially over the nature and outcome of the arrests made. Sébastien Bourdon, Camille Polloni, Antton Rouget and Antoine Schirer investigate.
A Paris court on Wednesday handed 14 defendants jail sentences ranging from four years to life imprisonment for their part in helping terrorist gunmen in their shooting massacres over three days in January 2015 at the offices of Charlie Hebdo magazine and of hostages at a Jewish supermarket, and the murder of a trainee policewoman, killing a total of 17 people.