Related keywords
Israeli Prime Minister Benjamin Netanyahu met with French President Emmanuel Macron in Paris on Tuesday, when the two swapped opposing views over the Iranian nuclear programme deal and the move of the US embassy to Jerusalem, but did agree on concerns over Iran's growing leverage in the Middle East.
In a rescue captured on video, Mamoudou Gassama scaled a building in Paris to save a four-year-old child hanging from a fourth-floor balcony.
Two Paris binmen who stole a truck from their service depot and attempted to empty the rubbish it was carrying outside the headquarter's of President Emmanuel Macron's political party were arrested in central Paris on Friday by gun-waving police.
US transport company Uber has said it will invest 20 million euros over the next five years in a Paris-based laboratory, in cooperation with the prestigious Ecole Polytechnique engineering school, for the development of sky taxis, which it hopes will be operational by 2023.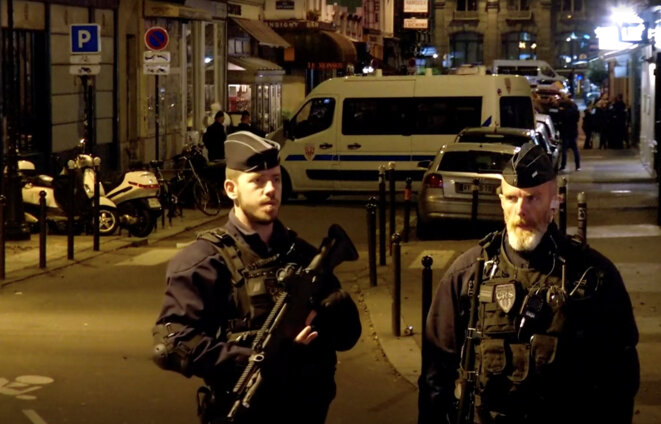 Police stand guard on the rue Monsigny after the attack on Saturday evening. © Reuters TV
One person was killed and four others wounded after a French national of Chechen origin went on a knifing rampage in central Paris on Saturday evening, in a terrorist attack claimed by the Islamic State group (IS). Khamzat Azimov, born in Chechnya in 1997, was shot dead by police minutes after he began stabbing passers-by on a street near to the Garnier Opera house. Mediapart terrorism specialist Matthieu Suc analyses here the reasons behind the changing strategy of IS-sponsored attacks in Europe, and in France in particular where they have claimed the lives of 246 people since 2014.
The knifeman who killed one man and wounded four other people in a rampage in a central Paris street on Saturday evening, and who was subsequently shot dead by police, has been named as Khamzat Azimov, born in Chechnya in 1997 and given French nationality in 2010.
The Islamic State group (IS) has claimed responsibility for the attack by a knife-wielding man who stabbed passers-by in the Paris central Opera district at around 9pm local time on Saturday, when he killed one person and wounding at least four others, two seriously, before police shot the him dead.
Mayor of Paris Anne Hidalgo has demanded that President Emmanuel Macron take action to provide alternative shelter for thousands of migrants who are sleeping rough in squalid conditions in the north of the capital, a situation which France's citizens' rights ombudsman, Jacques Toubon, has denounced as a denial of fundamental human rights. 
US president suggested 2015 attacks could have been stopped by giving people guns and mimicked gunmen summoning victims one by one.
As President Macron condemned violence, Socialist Party blamed government attempt at 'all-out victory' over trade unions for fuelling reaction.
Violence came after far-left anarchist groups, known as Black Blocs, hijacked a peaceful rally against President Macron's public sector reforms.
Peaceful march hijacked when group of demonstrators clad in black, many wearing balaclavas, broke into chant of 'Everyone hates the police'.
Past weeks have permitted some to imagine that President Macron's France is entering zone of high dramatic turbulence, comparable with 1968.
A spokesman, for Khalifa Haftar, whose Libyan National Army controls much of eastern Libya and who press reports last week said was in a coma after suffering a stroke, claimed on Twitter on Friday that he had visited a Paris hospital 'for normal checkups' and would 'be back in Libya within few days'.