Related keywords
Traffic jams in and around the French capital on Sunday were estimated to stretch to a cumulative total of at least 700 kilometres as residents who could fled the city for a rural environmentamid before  new national lockdown measures came into force as of midnight on Thursday.
Seven British nationals, including two minors, have been arrested after a car was driven at a gendarme outside the Israeli embassy in central Paris on Monday night.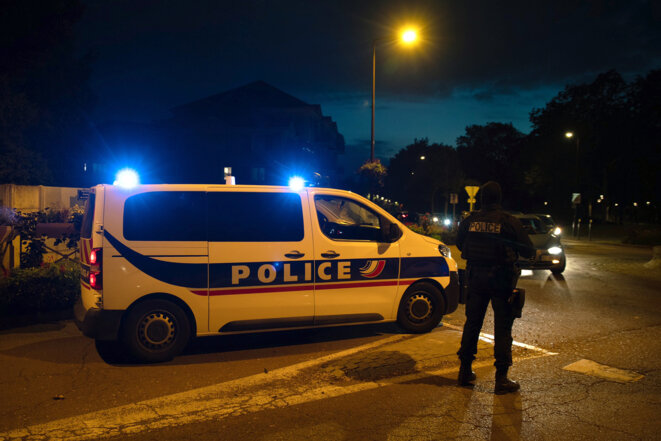 Police at the scene where the suepcted was shot and killed at Eragny near Paris. © AFP
The murder of 47-year-old history teacher Samuel Paty from near Paris who had shown his class caricatures of the prophet Muhammad as part of a lesson on freedom of expression has been greeted with shock and anger in France. The 18-year-old suspect, believed to be a Russian of Chechen origin, and named later as Abdoullakh Abouyezidovitch A., was later shot dead by police. Eleven people have also been questioned by police as part of an anti-terrorist investigation. President Emmanuel Macron, who visited the scene of the murder at Conflans-Sainte-Honorine, a suburb north-west of Paris, on Friday October 16th said: "One of our compatriots was murdered today because he taught ... his students about freedom of expression, freedom to believe or not believe."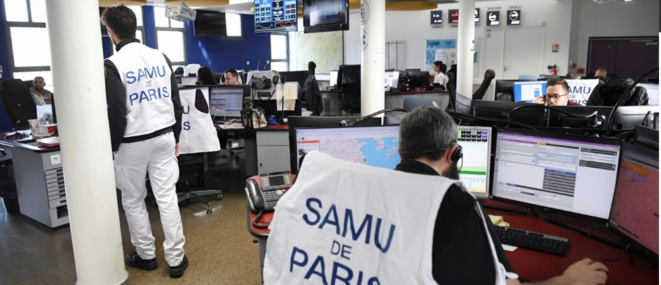 An ambulance call centre in Paris. © AFP
Documents obtained by Mediapart show that during the height of the Covid-19 pandemic earlier this year France's ambulance service SAMU was slow to help some patients in urgent need of treatment because it was deluged with emergency calls. This organisational problem in turn led to reduced survival chances for some patients. Health experts fear that the ambulance service has not learnt the lessons from the springtime Covid crisis and that the same problems could reoccur during a second wave of the epidemic this autumn. Pascale Pascariello reports.
Gyms and swimming pools will also all be closed for two weeks in a bid to curb the spread of the virus, the city's police chief said, but restaurants will remain open if strict hygiene rules are in place.
However, the French capital's restaurants look set to remain open under tightened sanitary protocols. 
At the trial in Paris of 14 people accused of aiding the January 2015 terrorist attacks in the capital, Zarie Sibony, 28, gave a harrowing account of the four-hour siege at the kosher store where she worked as a cashier, when Amédy Coulibaly murdered four hostages and, she recalled, told his captives 'You are Jews and French, the two things I hate the most'.
Meanwhile the number of new COVID-19 cases in France rose by 10,561 on Saturday - the highest daily number since the pandemic began.
Health authorities reported 9,843 new confirmed Covid-19 cases on Thursday, surpassing the previous daily record by almost 900.
Demand for tests is rising in France as people return to work and school after the summer holidays.
Freelance reporter Valentin Gendrot spent two years as a junior police officer, eventually posted to a north Paris police station where, he details in a book published this week, he says he witnessed racism and gratuitous violence by a minority of officers but who were covered by their hierarchy, and which has prompted an internal police investigation into his claims.
The marathon trial of 14 people accused of being accomplices to the terrorist killings of 17 people in separate attacks in early January 2015 on the offices of Charlie Hebdo magazine and a Jewish food store, and the shooting of a policewoman, opened in Paris on Wednesday and is due to run into November.
After a post-lockdown record level of new coronavirus infections in France registered on Wednesday,  Prime Minister Jean Castex announced on Thursday that the wearing of face masks to contain transmission of the virus is to be made a legal requirement in all public spaces in Paris, adding that 'The spread of the epidemic could become exponential if we do not react quickly'.
Cars were burned and shops vandalised when groups of supporters of Paris Saint-Germain (PSG) football club clashed with riot police in the French capital on Sunday night after their team lost the final of the Champions League to Bayern Munich.