Related keywords
US singer and actor Chris Brown, 29, was taken into police custody in Paris following a complaint by a  24-year-old woman that she was raped by him at suite at the Mandarin Oriental hotel in the French capital.
Some 59 people were questioned, including for having unlawful weapons and participating in a group with the goal of committing violent crimes.
Many others were injured and cars were also wrecked and other buildings damaged by blast in a bakery on Rue de Trévise in central Paris.
President Macron prepares for three-month public debate as 80,000 police mobilise across country for more weekend demonstrations.
Government spokesman Benjamin Griveaux escaped from office through back door after protesters broke into compound and smashed vehicles.
Government says the yellow vest protest movement belongs to 'agitators' who promote insurrection and want to topple the government.
The so-called 'Yellow Vest' movement of protests at falling living stanadards among low- and middle-income earners is expected to continue with a fifth day of action across France on Saturday, notably with marches in Paris where previous protests have been marred by violence and vandalism by extremists and hooligans.
Ahead of what are forecast to be a major demonstrations on Saturday by a grass-roots movement of often violent protest over the living standards of middle-income earners, France's interior minister has announced 'large-scale security measures' in Paris, including the deployment of armoured vehicles, in face of what he said has become a 'monster' that has escaped the control of those who initiated the nationwide contestation.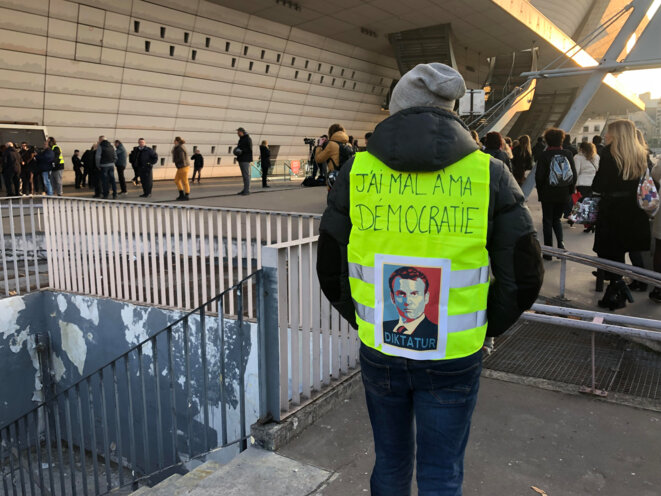 Scenes from the first 'gilets jaunes' protests in Paris, November 17th, 2018. © E.S.
This Saturday December 1st the so-called 'gilets jaunes' or yellow hi-vis vest protesters will take to the streets of central Paris for the third weekend in a row. This time other groups – unions, anti-racist movements and student groups – are also planning demonstrations in the capital. But while they might all be demonstrating at the same time, these different components of the current social movement sweeping across France are not all on the same wavelength when it comes to their aims and objectives. Mathilde Goanec, Dan Israel and Faïza Zerouala report.
Two killings in Paris, one year apart, have inflamed the bitter French debate over antisemitism, race and religion.
Around 8,000 protesters gathered in Paris for second weekend of 'yellow vest'  protests, as public anger over rising diesel fuel prices continues.
Paris mayor Anne Hidalgo, who faces a tough re-election campaign in 2020, has plans, if re-elected, to transform the four central Paris districts into largely pedestrian zones as part of a continuing programme to clean up the French capital's chronic air pollution.
French President Emmanuel Macron led a ceremony in Paris attended by more than 60 heads of state and dignitaries, including US President Donald Trump and his Russian counterpart Vladimir Putin, when he warned against the return of 'old demons' and issued a plea 'to prioritise peace over everything'.