Related keywords
Demonstrators, including gilet jaunes or 'yellow vest' activists, also protested against Covid restrictions. 
A video shared on social media shows the boy, identified only as Yuriy, being attacked by a mob of hooded men, who hit him repeatedly with a bat and then kicked him as he lay on the ground.
Comment la police a saboté la manifestation du 12 décembre 2020. Enquête vidéo. © Mediapart
Mediapart has gathered and analysed hundreds of videos taken during a demonstration staged in Paris on December 12th 2020 against the French government's controversial "global security" law. Our investigation shows the unlawful nature of dozens of police charges carried out that day. It also documents the arbitrary arrests of demonstrators, baton blows given for no reason and the misleading statements made by interior minister Gérald Darmanin, especially over the nature and outcome of the arrests made. Sébastien Bourdon, Camille Polloni, Antton Rouget and Antoine Schirer investigate.
A Paris court on Wednesday handed 14 defendants jail sentences ranging from four years to life imprisonment for their part in helping terrorist gunmen in their shooting massacres over three days in January 2015 at the offices of Charlie Hebdo magazine and of hostages at a Jewish supermarket, and the murder of a trainee policewoman, killing a total of 17 people.
Three police officers were suspended on Thursday after they were filmed by CCTV cameras following a black man from a north Paris street into his studio, where they can be seen punching him and beating him with a truncheon and, according to their victim, using racist language before then arresting him.
Traffic jams in and around the French capital on Sunday were estimated to stretch to a cumulative total of at least 700 kilometres as residents who could fled the city for a rural environment before new national lockdown measures came into force as of midnight on Thursday.
Seven British nationals, including two minors, have been arrested after a car was driven at a gendarme outside the Israeli embassy in central Paris on Monday night.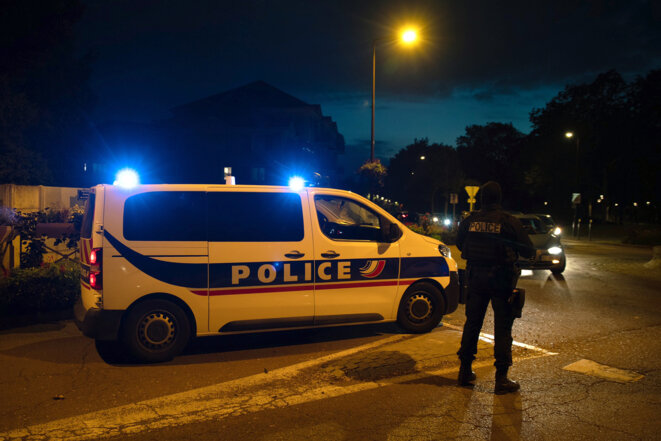 Police at the scene where the suepcted was shot and killed at Eragny near Paris. © AFP
The murder of 47-year-old history teacher Samuel Paty from near Paris who had shown his class caricatures of the prophet Muhammad as part of a lesson on freedom of expression has been greeted with shock and anger in France. The 18-year-old suspect, believed to be a Russian of Chechen origin, and named later as Abdoullakh Abouyezidovitch A., was later shot dead by police. Eleven people have also been questioned by police as part of an anti-terrorist investigation. President Emmanuel Macron, who visited the scene of the murder at Conflans-Sainte-Honorine, a suburb north-west of Paris, on Friday October 16th said: "One of our compatriots was murdered today because he taught ... his students about freedom of expression, freedom to believe or not believe."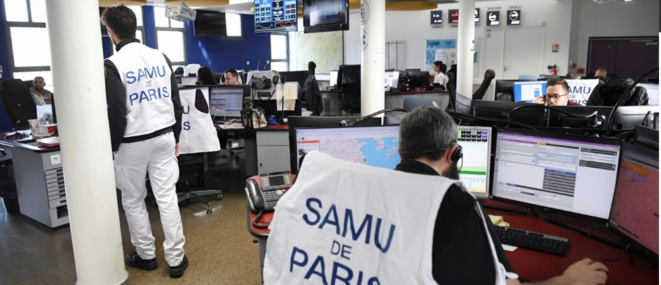 An ambulance call centre in Paris. © AFP
Documents obtained by Mediapart show that during the height of the Covid-19 pandemic earlier this year France's ambulance service SAMU was slow to help some patients in urgent need of treatment because it was deluged with emergency calls. This organisational problem in turn led to reduced survival chances for some patients. Health experts fear that the ambulance service has not learnt the lessons from the springtime Covid crisis and that the same problems could reoccur during a second wave of the epidemic this autumn. Pascale Pascariello reports.
Gyms and swimming pools will also all be closed for two weeks in a bid to curb the spread of the virus, the city's police chief said, but restaurants will remain open if strict hygiene rules are in place.
However, the French capital's restaurants look set to remain open under tightened sanitary protocols. 
At the trial in Paris of 14 people accused of aiding the January 2015 terrorist attacks in the capital, Zarie Sibony, 28, gave a harrowing account of the four-hour siege at the kosher store where she worked as a cashier, when Amédy Coulibaly murdered four hostages and, she recalled, told his captives 'You are Jews and French, the two things I hate the most'.
Meanwhile the number of new COVID-19 cases in France rose by 10,561 on Saturday - the highest daily number since the pandemic began.
Health authorities reported 9,843 new confirmed Covid-19 cases on Thursday, surpassing the previous daily record by almost 900.