Related keywords
After series of accidents country is now imposing a speed limit of 25 kilometres per hour on the vehicles with a fine of €1500 for people possessing e-scooters capable of a higher speed limit.
Several hundreds of protestors gathered at five major public squares in Paris on Saturday where they lay on the ground for a 'die-in" protest at the number of murders of women in domestic violence crimes in France, holding photos of victims which activists say are among a total of 121 fatalities recorded so far this year, and calling on the government for rapid new measures to deal with the problem.   
Firefighters held a march in Paris on Tuesday in protest over working conditions, including low staff numbers, poor pay and inadequate protection against violence increasingly directed against them, when unions claimed a turnout of between 7,000 and 10,000.
French environmentalists took part in worldwide protests led by the 'Exctinction Rebellion' movement on Monday, blocking road traffic in Paris  at and around the place du Châtelet in their second demonstration after the occupation of a shopping centre in the city on Saturday, and promised a series of further actions throughout the week both in the capital and around the country.
Metro stations were closed and violent clashes with police broke out in Paris on Saturday when a march calling for firm action on climate change was infiltrated by what appeared to be so-called 'black bloc' anarchists, damaging a bank and setting fire to a barricade, following earlier tear gas charges on Yellow Vest demonstrators in the centre of the capital, where trades union members also marched in protest at planned pension reforms. 
Thousands of people joined a demonstration in Paris on Friday to demand greater political action to combat climate change, although estimates of the turnout, ranging from a police figure of 10,000 to the 30,000 claimed by organisers, were well below massive rallies held simultaneously in Germany and the US.
The Paris transport network was severely disrupted on Friday as staff unions led a one-day strike over proposed government reforms to their pension benefits as part of a plan to merge France's 42 different pension schemes into a single points-based system.
A Paris group of women campaigners against domestic violence, which is estimated by one feminist association to have caused the deaths of more than one hundred women in France since the start of the year, has launched a campaign to bring greater public awareness to the issue by placing posters in tribute to victims on the walls of the capital's streets.   
With his long hair, bowties and ornate spider brooches, top mathematician Cédric Villani quickly became a popular politician as an MP in 2017.
Around 150 migrants from Latin America – Colombia, Cuba, Peru, Bolivia and the Dominican Republic – are living in a makeshift street camp in a Paris suburb having recently been evicted from a disused warehouse in which they were squatting. Some came to France for a better life for their family, others for political reasons. But as Irene Casado reports, all the migrants, who include children and pregnant women, face an uncertain future faced with the indifference of the local mayor and the lack of suitable housing.
French President Emmanuel Macron, meeting with British Prime Minister Boris Johnson in Paris on Thursday, said the so-called 'backstop' arrangement for the border on the island of Ireland was 'indispensable' to the UK leaving the EU with an agreed deal, but also added that a solution to the disputed issue was possible 'if there is a good will on both sides'.
The Paris prosecution services have launched an investigation into the death in Malaysia of Nora Anne Quoirin, 15, whose remains were found in a rainforest Tuesday, under a legal procedure in France that allows investigations to be opened into any unexplained deaths of French nationals abroad.
France's junior ministers for gender equality and child welfare have jointly called for a judicial investigation to be opened into accusations that convicted paedophile and multi-millionaire Jeffrey Epstein, who was found dead in his Manhattan prison cell at the weekend, engaged in criminal sexual activity in France where he owned a property and frequently sojourned.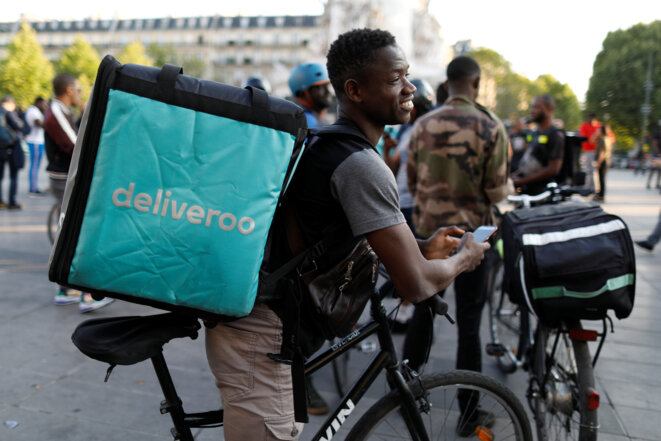 A Deliveroo courier at the protest in Place de la République in central Paris on August 7th 2019. © Reuters/Charles Platiau
Couriers working for the meal delivery service are angry at the new rates of pay that they now receive, which they say will leave many of them worse off than before. They are particularly upset that the minimum payment of 4.5 euros a delivery has been axed. Rouguyata Sall joined Deliveroo riders as they took their protest to local restaurants in central Paris.