Related keywords
Following the closure of all fenced parks in Paris, the authorities have now closed green spaces in central Paris and also walkways along the River Seine, citing a lack of observance of the lockdown measures aimed at slowing the spread of the coronavirus epidemic, while the Rivierra city of Nice has closed its celebrated seafront Promenade des Anglais amid rumours of impending curfew measures.
An exodus from Paris of the wealthy with second homes or those with provincial families to welcome them, hoping to enjoy greener environments with which to live out the nationwide home confinement order issued to contain the spread of the coronavirus, is causing concern in some relatively unaffected regions that the fleeing Parisians are bringing the virus with them. 
As of midday on Tuesday, and initially announced for 15 days although few expect it to lend before May at least, the French capital, like the rest of the country, was placed under official lockdown in an effort to contain the coronavirus epidemic, with the population confined to their homes except for only essential movement outdoors.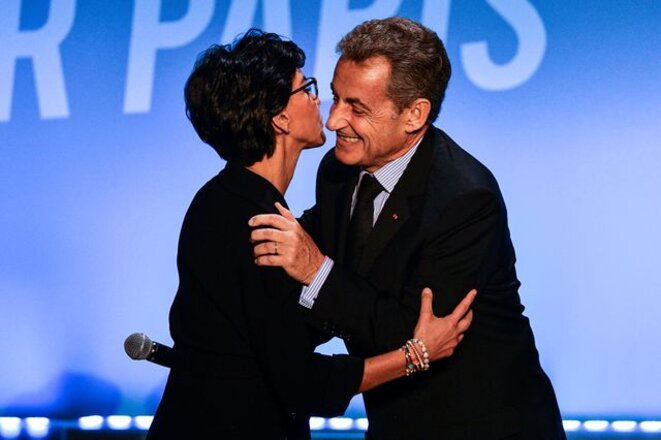 Rachida Dati and Nicolas Sarkozy, March 9th. © AFP
France holds nationwide local elections beginning next weekend, in the most significant test of the country's political parties since Emmanuel Macron's election as president in 2017 and the thumping victory of his LREM party in ensuing parliamentary elections. In the two-round polling, the prize catch will be Paris, where the conservative Les Républicains hope to wrestle power from socialist mayor Anne Hidalgo. Their candidate, Rachida Dati, held her last campaign meeting this week when her political mentor, Nicolas Sarkozy, made a rare public appearance. Despite being under investigation in several serious corruption probes, the former French president, surrounded by his old guard, received a rock-star reception from an enraptured audience. Lucie Delaporte witnessed the extraordinary scenes.
The waters of the River Seine that winds through Paris have been swollen by recent heavy rainfall, causing the closure of some riverside sites at the weekend and plans to evacuate others if the rise continues in the centre of the capital which in 2016 experienced flooding that left four people dead and 24 others injured.
The 60-year-old teacher has become the first French victim of the coronavirus in the country; the first death was that of a Chinese tourist.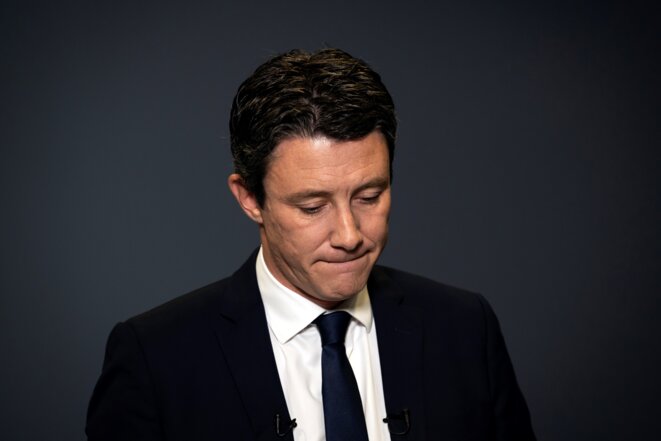 Benjamin Griveaux announcing he was stepping down from the Paris mayoral elections, February 14th. © Lionel Bonaventure / AFP
Benjamin Griveaux, 42, the candidate for mayor of Paris chosen by President Emmanuel Macron's LREM party, stood down from the race on Friday after the online publication by a controversial Russian artist living in asylum in France of sexually explicit videos featuring the former government spokesman. Griveaux's withdrawal is a major blow for the French president's ruling party, already struggling in opinion surveys ahead of nationwide municipal elections in March.
Benjamin Griveaux, 42, a former spokesman for the French government and a close ally of President Emmanuel Macron, who was running to become mayor of Paris in elections in March, announced on Friday that he had ended his bid after a lewd video of him, apparently addressed to a young woman, appeared on the internet.
As a cross-party parliamentary committee on Monday began to examine the draft pension reform legislation, aimed at merging the country's 42 separate pension schemes into a points-based "universal" system, self-employed professionals, including lawyers and healthcare practitioners, took to the streets of Paris to protest the planned changes, which they argue will increase their social charges, lower their pension rights and drive many out of business.
Two Chinese nationals in Paris, and another in Bordeaux, are being treated in hospitals after being diagnosed with the deadly coronavirus, confirmed the French health ministry, which announced on Saturday that several others are being monitored for the virus which has killed 41 people and infected an estimated 1,400 others since its discovery in the Chinese city of Wuhan in December.
The trial in Paris of Lamine Diack, the 86-year-old Senegalese former head of the International Association of Athletics Federations, and five other defendants on charges of corruption and money laundering in connection with the doping scandal surrounding Russian athletes, has been postponed until June after new documents were provided to the court.
Dozens of school close and rail services severely hit as demonstration enters 36th day and as talks over pension reforms are due to resume Friday.
Police in a Paris suburb shot a man dead after he went on a rampage with a knife, killing one person and injuring two others. French officials gave no motive for his attack but believe he would have claimed more lives.
An exhibition in Paris reveals Poland's now forgotten colonial ambitions in the 1930s. In doing so, it makes a link between past Polish attitudes to colonies and other peoples and the racist reflexes of some governments in Central and Eastern Europe today. Ludovic Lamant reports.