Related keywords
Thousands of people joined a demonstration in Paris on Friday to demand greater political action to combat climate change, although estimates of the turnout, ranging from a police figure of 10,000 to the 30,000 claimed by organisers, were well below massive rallies held simultaneously in Germany and the US.
The Paris transport network was severely disrupted on Friday as staff unions led a one-day strike over proposed government reforms to their pension benefits as part of a plan to merge France's 42 different pension schemes into a single points-based system.
A Paris group of women campaigners against domestic violence, which is estimated by one feminist association to have caused the deaths of more than one hundred women in France since the start of the year, has launched a campaign to bring greater public awareness to the issue by placing posters in tribute to victims on the walls of the capital's streets.   
With his long hair, bowties and ornate spider brooches, top mathematician Cédric Villani quickly became a popular politician as an MP in 2017.
Around 150 migrants from Latin America – Colombia, Cuba, Peru, Bolivia and the Dominican Republic – are living in a makeshift street camp in a Paris suburb having recently been evicted from a disused warehouse in which they were squatting. Some came to France for a better life for their family, others for political reasons. But as Irene Casado reports, all the migrants, who include children and pregnant women, face an uncertain future faced with the indifference of the local mayor and the lack of suitable housing.
French President Emmanuel Macron, meeting with British Prime Minister Boris Johnson in Paris on Thursday, said the so-called 'backstop' arrangement for the border on the island of Ireland was 'indispensable' to the UK leaving the EU with an agreed deal, but also added that a solution to the disputed issue was possible 'if there is a good will on both sides'.
The Paris prosecution services have launched an investigation into the death in Malaysia of Nora Anne Quoirin, 15, whose remains were found in a rainforest Tuesday, under a legal procedure in France that allows investigations to be opened into any unexplained deaths of French nationals abroad.
France's junior ministers for gender equality and child welfare have jointly called for a judicial investigation to be opened into accusations that convicted paedophile and multi-millionaire Jeffrey Epstein, who was found dead in his Manhattan prison cell at the weekend, engaged in criminal sexual activity in France where he owned a property and frequently sojourned.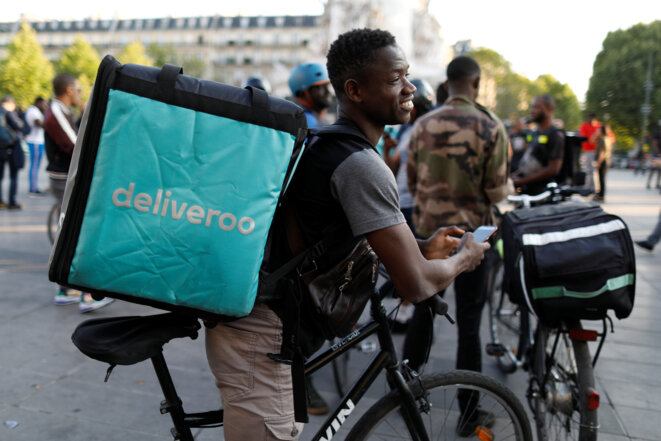 A Deliveroo courier at the protest in Place de la République in central Paris on August 7th 2019. © Reuters/Charles Platiau
Couriers working for the meal delivery service are angry at the new rates of pay that they now receive, which they say will leave many of them worse off than before. They are particularly upset that the minimum payment of 4.5 euros a delivery has been axed. Rouguyata Sall joined Deliveroo riders as they took their protest to local restaurants in central Paris.
Families of victims of 1982 Paris attack demand parliamentary inquiry over claims ex-head of France's intelligence service did deal with Fatah.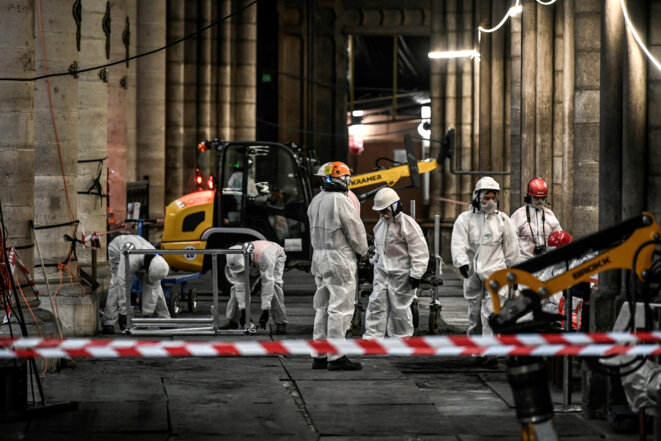 Site workers at Notre-Dame cathedral on July 17th 2019 © Reuters.
Out of 175 children so far tested after the April fire at the cathedral, 16 have levels of lead in their blood above the threshold at which an initial alert is raised, according to figures from the Paris regional health authority. Two have concentrations above the level at which lead poisoning is officially declared, though one of these cases is not apparently linked to lead from the blaze. Meanwhile the parents of one child with high lead levels in his blood have spoken of the "Kafkaesque" response of the authorities to their plight. Pascale Pascariello reports.
Blaze that destroyed cathedral's spire and roof also melted massive quantities of lead, toxic dust from which has been deposited on the ground.
In 1954, US novelist John Steinbeck, author of The Grapes of Wrath, Of Mice and Men and East of Eden, sojourned in Paris, when he wrote a short story published in the daily Le Figaro and which was re-published for the first time in English this week under the title The Amiable Fleas, but evidence suggests that during his stay in the French capital Steinbeck may also have been gathering intelligence for the CIA.
Stalingrad Connection, named after a Paris metro station where homeless migrants once set up a makeshift camp for shelter, broadcasts in five languages to keep asylum seekers in contact with each other, to report on their experiences and to provide practical information.